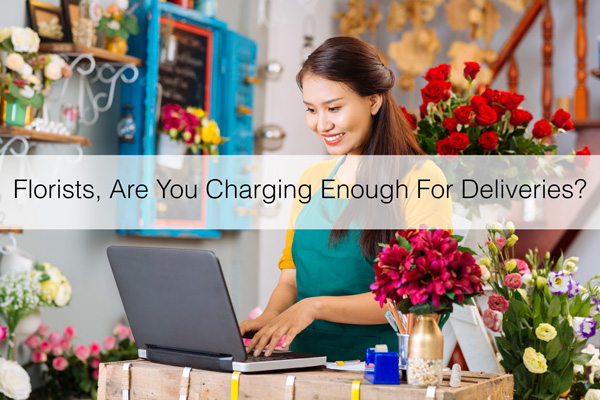 In today's society, all products are judged by their convenience, and the smallest inconvenience can make or break any business.
One simple convenience is the delivery of products this includes the delivery of flowers. Of course, flower delivery has been around for ages and most florists provide this service, but when was the last time you sat down and gave your delivery policies and pricing some critical thinking?
To truly know if you are charging enough for delivery, there should be a few things that we should keep in mind. In the flower industry, which is highly local in nature, there is no one true "industry standard" for costs; your area is different from the others, and there may be considerations you have to make that other competitor and or businesses do not.
How much are floral deliveries really costing you?
To help you check if you are charging enough for flower deliveries, let's look at the many ways delivery can cost you money, starting with the simple flower-only deliveries.
As with all delivery jobs, you should take into account the distance from the shop to the destination. Ideally, you should have some sort of formula that helps you decide the amount you need to be paid for the number of miles/kilometers you need to travel.
The driver, team, vehicular and road costs should be counted in, too. Things like parking tickets, rentals, and gas all fall into this category. To round up all the considerations, you should also consider travel time.
Should florists charge for special requests?
With the previous considerations, you'll see that distance and time are the immediate costs for each delivery and are thus the main things that will determine the delivery cost. Of course, time is a major factor for many customers.
If customers ask you to go above and beyond for deliveries, why not charge for those requests? Express deliveries and or specified times are especially tasty offers for any customer on the rush. Offering these options can be helpful to the customer but to you as well as a floral business owner by increasing revenues. Deliveries can be made faster, easier, and smarter with Floranext's New Advanced POS features – Delivery Manager, Giving your business and your drivers the tools for a better floral delivery experience.
Are you charging enough for floral deliveries?
Each flower shop will be dealing with different numbers, the best way we can check it is by also answering the question, "for all the labor you do in delivery, are you getting paid for it?"
Quantify all the considerations we had listed out above into money, and add a markup. This resulting number should be your delivery cost, at the very least. Florists should always add a markup to their delivery just like your arrangements, proposals, and or contracts.
Delivery seems insignificant when compared to the other tasks that a flower shop does. However, when you look deeply into it, you might find that it might be the one thing costing your business rather than increasing revenue.
Delivery is still ultimately a service that you provide to your customers, and thus it should remain profitable for your shop to stay sustainable.
Florists, do your deliveries increase revenue for your floral business? Do you charge for special delivery requests? Share your thoughts and comments below!
____________

Floranext offers great florist software, florist POS, florist websites and florist wedding proposal software. Our florist technology products are built by florists, for florists. Let us know if you want a free demo or try our software for free here.
---
Tags: