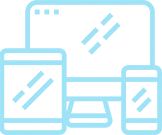 Work across all digital devices
Our Florist website is easy to use with no special skills required.
Our Florist POS software works on PC, Mac, and iPad.
Showcase your beautifully designed website on computer, smart phones and tablets.

Flexible Florist Software
Choose your own credit card provider (or use ours).
Use our florist software on your own computers – choose your platform (PC, Mac, iPad).
Access from the shop, from home, or on the road. You always own your customer data.

We are here to support
We make it easy to start with a new florist POS system or switch from an existing wire service POS.
We help you transfer your customer base over (free of charge) and set up your computers and printers.