A big thank you to everyone who participated in Floranext's annual florist Valentine's Day survey, which underlines some clearly positive trends. It looks like this was a very healthy holiday for the retail floral industry. The ongoing social distancing rules along with the visibility of floral on reality TV shows on Netflix and HBO have been positive for the industry.

This year's holiday sales were very strong, despite Valentine's Day falling on a Sunday. It may be that a more socially distanced year has made people more likely to send flowers to their loved ones. With customers less likely to spend on floral substitutes like dinners and trips, flowers are the obvious gift item.

Web orders were way up this year. Customers are getting even more used to the ease of buying online. Not surprisingly, walk-ins fell dramatically – we are definitely not out of the woods with the pandemic yet. It will be interesting to see whether the walk-ins recover next year.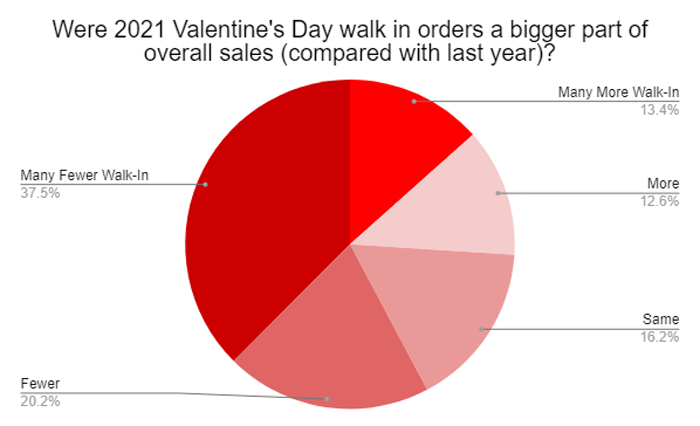 Dozen Rose's price range was very wide, but most were between $70 and $100 USD. The highest reported were $175 and $225 (they didn't fit on our chart)!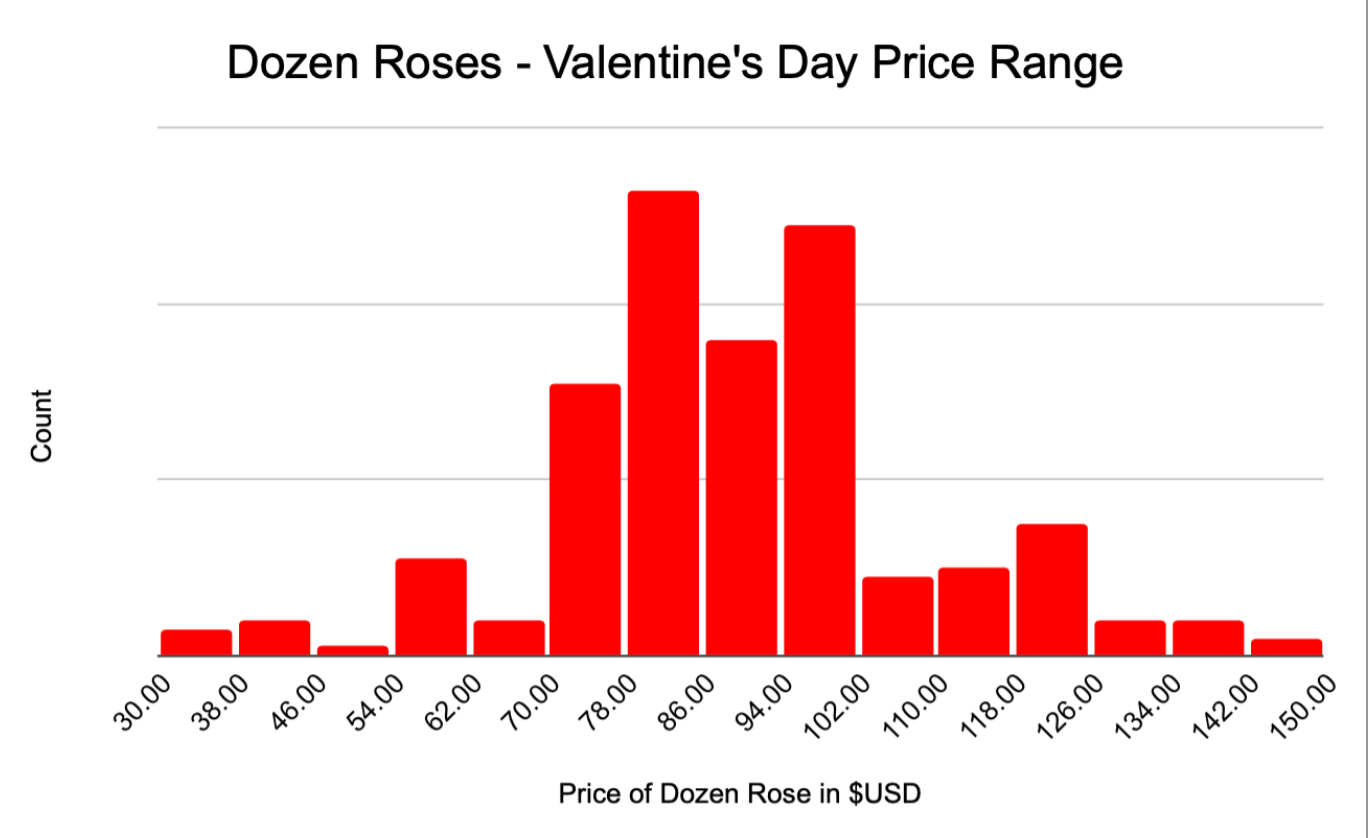 After red roses, arranged flowers were the next most popular item this year – allowing florists to showcase their skills. Candy and chocolates beat out the traditional teddy bear for the top spot.

A somewhat large number of shops (16%) were closed on Sunday. Customers may have bought early this year to avoid missing out or maybe because they weren't sure if shops would be open.

Temporary staffing remains a common custom for flower shops for the busiest days of the year. About 75% of shops added new staff, with widely varying numbers, likely depending on their size. Most shops did not rent vans for the holiday specifically, likely choosing to use driver vehicles.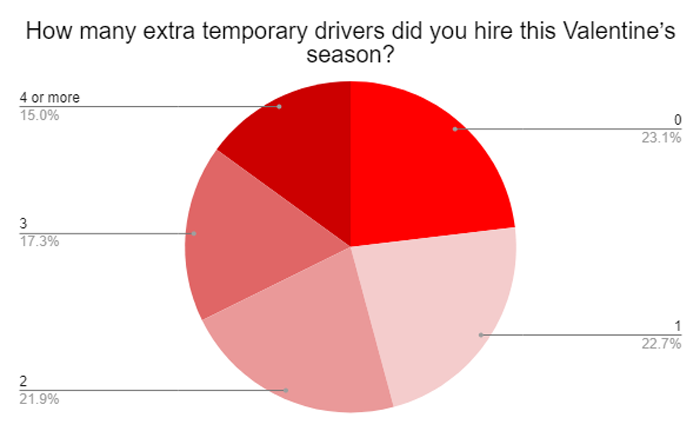 Valentine's Day started early for many shops, with 40% getting holiday orders in January – underlining the value of updating websites and getting marketing emails out early in the season.

Did you do something different with Walk-Ins or Pickups due to COVID-19? If so, what did you do?
There were a lot of curbside pickups stations, many mentions of masks required, quite a few limited the number of staff inside the shop, and/or limiting the number of customers inside the shop.
What (if anything) would you do differently next Valentine's Day?
There was a lot of focus on the weather including "praying for no snow" and "pray for temps above 0 degrees!", and a unique new word, "Snovid!".
Some strategic recommendations that might stay post-pandemic: "Keep door closed to walk-in; more efficient" and "have a pickup location", "We really liked the parking lot pick up spots."
Some practical advice on preparation: "More ready to go bouquets", "have more premade gift baskets"and "More arrangements made earlier for early walk ins."
Many want to simplify customer choices: "Pregreen more the week ahead. Limit the number of items available on website." Also "less choices for flower arrangements" and "Definitely less balloons, less other rose colors and more red roses. Less variety on catalog to choose from."
Some shops felt they could have taken more orders with appropriate supplies and staff. "Order more red roses", and "Increase design staff" and "Turn off my website sooner" and "We were a little too conservative on accepting orders."
___
Thank you for participating in our annual floral Valentine's Survey – we see some very positive signs for the floral industry. Wishing you well for 2021 from Floranext – where we continue to help independent florists succeed!
Results were based on the 260 retail florists surveyed by Floranext between February 15th through February 19th. Florists were based in the US (82%), Canada (8.3%), and international (9.5%).