January 5th, 2011
Posted by Admin
Blog, Florist Resources, florist technology
3 thoughts on "10 Free Online Services for Your Flower Business"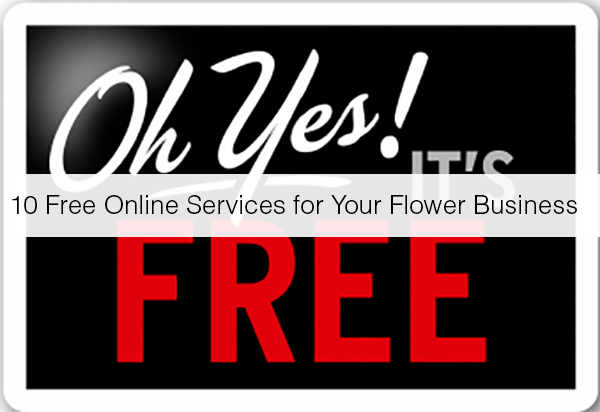 It isn't your birthday or Christmas — but here are some free gifts for your flower business.
These 10 Free Services are surprisingly good and useful, in some cases even better than the paid versions.
Free Marketing Tools for Florists
Still spending hundreds or thousands of dollars on Yellow Pages? If marketing is important to your business, social media offer free, powerful ways to communicate with your customers. It isn't just Facebook anymore — every business be managing their social media. Twitter is a great way to communicate with your customers without being intrusive. And Tumblr.com lets you create a blog instantly in minutes. Before you spend a dime on Google advertising or other online ads, make sure you're using free marketing.
The Un-Microsoft Office for Florists
Google Docs (docs.google.com) offers free knock-offs of Word, Excel, and Power Point — as good or even better than the expensive Microsoft originals. You can upload and read any Micorosoft documents on Google, and easily share documents with other people. How to take advantage? When you're buying your next computer, go for the version without Microsoft Office — you can save hundreds of dollars.
Free Communication Tools for Florists
Still paying for phone calls? Cut down on costs by using Google Talk (http://www.google.com/talk/) — Google lets you make free computer-to-computer calls forever — and computer-to-phone within the US for free through 2011. Skype (www.skype.com) is a good alternative to free calling also. All you need is a microphone for your computer. At Floranext we haven't paid for a phone call in well over a year. Join the revolution (and stick it to the telcos!).
Free Email Tools for Florists
Web email has been free since Hotmail — but Gmail let's you do much more than plain old web mail. Search your mail instantly, save gigabytes of storage, and send emails from multiple accounts right from your Gmail. It's worth making the switch to free, smart web-based email.
Free Photo Tools for Florists
With all that marketing you will be doing online, you're going to need to upload pictures. Photoshop costs hundreds of dollars — but you can get some great photo editing tools online for — you guessed it — $0.00! Picasa is the reigning champion of photo editing. At Floranext, we love Picknik (http://www.picnik.com/) for easy, no-download photo editing.
What other free online services are you using to save money and grow your business? Let us know!