Guide for checking up and reviewing your flower shop through COVID-19.
COVID-19 is leaving us with a lot of time! Use this pause to get your floral business organized and improve some things you haven't looked at in a while.
Floranext created a list for doing a general check-up on your flower shop and florist website.
Flower Shop Review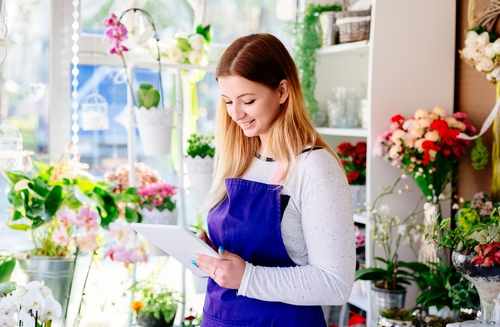 Now is the time to get things organized and cleaned, here are some important things to review during this time.
Cleaning Shop & Cooler
Deep cleaning of your floral cooler
Review Inventory
Review to see if any cash is held up due to inventory or dead stock

Prepare discounts/special prices for selling items quickly when you re-open

Donate any extra inventory unable to be sold
Financial Review
It's good to take a look at how your business is doing financially, it's important to review the revenues, profits, and solvency.
Review Expenses
Look into your floral shop expenses.

Cut or improve to take any advantages of the resources you have.
Product Pricing
Evaluate and update your product pricing.

Remember to include your markup costs (labor, floral, and supply markups)
Delivery Pricing
Review your current delivery charges

Think of gas costs, labor costs, and time when settling on charges

Think of offering free delivery to funeral homes or local businesses.

Policy / Procedures
It's always a good thing to review your company's policies and procedures to make sure they are up to date, best represent your business and any current laws.
Delivery
Review and update any delivery policy/ procedures

Create a handbook for delivery drivers

Add any new regulations based on CDC (non-contact delivery)
Human Resources
Evaluate all your legal documents, policies, terms & conditions.

It is important that you have these documents updated on a regular basis.

it's always good to review and give clarity to you, your employees and customers.
Employee Handbook
If you haven't already, now is the time for developing an operational manual.

Front of Shop – how should your team greet customers, handle phone calls.

Designers – create new floral designs, reducing waste, and time management.

Delivery Drivers – Driver's expectations, time management, and other duties.

New employee handbook – create a manual that is easy to onboard any new employees or evaluate current employees.
Ecommerce Store
Take time to evaluate and update your floral eCommerce website.
The number one important thing to remember is to keep your website up during this time for SEO purposes. This keeps you listed and easily accessible for your customers to find your business.
Update Product Images
Update or add any new product images to your website.

Showcase your talent and creativity

Move product around to keep your website fresh and new
Wedding Page
Does your shop offer wedding services? If so, create a wedding page!

Add galleries of previous wedding work for inspiration

Add a consultation form for customers to reach out and schedule appointments.
Classes
During this time, if you have classes/workshops, instead of hosting at a shop – host online!

Update your website for customers to purchase tickets.

Delivery class/workshop supplies the day of class.

A great way of obtaining income and adding new customers.
Social Media
Keep up on social media trends and share on your social media accounts

Generate social media content that engages customers to comment, share, or repost.

Keep customers up to date on your flower shop.
Remember these are just in reviewing and checking up on your flower shop during this unprecedented time.

The best thing to remember is to take this time to strengthen and improve your floral business as well as taking care of yourself.

We are all together during this difficult time and we will get through this and be stronger than before #bloomtogether.

Tags: