With the holidays now behind us, most retailers will have a chance to relax—but not florists.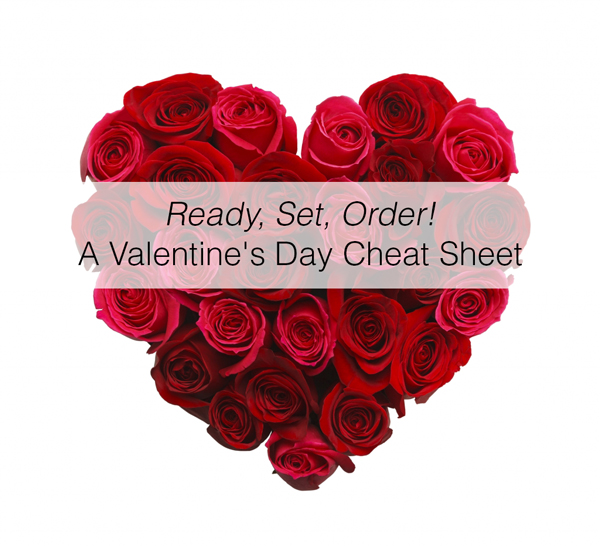 Valentine's Day—or shall we say, Valentine's week—is one of the busiest holidays for flower shops, with over 198 million roses sold. It's a good idea to get a jump on your flower and supply ordering so that you can be organized and prepared for what is being predicted to be one the busiest and most profitable successful Valentine's weeks of all time for the floral industry.
If you haven't ordered your Valentine's Day week florals and supplies yet, then today is the day to start. Ordering early keeps you ahead of the game and saves you money.
Floral Supplies
Many flower shops are already loaded with supplies, however, do not count on having something for the week of Valentine's day without checking. If budget allows, it's best to have extra as Valentine's day can be very unpredictable. If you operate on a razor's edge, any spike in sales can leave you making costly adjustments.
Consider stocking up on the following supplies:
Aquapic/water picks
Arrangement carrier (for pickups)
Cellophane
Tissue paper
Clear Crowning Glory
Door hanger tags
Leaf shine
Oasis
Floral stem tape
Floral waterproof tape
Floralife Fower Food (give away packets)
Wired or unwired pics (your preference)
Floral wire (the higher the gauge the thinner and pliable the wire)
Greening pins (may or may not be a must-have, but good to have a few on hand) 
Pins
Ribbon
Wire cutters (check for quality and wear) 
Rose thorn stripper
Pliers
Floral knives
Vases
Clear glass bubble bowl 6″
Clear glass bubble bowl 10″
Gathering glass vase 8″ and 9 3/4 " (most popular)
Garden rose glass vase 9 3/4″
Classic glass urn vase 10.5″
Mary glass vase 12″
Oval tapered glass vase 9 3/4″
Glass cylinder vases (4×5) (5×5) (6×6) (10×4) (20×6)
Square glass vases (3×3) ( 4×4) (5×5) (7×7) (12×4)
Rectangular glass vases (5.5x3x4)
Flowers
Without question, it is important to have an ample supply of red roses on hand for Valentine's day. Equally as important is a signature rare or unique bloom that you can offer customers who are not looking for the traditional red rose Valentine's Day arrangement. Think of some pretty bloom or blooms you can order early to entice your customers looking for that special something.
In addition, its good to get a grasp on what customers order—just red roses, or maybe pink roses in mixed arrangements. See below for a list of popular flowers for this holiday to create beautifully mixed arrangements.
Red roses (Freedom variety, 20-100 cm, 60 cm most popular)
Red roses (short stem, 40 cm for low vase arrangements)
Pink roses (Senorita Blush, light and dark)
Lavender roses
Cream/white roses
Yellow roses
Sweetheart roses (pink and lavender)
Garden rose (David Austin, any color you can get—however, blush pink is most popular)
Asiatic lilies
Pink oriental lilies
Stock
Carnations (purple, pink, white)
Matsumoto asters
Gerberas
Iris
Lisianthus
Tulips
Green buttons
Hydrangea
Tip: Flowers sales this Valentine's are predicted to be more than last year, so we suggest that you up your order by 10% on roses in particular. Take a look at last years Valentine's sales and up the order 10%.
Filler Flowers
Floral designers tend to have their signature rose arrangement look and feel. All these filler flowers below will work to create a stunning rose arrangement and work for all of your mixed bouquets.
Baby's breath
Lavender limonium
Wax Flower (White, pink, purple)
Monte (White, purple)
Statice
Queens Anne's lace
Greens
Gunnii eucalyptus
Silver dollar eucalyptus
Seeded eucalyptus
Cordyline green leaf
Bear grass
Tree fern
Italian ruscus
Salal lemon leaf
Leather leaf
Add-On Gifts
If you sell giftware in your flower shop, keep stock up for cross-selling. Cross-selling is the easiest way to take your Valentine's profits from great to unbelievably incredible. There is no excuse! Everyone at the flower shop should be offering their customers other products in addition to florals: "Would you like me to add a box of chocolates with that for only $X?"
This can make a huge difference.
Candies or chocolates
Greeting cards
Gift baskets
Balloons
Candles
Plush
Florists, do you have any must-have floral/supply item at flower shops during Valentine's Day week? Please share your feedback, tips or any Valentine's Day-related questions in the comment section below.
____________


Floranext offers great florist software, florist POS, florist websites and florist wedding proposal software. Our florist technology products are built by florists, for florists. Let us know if you want a free demo or try our software for free here.