Attendees interested in specific committees met to start talking and making decisions. Some were straightforward, others were less so. Floranext participated in the Technology committee discussion, but here is a summary of all of them.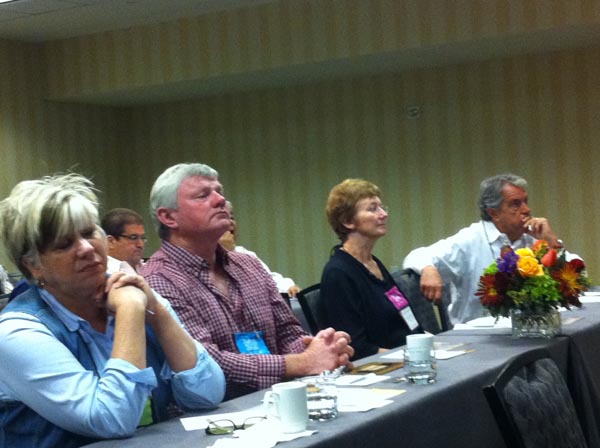 Legislative committee – discussed wire service fees and rebates.
– Fee Split: Agreement on the need to achieve a 90/10 split between sender and receiving florist in order to dis-incentivize order gatherers. Feeling that rebates won't go away, but need to be fairer. Controversial discussions were on whether to include grocery store florists as in FFC.
Organization Committee – FFC has created a legal entity
– Legal Entity: a 501c6 — a league of business owners. This limits what FFC can do – for example, any F2F network cannot be part of this organization.

– Representation: Any committee would need to represent different size of shops, since they may have different interests. This would be assessed by the number of employees, with four categories of shop size.

– Election and Terms: Two-year terms, elections in January via Internet, to allow for maximum participation. One member one vote was discussed – should multi-shop operations get more than one vote? Probably not.

– Role of Committees: Committees make recommendations, board makes decisions.
Membership Committee – Cost and privileges of membership
– Fees: $120/year for florists, $500/year for Associate Members + some clearly defined revenue stream. Right now membership fee will be low because benefits and discounts are still in process

– Spreading the Word – Goal for everyone present to talk to 10 florists, and get them to talk to 5 more. That will give us 25% of the floral industry or more, and that is a real movement.
Technology Committee – FFC is there to support independent technology vendors, rather than to build technologies itself.
– F2F Network: Discussion of the need for scale, clearing house competency, PCI compliance that make creating a F2F network a major undertaking. For now FFC is supportive of independent providers of F2F network.

– Florist directory: Discussion about creating a directory of florists. Would require a new brand, separate from FFC

– Access to Wire Service Orders: Currently in order to get wire service orders on a POS, you need to buy wire service hardware/software. Can we force wire services to inter-operate with other companies technology, so you can be a member of a wire service without buying their technology?

– Comparison Chart: FFC should create a comparison chart of technology options for member florists.
Tags: