Wedding bloom trends for 2018 are certainly something to get excited about!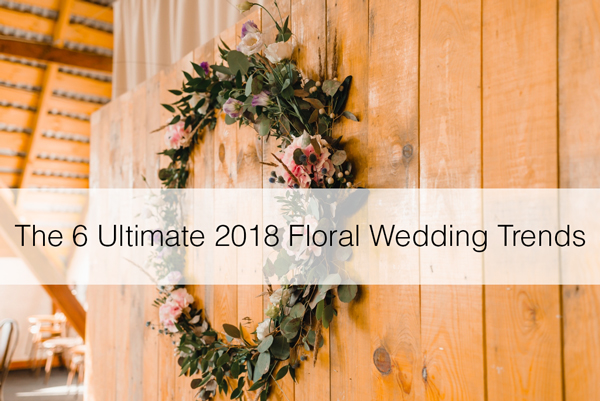 Pack up your mason jars, chalkboards, floral crowns and the word "rustic" and let's move on to the new floral trends that are emerging. Floral experts predict a lavish blooming wedding year for 2018 with more creativity and an abundance of romantic influences.
1. Be Green With Greenery
Ah, greens! We have loved the burgeoning use of greens for several years. Greens complement florals, and are so much more than simple filler in a bouquet. Just wait and see what role greens play in 2018, when they take the lead in wedding floral bouquets, with a variety of texture and woodsy design.
The greens you use make a difference. Try some of these trending greens:
Sage
Boston Fern
Hops
Dieffenbachia
Lambs Ear
Eucalyptus
Seeded Eucalyptus
Lemonleaf
Lether Fern
Philodendron
Italian Ruscus
2. Hanging Florals & Swings
2018 will be all about the "wow" factor and a fairytale romantic atmosphere. Flower walls are on their way out, and lavish hanging floral displays above table settings and blooming hanging swings will make for the perfect photo backdrop.
3. Navy Is The New Black
Forget all you know about the classic formality of the traditional black and white wedding. In the upcoming year, navy will make a name for itself as it edges out black in wedding decor and florals. Although we understand there are really not many navy florals, think of incorporating deep blue and navy ribbons, jewelry, and accent pieces.
4. Floral Wreaths
Think of floral hoop wreaths—2018 is coming on strong with this trend and we love it. An asymmetric wreathe can help create that oh-so-amazing look. Another big hit is using smaller hoop wreaths which are taking the place of bridal bouquets with this spin on the bridal/flower girl bouquet.
5. Be One With Woodsy
Although you may think there is not much difference between Rustic and Woodsy, and rustic weddings are now becoming a thing of the past. The focus is woodsy wedding themes for 2018. The term woodsy is more starry-eyed, lovey-dovey and enchanting. With the use of natural accents of wood, beautiful greens and branches, wedding guests can reminisce of a forest with beautiful textures that create a desirable look and feel.
6. Blooms In Mauve Is All
The perfect complement to the deep rich blues of 2018 wedding trend is flowers in mauve. Although 2018 predicts bolder colors and soft pinks staying on trend, the color to keep an eye out for in the year to come is mauve. Mauve is the perfect backdrop to the woodsy theme, and we recommend stocking up on mauve roses not just for weddings but for every day arrangements as well.
Florists, are there any wedding blooms that you see trending already for 2018? Please share any essential wedding flower trend for 2018 that you feel every florist should utilize.
____________


Floranext makes great florist software. Florist websites, floral POS, florist wedding/event proposal software, and florist technology. Let us know if you want a free demo or try our software for free here.