What are pop-up flower shops? They are typically temporary outdoor setups for traditional brick and mortar florists, to gain visibility and sell more fresh flowers, bouquets, arrangements, and more.
This trend offers so many opportunities to increase revenue, brand recognition, expanded business opportunities, and reach a new group of customers. No wonder pop-up florists are blossoming.
Growing your flower business can be a big commitment. Florists are also setting up pop-up shops to test the waters in a new location before committing to a permanent presence.
Image via Instagram @katysflowerwagon
Location, Location Location
As you can guess, location is Key! Whether you set up in front of your business or at a local event, keep in mind four important factors when deciding to have a pop-up location:
How Much Foot Traffic – how many people will be in that location?
Foot Traffic Time – What times during the day are the highest with foot traffic?
The location – Is there space for you to setup and is it visible enough to the foot traffic?
Permission – Does your business permit allow for off-site activity? With the growth of mobile vendors, you may need to check with local government to make sure you are covered to display outside your business or in certain locations
Note: Some businesses may need to check their insurance policy to see if your coverage also allows for off-site.
Choosing to start up a pop-up shop can be a great way to collaborate with other local businesses and vendors in a particular area. Getting to know your community helps you to determine which area you'll get the best business for your flower shop.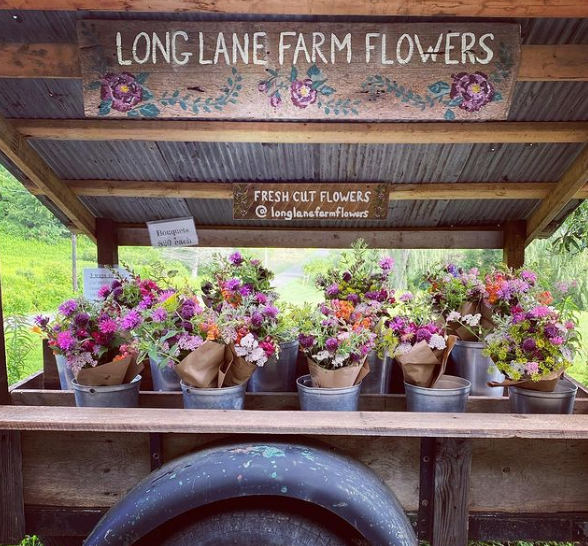 Image via Instagram @longlanefarmflowers
Pop-up Shop – Floral & Supplies
Whether you have decided to be in front of your shop or in another location, it's always best to prepare what type of flowers and supplies you will need.
Display – Keep in mind the space you have. Will, you just set up a table, custom display, or flower cart? the choices are endless. Your display should represent your personality and business, this helps with brand recognition with new and current customers.
Supplies – It's important to travel with ample supplies to prepare for custom work as well as transaction processes when on the go. Again with space, you may not have a lot of storage room. Keep it to the essentials, florist tape, florist wire, clippers, knife, a few containers, mobile POS system, and till.
Flowers – Some pop-up shops sell loose flowers, pre-made bouquets, and or arrangements. Before setting up your pop-up shop, decide what you want to offer. Remember, you may not have a lot of space, so only bring and display what you know you can sell.
Note: Give customers an experience by designing a few arrangements in front of them. Another great way to increase sales and additional foot traffic to your pop-up.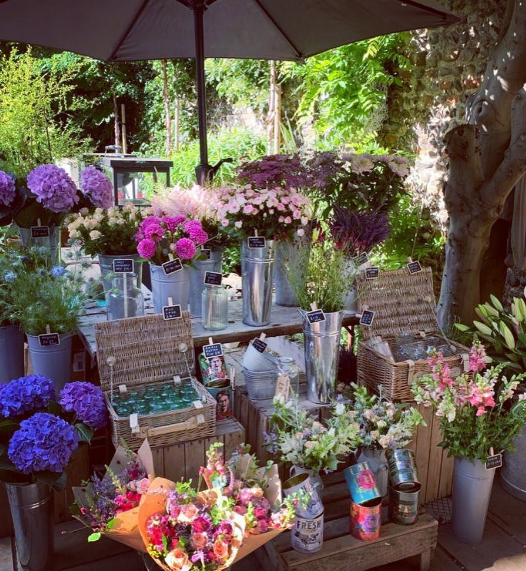 Image via Instagram @thecoastalflowercompany
Market your Pop-Up Flower Shop
There are a variety of ways you can market and provide information about your pop-up flower shop. In the digital age we live in, your social media accounts should definitely include posts providing information about the location/time of your pop-up shop, as well as a sneak peek into what you will be selling.
A great way to increase your social media traffic is to post hashtags and include your location! Look to other influencers for help with choosing what keywords to use. In addition to using hashtags, putting location tags on images show customers exactly where you are. This makes it easy to find and shop at your pop-up shop.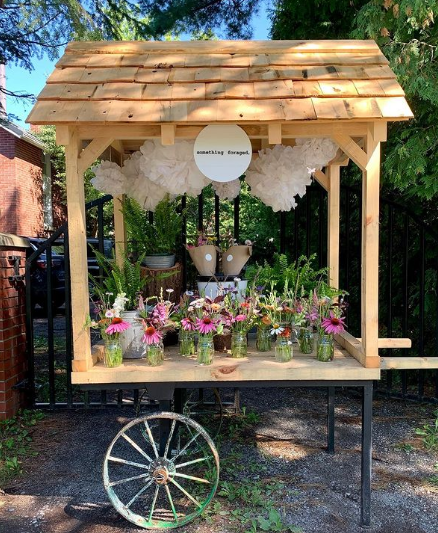 Image via Instagram @something.foraged
Florists, have you done a pop-up shop? What are some ideas, tips, and tricks that you can share with other florists to make their pop-up flowers shops successful?
____________

Thank you for reading the Floranext florist blog. We are committed to bringing flower shops the best information and tips to run their floral business. Click here to learn more about our florist software and how you can upgrade your florist website or floral point of sale.