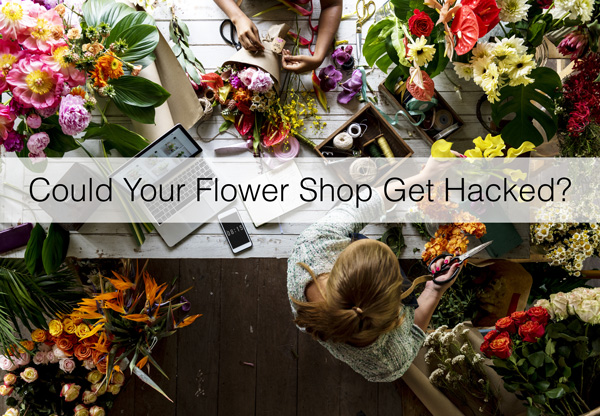 Recently, Federal, State, and Local agencies have been hacked. Is your flower shop next?
Over the past weeks, cybercriminals have attacked computers in Baltimore and other US cities, freezing computers, shutting down email, and interrupting real estate sales, water bills, health alerts and many other services.
We have collected some helpful tips so that your flower business won't be the next victim of similar kinds of hack attempts!
How Can Hacking Affect My Floral Shop?
Without having the most recent PC operating systems, like Windows 8.1 or 10, or up to date security patches, your floral business is at a high risk to be hacked. Many businesses who do not have up-to-date operating systems or security patches can experience the following:
Frozen or locked out of your PC
Stolen passwords and personal data
Stolen business/customer data
Viruses installed
Your computer can be used to attack others
Lost time and productivity
How Can I Secure My Flower Shop From Hackers?
1. Apply the latest patches: Make sure you have all your security patches up-to-date on your PC's operating system. On Microsoft, here are some helpful hints for checking if you need a security update. If you're on Mac, this article has instructions.
2. Don't use outdated software: Use the recent operating system that Microsoft offers (Windows 8.1 or Windows 10). Windows 7 will no longer be supported by Microsoft starting January 14th, 2020! Older operating systems like Windows XP no longer receive security patches and are a huge security risk.
3. Download a Password Manager: Passwords are easier to guess than you think! Don't use the same password for different sites. Use a password storage tool so save and protect passwords. If one of your passwords is compromised, other sites will not be compromised as well. We like 1Password.
4. Use two-factor authentication: Add an additional layer of security for at least your most critical services like banking, accounting, and email. When you log in with two-factor authentication (2FA), you will be sent a text message or verification code from an service like Authy or Google Authenticator.
We hope this information is helpful and allows you to run a successful and secured flower shop. Florists, please feel free to post any questions or comments below!
____________

Floranext offers great florist software, florist POS, florist websites and florist wedding proposal software. Our florist technology products are built by florists, for florists. Let us know if you want a free demo or try our software for free here.

Tags: