Skowhegan Fleuriste is nestled in the Historic Downtown of Skowhegan, Maine. They've been providing central Maine with high-quality products for over 25 years.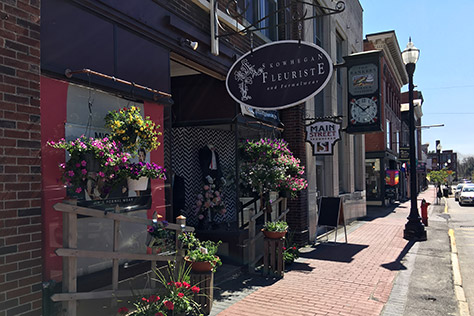 In their store, you'll find beautiful fresh flowers, silk arrangements, dried flowers, and household plants. Skowhegan Fleuriste also creates beautiful wedding and event flowers, their talented design staff is always ready to create the bouquets, arrangements, and on-site decorating for your dream wedding or any special occasion.
Skowhegan Fleuriste is owned by Matt Dubois. He had a successful bakery business and when he saw the flower shop next door was for sale, he realized it was the perfect companion for his bakery.
Floral Wedding and Event Business – Too Much to Keep Up With
Over the past two decades, Skowhegan Fleuriste had a lot of wedding and event industry work. The synergy between their bakery and wedding business helped their growth. They were growing each day and had more and more proposals to prepare for their clients. They got to a point where they needed something to improve their processes and manage their events seamlessly.
When they did consultations with clients it took a lot of time to enter every specific detail of the proposal: flowers to use, markups, the number of supplies needed, the contract. A lot of management time was being used just to create a proposal instead of making the flower arrangements. They knew they had to do something to improve this process and make it faster and easier.

A Better Way to Manage Floral Wedding and Events
Skowhegan Fleuriste's needs were clear – they needed a system to manage wedding and event proposals faster. So they did research on different systems and ultimately they signed up for the Floranext Floral Wedding and Event Software. With the proposals software they started to create proposals more easily and quickly than before, they updated and customized every proposal for their client needs. They were able to quickly update every aspect of the proposals without losing time entering contract terms or markups.
This Flower Shop saw an improvement in productivity when creating and sending a client proposal. The shopping list feature allowed them to reduce wasted flowers and increased their profit by buying exactly the right amount of flowers needed for their weddings and events.
Skowhegan Fleuriste saw a big improvement in the process from consultation to closing the deal for weddings and events. This translated into more satisfied customers and more new clients thanks to previous customer recommendations.
Running the Business Better
Skowhegan Fleuriste concludes that they're running their business better, saving time and increasing profits by using Floranext Floral Wedding and Event Software. It has helped them to increase capacity for their wedding and events management and they are growing the business every day. They have improved processes and response time for new customers and they've seen a big improvement in customer satisfaction.

Tags: