With Queen Elizabeth's recent Platinum Jubilee celebration hitting the headlines, it's the perfect time to take a look at royal flowers throughout the years! As florists, it's fun to look at how flowers have played a part in events that have had the entire world watching.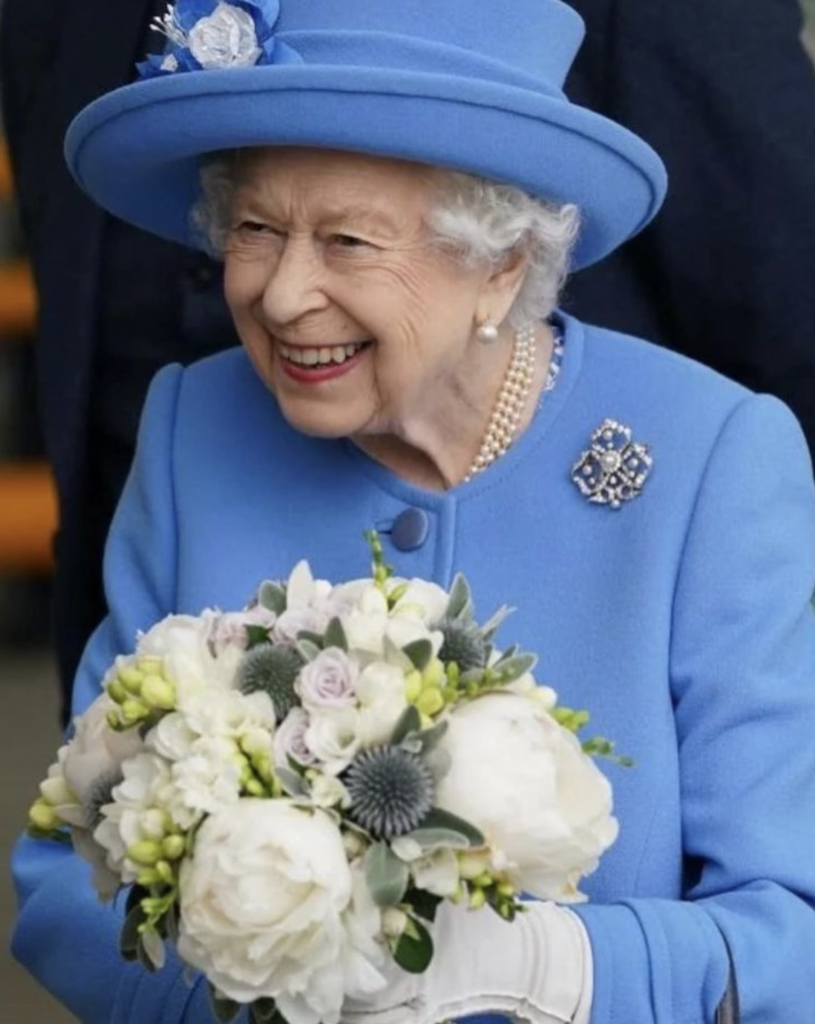 Royalty and their flowers
Wherever the Queen and or the royal family are, there is a-lot of pomp and circumstance involved. Whether it be a royal visit, memorial, coronation, wedding, royal event, and anything in between, intertwined in these events are flowers.
Flowers play a huge significant role in royalty events, either visually or symbolically. In the United Kingdom, the use of flowers are tied with many traditions and goes deeper than just an accent to an event. Things like the type of flower, design, color, scent can send a powerful message.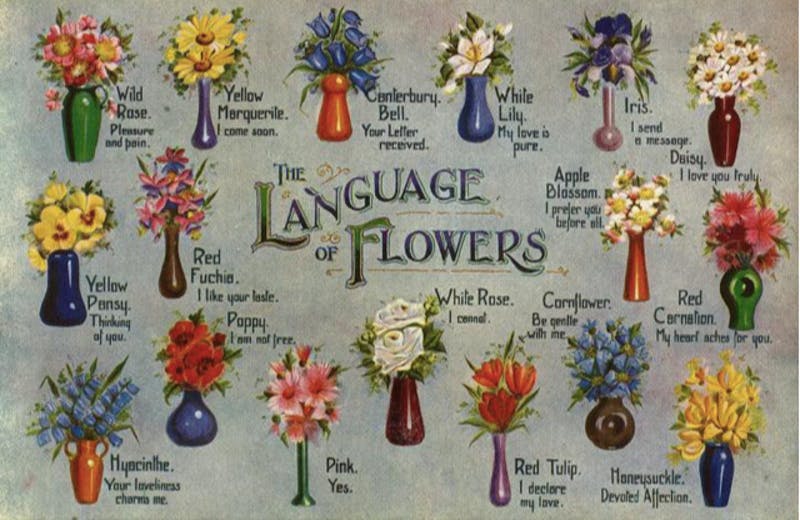 The Language of Flowers
Floral messages or "Language of Flowers" is called floriography. Floriography is the concept of communicating a message from the use of flowers. This type of language has been around for centuries, yet very popular with the UK royals. Floriography blossomed under the reign of Queen Victoria, who is linked to a few flower traditions herself!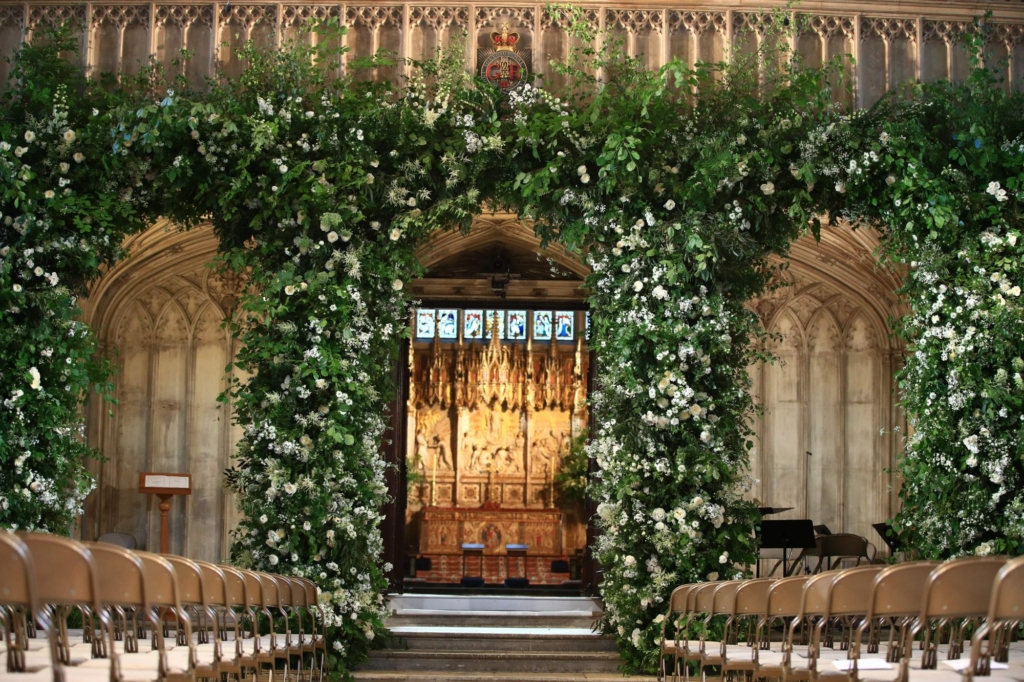 Royal Wedding Flowers
Flowers have always been an essential part of weddings, but did you know that in royal traditions, specific flowers or symbolism of flowers have been included in every royal wedding since Queen Elizabeth I and Queen Victoria?
Elizabethan Era | 1558 – 1603
Pomander and posy were popular among Brides.
Herbs had their place in bouquets, especially Basil. This acted as an air freshener for

whoever carried the bouquet, as at the time, personal hygiene was not exactly what it is today.
Victorian Era | 1837 – 1901
Sprigs of Myrtle in brides bouquets. Originally started by Queen Victoria as myrtle was grown at Osborne, a vacation home of the queen.
White orange blossoms, which was one of Queen Victoria's favorite flower. The flower also symbolizes Chasity.
Since Queen Victoria's wedding, most if not all flowers in the royal wedding bouquet are white. Keeping the flowers white is a practical purpose making sure the flowers used are eye catching.
Flowers used in royal weddings are grown in the United Kingdom.
George VI Era | 1936 – 1952
Started by Queen Elizabeth II mother, Royal brides leave their bouquets at the tomb of the unknown warrior in Westminster Abbey.
Second Elizabethan Age | 1952 – Now
Lily of the Valley has always been a royal favorite but it was until Queen Elizabeth II marriage to Prince Phillip, Lily of the valley has been incorporated into weddings.
Princess Diana carried an over the top bouquet for her wedding to Prince Charles, with a cascading shape that featured foraged, wild flowers.

Kate and William spent a staggering

$1.1 million on flowers. Lining the ceremony at Westminster Abbey were a mix of English Field Maple trees and Hornbeam Trees, each about 20 feet high. Her bouquet was a romantic nod to her new husband, featuring Sweet William blooms, inspiring a trend of adding subtle romantic touches via florals and other details.

Current Royal Weddings have flowers embroidered on their dresses or trains – Rose for England, daffodils for Whales, shamrocks for Northern Ireland.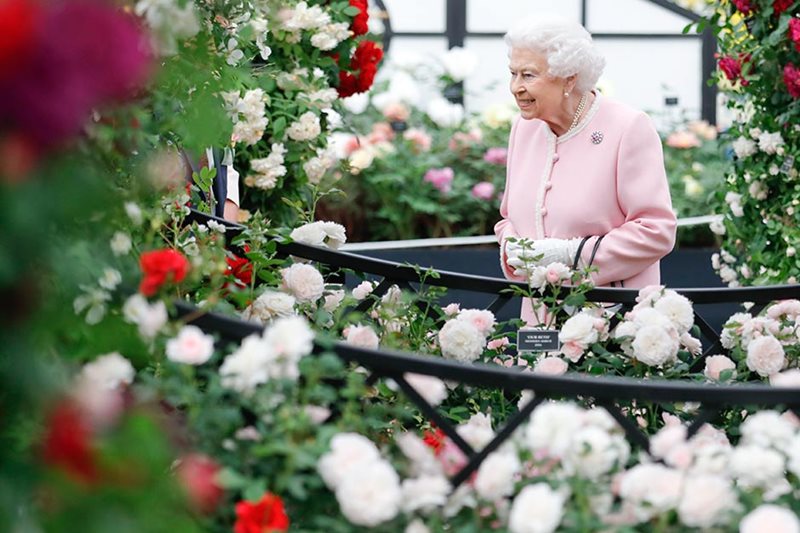 image via RHS
Florals At Royal Events
Flowers are not just for Royal weddings but for other royal events as well.
Coronation
Queen Elizabeth's coronation bouquet flowers represented the commonwealth. Orchids and lily of the valley represented England, Carnations for Northern Ireland, Orchids for Wales, Stephanotis for Scotland.
Her coronation gown was embroidered with flowers and plants representing the commonwealth. The maple leaf for Canada, a lotus flower for India, and the protea flower for South Africa, among others.
The oil to anoint the monarch is a secret but it's know to contain flowers like orange flower, jasmine and rose.
Christenings
Prince Charles has started a tradition of his own at royal christenings, wearing a Dianthus Devon Wizard in his Jacket button hole.
Funerals
Typically in funerals, the flowers chosen to adorn the casket or at the ceremony are flowers that represent the person or emotion.
In Prince Phillips funeral arrangements, rosemary was used for remembrance, lavender for devotion, acanthus to his birthplace, Greece, white roses for June, his birth month, jasmine for strength, and sweet peas for farewell.
Jubilee
For Queen Elizabeth II 70th Jubilee, she had a brooch custom made for her. The brooch has the flowers representing the commonwealth and lily of the valley, the queens favorite flower.
Chelsea Flower Show
The UK loves their flowers and hosts one of the biggest floral shows on the map, the Chelsea flower show.

This years show and commemoration of the queens jubilee showcases several decorative floral and plant displays, including a sculptural portrait of Her Majesty made from flowers. This is such a beautiful tribute to not only the celebration, but to the role that flowers play in the role of royal events now and through history.

Commonwealth Flowers
Even in the United Kingdom, the countries that form the commonwealth are also symbolized with flowers.
England
The Tudor Rose represents England.
Most commonly considered a symbol of romance, this flower has had a darker meaning in England during the civil war known as the war of the roses. Now the flower represents England's patriotism, "The Flower of England."
Wales
Wales is represented by the daffodil.
Exactly how the flower became the symbol for Wales is a mystery.
The flower's name in Welsh is: cenhinen Bedr, which literally translates as 'Peter's leek' – leeks being a symbol of Wales since the 16th century. Both the leek and daffodil blossom at the same time, and the daffodil being prettier, seems to be the reason why it was selected.
Scotland
The Thistle is the national flower of Scotland.
One of the highest orders in the royal circle is also named the order of the Thistle.
Northern Ireland</p
Shamrocks is symbolized for Northern Ireland.
The patron saint of Ireland, St. Patrick is said to have used the shamrock to represent the Holy Trinity.
Florists, what is your favorite royal tradition? Is there a tradition we missed? please share your comments below!
</p
____________

Floranext makes great florist software. Florist websites, floral POS, florist wedding/event proposal software, and florist technology. Let us know if you want a free demo or try our software for free here.