Floranext would like to say thank you for the overwhelming responses to those who participated in our annual florist Valentine's Day survey, which shows some definite changes for 2022. Based on florist feedback, It looks like 2022 was a very busy holiday for the retail floral industry.
Key Floral Trends – Valentine's Day 2022
Valentine's Day sales were very strong: Despite the flower shortage and Valentine's Day falling on a Monday.
38% of florists stated they had better Valentine's Day sales compared to last year's Valentines Day, that's an increase of 8.4% from 2021.
Website orders increased significantly: 40% of florists reported more web orders this year, while 37% reported they stayed the same.
Dozen roses prices were up a lot: Average prices were almost $105.
Many florist experiences flower shortages: 34% saw shortages, with roses being the most common.
Were Valentine's Day 2022 sales better than last year?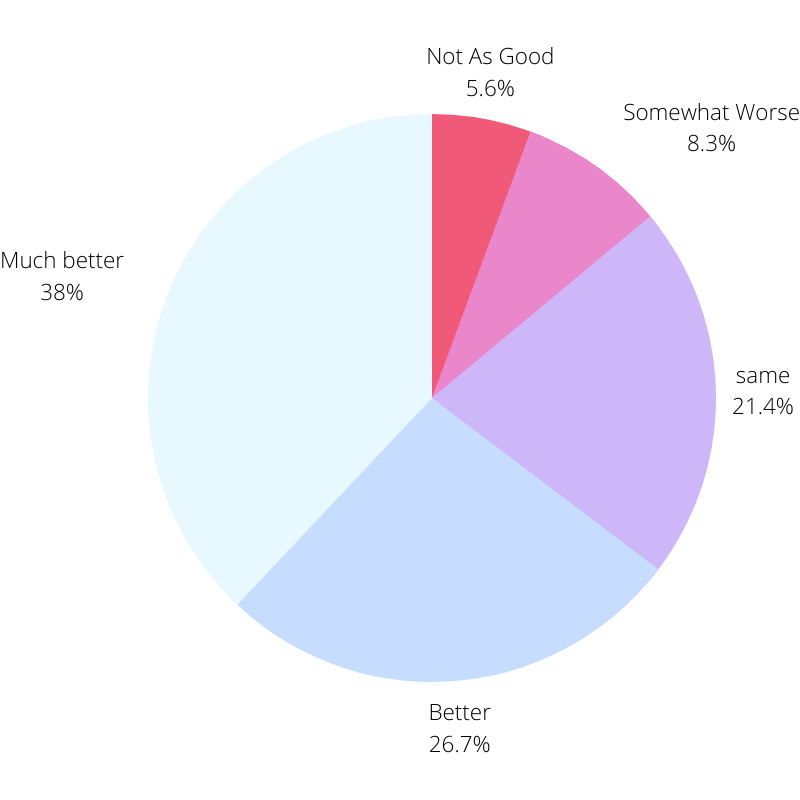 Not surprisingly, Walk-In-Orders were higher this year, with an increase of 28.3% compared to last year's results. Phone orders stayed about the same with shops reporting 2.6% fewer phone orders, however, florists reporting higher website orders for 2022 were down by 11.3%. Could it be that customers are tired of being cooped up at home and are out shopping versus shopping online?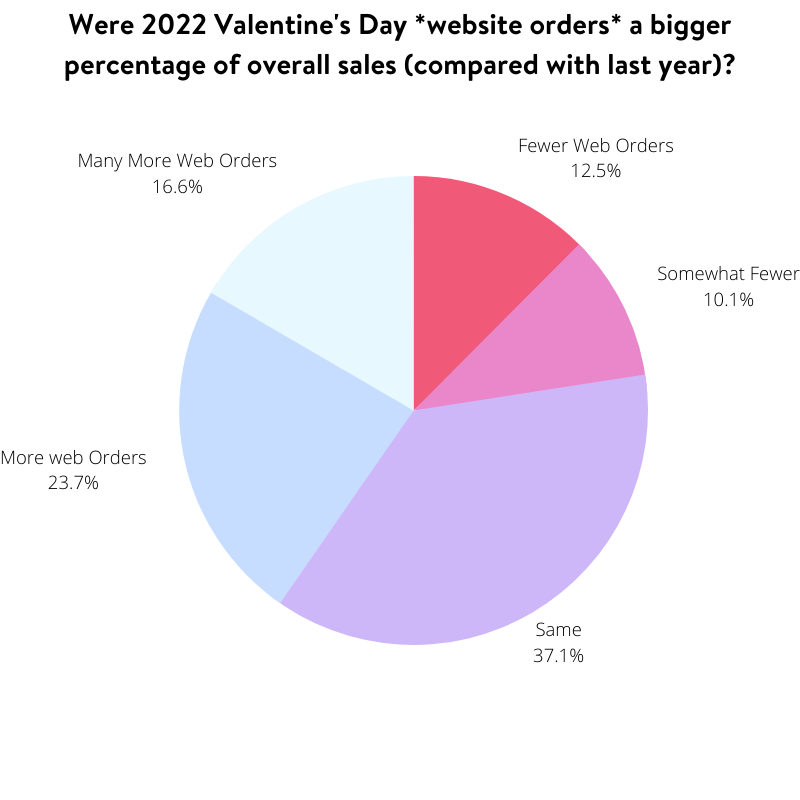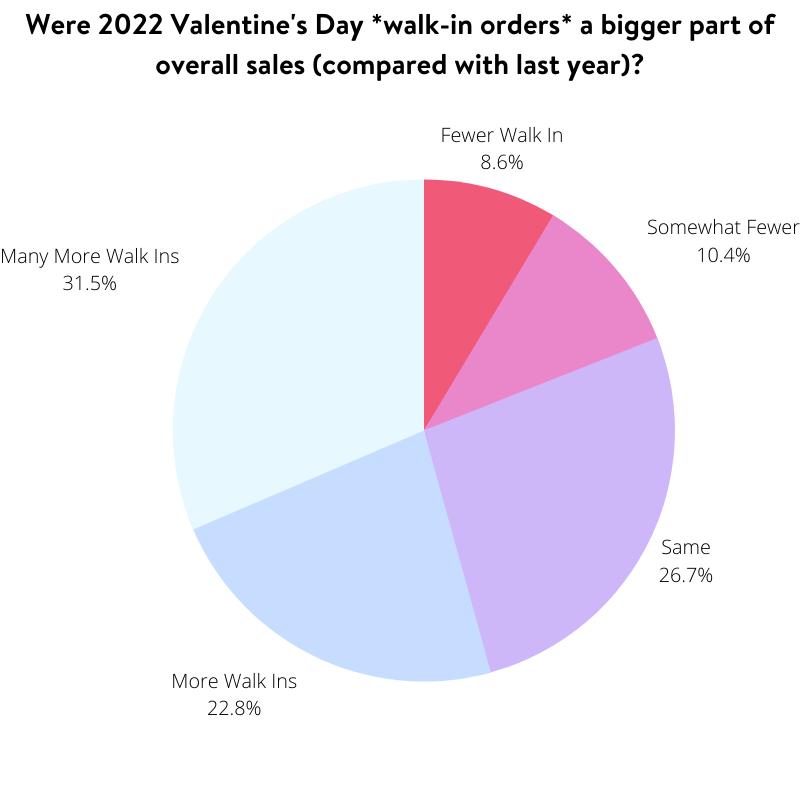 .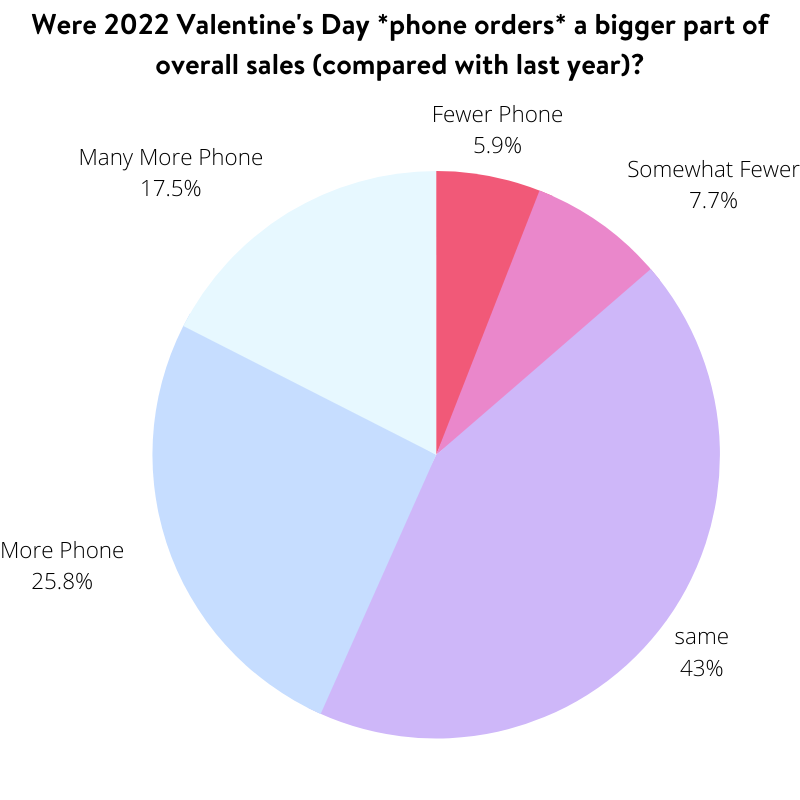 With the shortage of flowers and quality of roses, A Dozen Rose's price range was very wide, the average in the United States was around $104.58. This was an increase of $13.08 or 14.30% compared to last year's prices.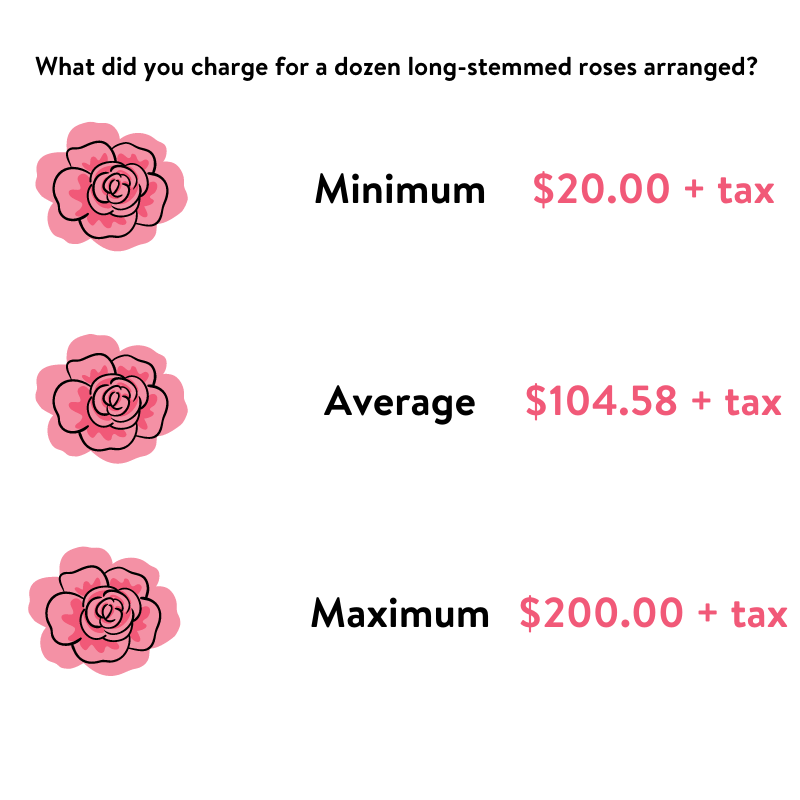 With the shortage and quality of roses, arranged flowers were overwhelmingly the next most popular item this year. Candy and chocolates once again were the number one choice for an add-on this Valentine's Day.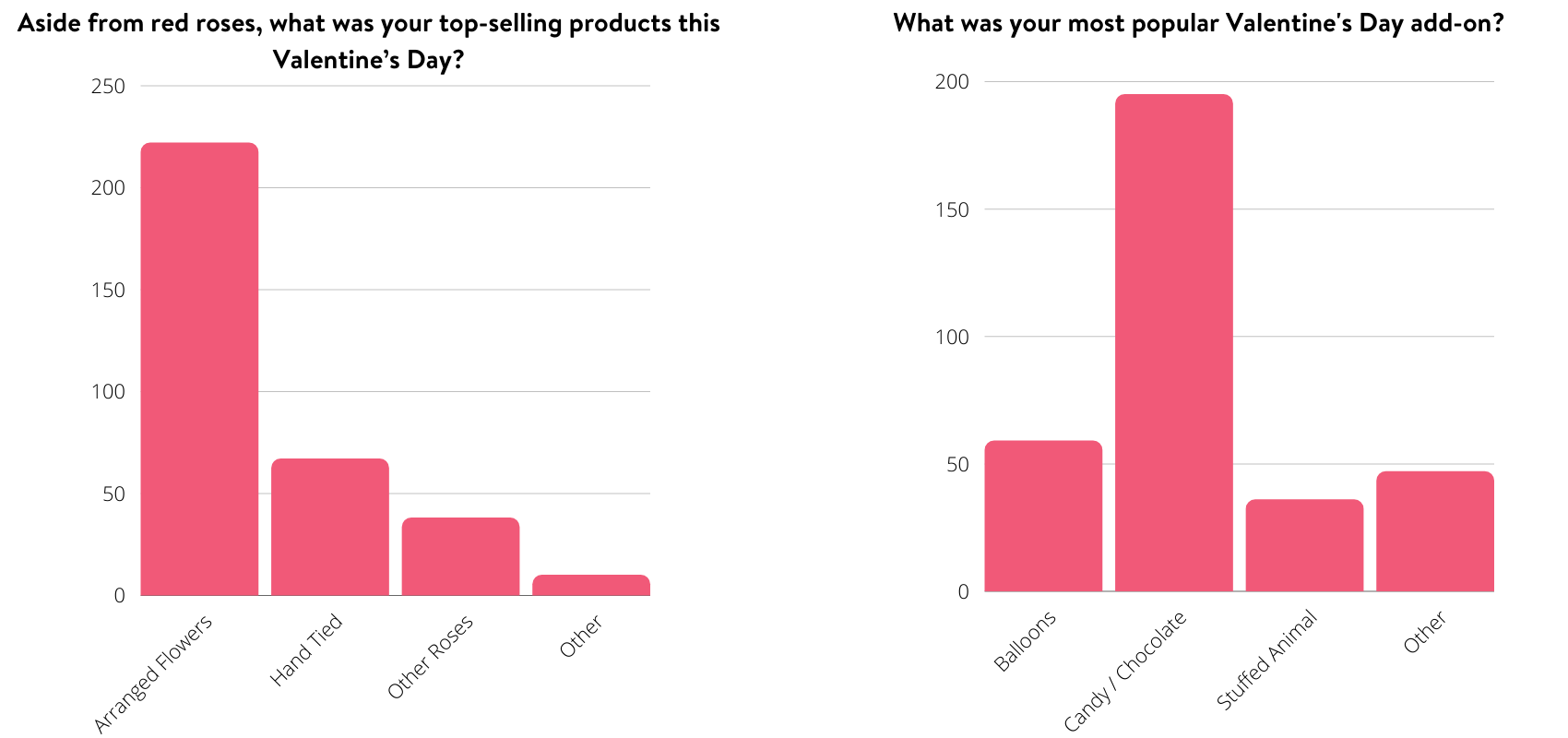 Temporary staffing continues to be an increase year after for flower shops during the busiest holidays of the year. About 74% of shops added new staff, a decrease of 1% compared to 2020. This year 81.9% shops added additional drivers, an increase of 5% compared to last year. Most shops did not rent vans for the holiday specifically, likely choosing to use driver vehicles.

Valentine's Day orders started coming in early for many shops, with 49% getting holiday orders in January, an increase of 9% compared to 2020 – This just shows that it is important to keep your floral websites up to date and start marketing customers for major holiday and events weeks in advance.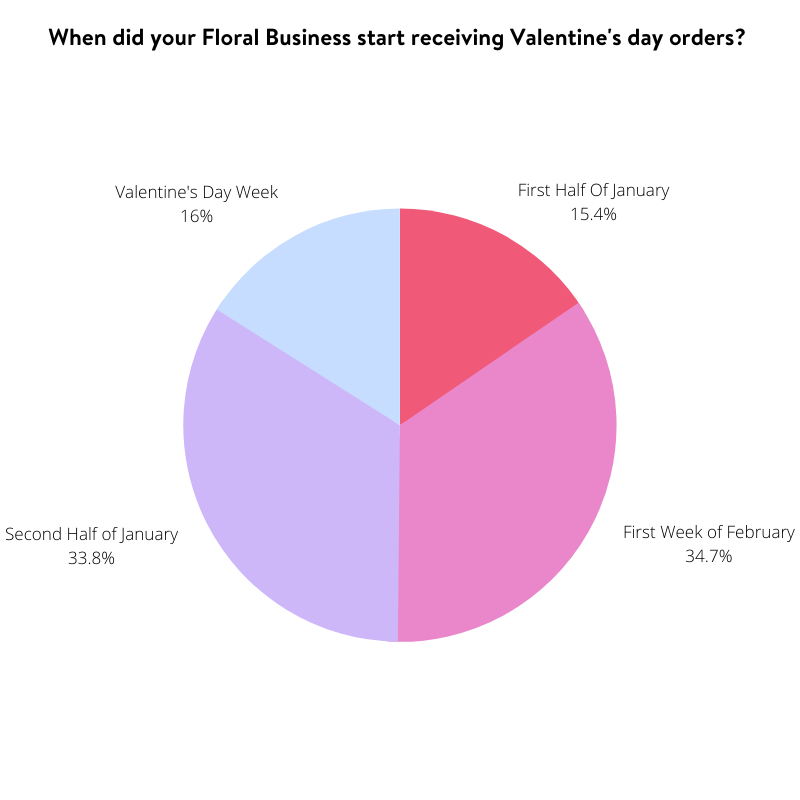 Since the pandemic there has been a shortage of flowers, especially during the holidays. This year 34% of florists were unable to get specific flowers from their wholesaler, flower market, and or flower farm. Listed are the flowers that were reported that were hard to receive.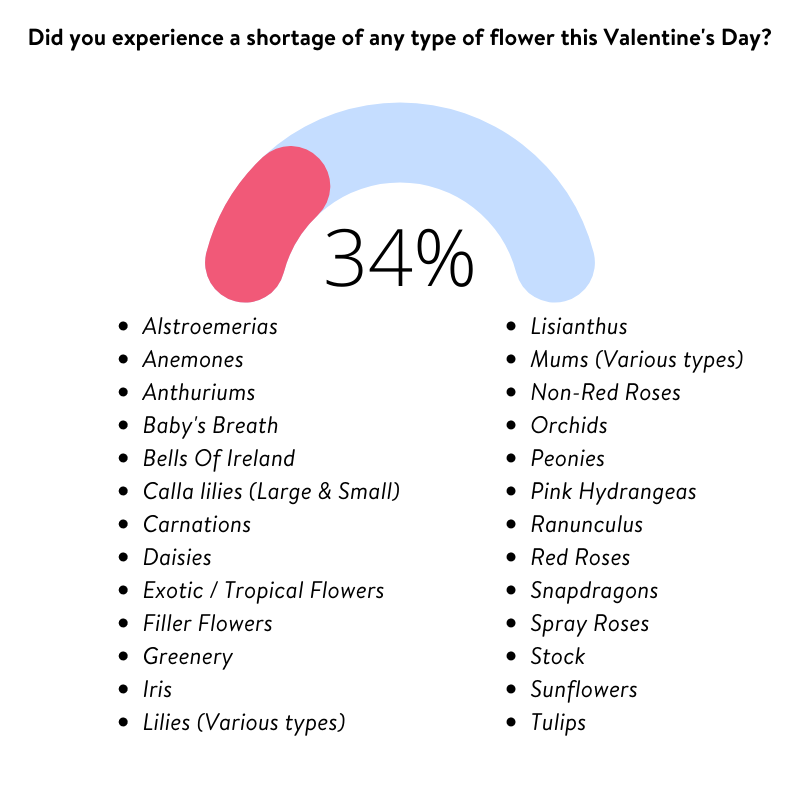 What (if anything) would you do differently next Valentine's Day?
Floral Ordering: "More mixed bouquets using the same flowers!", "Order fewer flowers so we sell out." and "Fewer dozen roses and more mixed flowers"
Preparations: "prepare more arrangements", "limit customer selections and keep cooler filled", "More things for Galentine's day – seems to become more popular", and "green more vases and don't order Euc till closer to day."
Hiring: "Secure more employee help", "Hire faster and efficient drivers", "More drivers and customer service staff", and "Extra help on the day of holiday"
Deliveries: "Start deliveries earlier in the day," "Delivery coordinator," "Be more organized with routing my deliveries", and "hire additional drivers and rent additional vehicles"
Marketing: "More social media posts", "Start marketing in January for Valentines Day", "More advertising," and "Market bigger!"
___
Thank you florists for participating in our annual floral Valentine's Survey – we see some definite changes for the floral industry. Wishing you well for 2022 from Floranext – where we continue to help independent florists succeed!
Results were based on the 337 retail florists surveyed by Floranext between February 16th through February 21st. Florists were based in the US (72%), Canada (10%), international (16%), and no response (2%).
____________

Floranext makes great florist software. Florist websites, floral POS, florist wedding/event proposal software, and florist technology. Let us know if you want a free demo or try our software for free here.