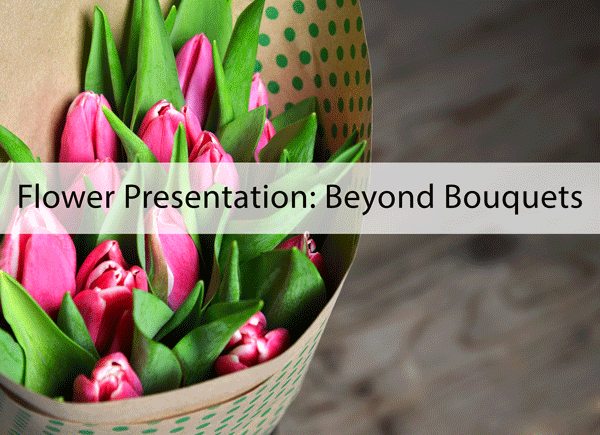 Flowers are beautiful on their own, but that doesn't mean you can't dress them up with a clever presentation!
Florists can get creative not just with their arrangements, but with the presentation of those bouquets. Here are a few suggestions you may want to try!
Vintage Tins and Canisters
Vintage cans go well with flowers that have muted hues, making for a great complimentary tabletop arrangement and evoking that vintage feel.
They might not stand out as much as most other arrangements, but they are supposed to fit in and mesh well with an environment that's peaceful and calming, with the calm hues of both the flowers and the vintage canisters capturing the atmosphere of the days of yore. Spending an afternoon around these arrangements, with matching tea and small talk, is a perfect way to enjoy these flowers.
Teacups and Tableware
Tableware looks gorgeous by itself—its purpose is to beautify the food you serve with it, after all. However, it might come as a surprise that tableware can also work as flower vases. Teacups especially are commonly used for miniature arrangements, taking advantage of their small sizes to put an overflow of blooms to its brim.
These arrangements are best put on a small, circular coffee table or an extra ornament to a larger set-up in the dining table, for example.
Wooden Boxes and Crates
Of course, we've been looking at designs largely inspired by and meant for the indoor space, but there is also lots of room to design for the outdoors. One reliable go-to for flower designs are wooden boxes or crates, grabbing that countryside vibe and getting a little bit dirty with the arrangement.
Wooden boxes, or even simply adding rough planks around your arrangement, encapsulate the perfect countryside feel that looks great for designs you can put in your backyard, or just by your windowsill for a flavor of the country.
Baskets and Hat Boxes
Instead of a basket filled with cookies, this basket is flourishing with a bouquet of flowers. Hat boxes also have the same charm as the baskets. Baskets, particularly, have a very unique aesthetic, with its woven design and their seeming appearance to be a portable arrangement. They would also look good with muted hues, as baskets with their usual quotidian colors can be a great complementary addition to any space.
Glassware
Of course, we can't just skip the original flower vases when speaking about flower designs. The variety of glassware is astounding, and the creative designs most of them have are enough to fit in almost any space of the house. Even basic glass vases can look stunning by adding colored water to the vases. They might be simple, but just like mason jars, this opens up to more possibilities that you can do.
They are many more creative ways to present flowers, like old suitcases, floral shelves, and even hanging arrangements. With enough creativity and effort, almost anything can be used to complement the beauty of the flowers. Most will feel like a do-it-yourself project, and honestly, flowers look best when you know they had a touch of your creativity as they sit around your space, beautifying it as it should.
Florists, what are some creative ways you present flowers? Please share your comments below!
____________

Floranext makes great florist software. Florist websites, floral POS, florist wedding/event proposal software, and florist technology. Let us know if you want a free demo or try our software for free here.

Tags: