Is your flower shop suffering from the 'after Valentine's Day' blues? Don't let seasonal fluctuations impact your business. Follow these tips to attract customers after Valentine's Day and boost your revenue!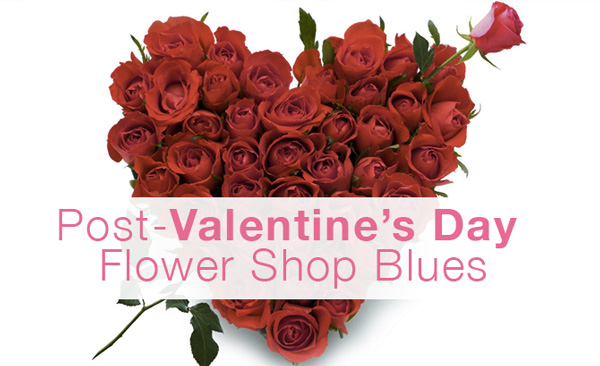 Cures for the Post-Valentines Day Flower Shop Blues
Redecorate
This is the perfect time to get your shop in order! Take down the Valentine's Day decorations and brighten up the shop for Spring.
Do Spring Cleaning – Go through your shop and organize your displays, files, and promotional items
Change Your Window Display – Arrange your display for the upcoming season
Create Seasonal Floral Arrangements – Add new bouquets to your website and marketing materials
Have A Sale
Get rid of extra Valentine's Day products! Hold a sale in March with discounted bouquets and chocolates to increase revenue.
Be Specific – Let customers know exactly what is on sale and how much your discount is (30% Off All Valentine's Day Arrangements)
Bundle Your Products – Create discount packages of candy and floral arrangements to sell more items
Post It Online – Use florist technology to promote your sale online
Increase Marketing
Step up your marketing efforts to bring in new business!
Grow Your Online Presence – Use social media, email, and online advertisements to draw attention to your florist website
Start Blogging – A blog can improve your florist website and help you connect with your customer base
Send Out Mailers – Send mail to Christmas and Valentine's Day customers to gain repeat business
Start Something New
Offer new products and services to boost your seasonal income!
Light A Flame – Add scented candles to your product displays and sell them to customers
Don't Forget About Easter – Stock your shop with floral displays, chocolate bunnies, and peeps for the Easter season
Reach Out to Your Community
You have thousands of potential customers right outside your door!
Hold A Contest – Start a raffle and offer free services to community members who enter
Send Flowers To Your TV Station – Send a beautiful arrangement and marketing materials to get your business featured on the local news
Work With Nonprofits – Donated services can transform charity events and help you promote your business
____________
Floranext makes great florist software. Florist websites, floral POS, florist wedding/event proposal software, and florist technology. Let us know if you want a free demo or try our software for free here!

Tags: