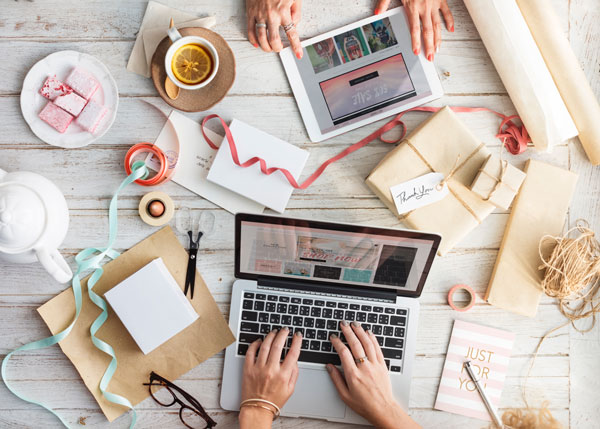 November 29th, 2018
Posted by Josh D
Become A Floral Designer, Blog, Florist Marketing, Florist Operations, Florist Profits, Florist Resources, florist technology, Opening a Flower Shop, Search Engine Optimization, seo
0 thoughts on "Graphic Design Resources For Florists"

In this age of technology, businesses are radically changing. Aside from retail shops, there's now an entire world that you can reach with just a few clicks. The competition is now online, and you need to step up your game to stand out from the rest.
As a florist, you have more or less a good idea of what makes a good floral arrangement. With a healthy variety of flowers, you communicate different messages from the types of flowers in the bouquet to the very placement of the flowers.
What you want to achieve is the awareness of your brand. You need to look different, striking, and eye-catching to rake in these customers just like your floral arrangements. The question now is, how?
There are a ton of graphic design options available out there, just search on the Internet. The great thing about them is that you can go about it in many different ways, from DIY (Doing It Yourself) to hiring some professionals to design your shop's look. But before everything else, you need to define your requirements.
Requirements
What do you need to be designed? For a field as varied and subjectively beautiful as design, you need to clearly delineate your requirements and express what you want to see in your design.
If you have a particular design in mind, clearly communicate this with your graphic designer.
The common way to do this is to find inspiration from the design work of other places. You can also do a rough sketch and present it to them. The idea here is that you explicitly told them of what you expect from them; this helps build a clear understanding of your end-goals.
Promotional materials
If you are hosting an event in your shop, like an Open House or Special Event, it's great to tell everyone about it in a flashy way.
You can promote your events through print materials like banners and flyers. These are excellent for spreading the news across the local block. You need to tell your designer that they'll be designing for print materials so that they can appropriately modify the size into what's best for these kinds of designs.
However, the most common way to do this nowadays is to promote it online.
Social media platforms have a very broad reach to many people, and the word there gets passed on faster than offline. In this case, you need to tell your designer that the material will be used for the web. Sometimes, you can also ask for desktop and mobile versions of the design, or have specific versions for each famous social media platform.
For example, square posters work great on Instagram, while portrait images look great on either desktop and mobile. Understanding how far you want your scope will reach helps define the requirements for the job.
Branding services
If you are still starting up your shop, you will want to have an image, a feel of what you want your flower shop to be like. You can easily achieve this with a brand, an identity that's unique to your business. However, getting branding service work is significantly different from promotional Materials.
While promotional materials deal with specific events, branding services deal with the entirety of your shop, the image of your shop that you want to convey to your customers. One common work under these services would be the logo.
The logo is the visual representation of your shop, aside from the brick-and-mortar store that you keep. It should convey your business and your visions as you conduct business. You also need to be unique and stand out from the crowd. Whether you go for a minimalist logo or an extravagant one, make sure that it catches eyes and is memorable when people look for a florist.
From the logo, a variety of marketing materials can then be derived and is usually part of the package of branding services. Calling cards, packaging design, letterheads, and even templates of posters are commonly part of the package.
Now that you know what you want, you would want to see that design come to life. Whether you do the grunt work yourself or you spend some money to hire a freelance designer, there are many options for you to choose from!
DIY Options
You should understand that doing the design yourself means more than just thinking of the design. You also need to know the technical skills required in using the tools and software needed to make the design.
If you are confident with your Photoshop skills, then these DIY options might be a great fit for you!
Logo and graphic designs makers
Earlier we mentioned the popular photo editing software, Adobe Photoshop, but the user interface of the program can be overwhelming to first-time or inexperienced users. Thankfully, the Internet is bustling with easy graphic design makers.
Right off the bat, a quick Google search can give you Canva, Piktochart, Snappa, and all other similar websites that offer basically the same service: an easy graphic design maker that can produce professional-looking designs.
The upside of these sites is that they provide templates from which you can start building upon. There's a huge array of choices available from their catalog, each designed for specific purposes and with modifiable text and/or images. These websites also provide extra graphics assets readily at your disposal. With a theme as flowers, you are sure to have a template or two ready to be edited!
The downside of these is that you have limited control over the assets; most of these websites do not have the full breadth and robust tools that something like Photoshop has. With a badly done design, this can be a disaster. However, you can do most of the work that you want to be done on these sites. Also, free members and guests might need to attribute the design to the website, with some watermark that you don't want to have. These websites are great for simple work that can be done with a template, and they do it really well.
These websites usually offer these services in memberships, likely in two tiers, a free one and a premium one. Needless to say, free members get limited access to templates and assets, while premium members can access their entire library and even ask for professional help in the website.
Editable graphic designs from design sites
If you are confident with your editing skills, you probably wouldn't be here. However, if you are willing to expand your skill set, you can take a swing at learning Photoshop or Illustrator (a 'similar' program, used to open most assets from design sites). You can actually get decent work done after a few YouTube tutorials or so.
Of course, Starting from scratch is a monumental task. You can take a look at several graphic design sites like Freepik and Creative Market and see some templates that you can modify. Graphical assets like icons are also readily available in these sites. You can download these files and modify them in the program, making it into the design you want.
This can be the most taxing option available, because of the nature of these programs that are aimed at professionals. Plus, just like the maker websites, you will need a premium membership to access all their assets. This option is certainly not for quick jobs, but if you want to really do it yourself, then you can just make it yourself.
Hiring professionals
In all honesty, we don't have the luxury of time to actually do the design ourselves. Plus, the design can easily go horribly wrong in the hands of inexperienced users. Hiring professionals for graphic design services can be quite the number in your financial account, but for the sake of exposure and gaining customers, this can be a worthy exchange.
Freelance graphic designers
The easiest way to hire professionals is to go to a freelance website and scroll from the long list of freelancers willing to do your bidding in a heartbeat's notice.
Freelance platforms like Upwork and Fiverr have a healthy population of freelance graphic designers that would jump at your job posting. The positive thing about hiring freelance graphic designers is that the price can be relatively cheap, and you can state that they do not hold any rights to the work done.
However, revisions with freelancers are usually also paid, unless stated otherwise beforehand. You need to talk with your freelancer before getting the job done.
The first thing to look for in a freelancer is their portfolio. Freelancers usually have them posted in their profile, and you can also ask for samples during the interview phase. This helps you identify the right freelance graphic designer whose style that you prefer, although most professional designers should be able to do what you want to be done.
Because freelancers work in contracts, hiring them is great for designing quick things like posters for an upcoming promo. Turnaround times are also good because the competition in the market is rather tight.
Graphic design services from design teams
This is as professional as professional design can get. Most professional graphic designers create teams to work under one name that rakes in work. These teams offer packaged deals in graphic design, like getting a logo, poster templates, and business cards done for one payment. These deals are also usually very flexible, like letting you order just a logo, or letterheads and business cards. They also allow revisions of the design, in case you didn't like the first designs.
Out of all the options presented, this one is the one that you can get the most professional designs from. With design teams, one person may be doing the design, but then passed on to another for quality checking in order to maintain a standard set by the team internally.
Well-established teams also have great customer support, in order to create a positive reputation around themselves. Having a design team make your creative works also makes any design to be done, with little to no effort at your side. Of course, this convenience may come at a high price.
Design teams usually have a dedicated website, and you can easily scroll their portfolio to see if they are a great fit to your job. They are great for having work done about your brand, and they can produce design materials like templates that you can use for the future. Plus, you hold all rights of the designs, so you need not to worry about copyright.
Letting people around be aware of you makes you relevant to the current times. Florists, what are some ways you use graphic design in your business and what options do you use? Please post your comments below!

____________

Floranext makes great florist software. Florist websites, floral POS, florist wedding/event proposal software, and florist technology. Let us know if you want a free demo or try our software for free here.