As the year continues to progress, we're getting closer and closer to spring. With that new season comes an abundance of business for florists. With that being said, there's no better time than now to start preparing for the spring and the busyness that it brings along with it. After all, this season is known for budding flowers – so that is a sign in itself that you will be brimming with business very soon. Go into that time prepared!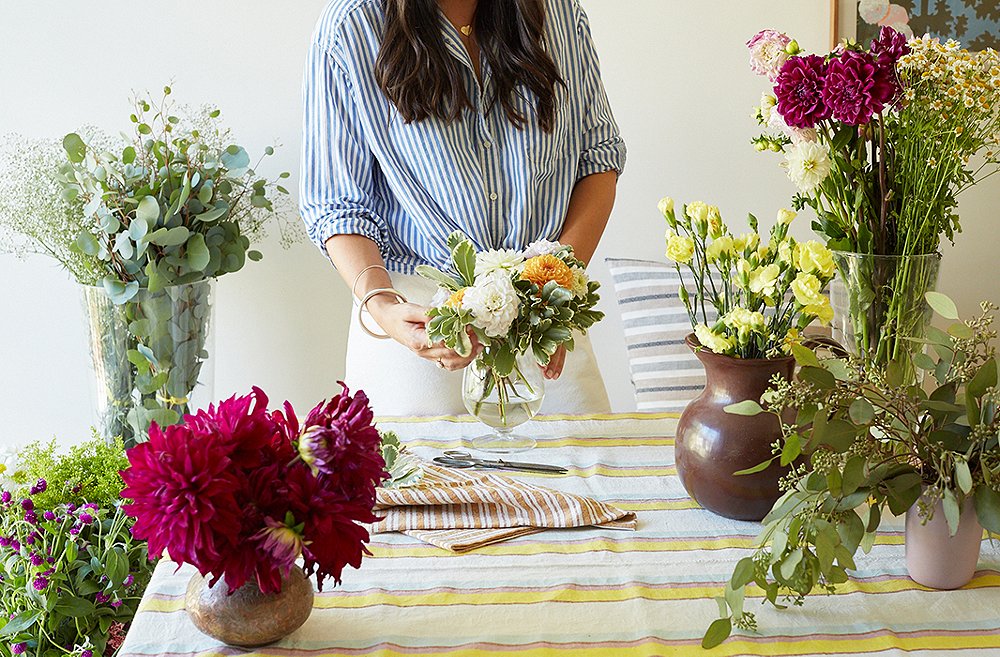 Photo via One Kings Lane
Ordering Floral Supplies and Tools
Since you know you'll be busy during the spring months, now is a great time to order extra supplies and to have back stock. Floral items you should stock up on are:
Vases/vessels
Ribbon
Floral Wire
Floral Picks
Floral Adhesive
Floral Tape
Floral Foam
Floral Cages
Floral Crowning Glory
Organize everything well so that it's easy to grab it and go when you're busy fulfilling orders. Any small way to streamline the process will make a difference! This is also a perfect time to make sure that your knives and clippers are clean and sharp. Get them sharpened or replaced!

Preview Floral Spring Holidays
The first way to be prepared for the spring is to know exactly when your busiest times will be. There are several holidays that hit during this time of year, and they're likely the time that you'll be slammed with orders. Here are the holidays and dates to be aware of:
Easter – Sunday, April 17, 2022
Administrator Day – Wednesday, April 27th, 2022
Teacher's Appreciation Week – Monday, May 2nd – Friday, May 6th, 2022
Mother's Day – Sunday, May 8, 2022
Prom Season (dates vary)
Memorial Day – Monday, May 30th, 2022
Keep in mind that each year, Mother's Day is one of the busiest holidays in terms of orders for florists. Many customers will wait until the week of the holiday to order, so this is definitely something to be aware of as you prepare for spring.

Plan Out Floral Sales and Promotions
These order-heavy times are a wonderful chance to run sales and promotions that can really attract more business and orders. Be strategic about your plans for this, mapping out early the offers that you run and how you will communicate them to customers. For instance, will you advertise these sales on your website, run emails to customers, or both? What will the sales be? Prom season is the perfect way to run a promotion for corsages and boutonnieres, so that is something to consider. Whatever promotions you decide on, make sure to have a plan for not only what they will be but how you will advertise them so that people can take advantage of them.

Plan for Extra Staffing Needs
Since this time of year is so busy, you want to plan ahead for any extra staffing needs you may have. Take into consideration the needs of your business and plan accordingly.
Front End Staff (Order taking)
Back End Staff (Re-stocking, prepping flowers, etc)
Additional Designers
Drivers
It's good to put feelers out early to ensure you can get the extra staff members you need to keep your business running smoothly. Don't wait till the last minute as your staff also needs to be trained!

Don't Forget About Weddings
Finally, map out the weddings you will be providing florals for throughout the spring. It is being stated that 2022 will be a historic year for the number of weddings occurring. You'll want to consider weddings you're working as you figure out staffing and as your account for ordering flowers for spring, as well.
What are you doing to prepare your business for spring? Do you have additional advice for florists for preparing for this busy time of year? Fill us in below!
____________

Floranext makes great florist software. Florist websites, floral POS, florist wedding/event proposal software, and florist technology. Let us know if you want a free demo or try our software for free here.