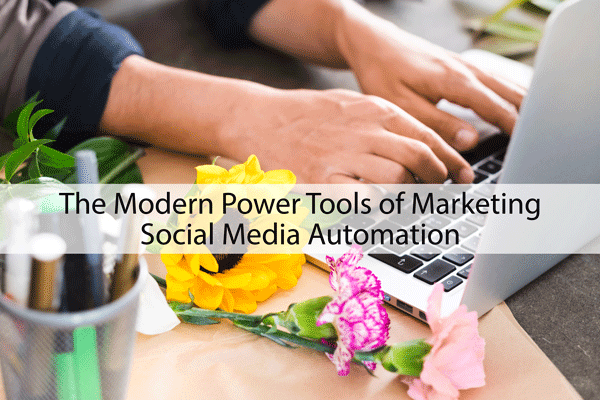 There are important tools to help automate your florist social media accounts!
Simply put, social media automation software is used to automate or semi-automate the management of (usually) multiple social media accounts, from posting content to replying to comments and messages. They alleviate the painstaking process of going through each platform by providing a single place to manage them all.
Most of these tools will allow you to post to multiple accounts simultaneously or schedule them on specified dates, some even going the extra mile of giving you statistics about how your content has been performing.
Sendible
If you're savvy with social media automation already, you might have expected Hootsuite to lead the pack in this article, but we opted for an undiscovered alternative gem, thus we introduce you to Sendible.
Users have raved and reviewed it to be better than Hootsuite, offering a similar set of features despite it being a newer one. They offer support for the major social media platforms (Facebook and Facebook Ads, Twitter, Instagram, etc.) as well as some well-known blogging platforms (WordPress, Medium, and Tumblr).
Sendible's dashboard is considered cleaner than Hootsuite's streams, as it puts everything in only one timeline, but you have control over what pops up in it.
Publishing and scheduling posts to multiple accounts are made easier to keep track of because of their content calendar, giving you visual reminders of the posts. Moreover, they have an integrated approval workflow, so everyone working on your accounts gets a say about each post or content before it goes live to your account.
Their social listening statistics are great for keeping up with your brand's reputation in the platform, as well know how your accounts have been faring. You can export these reports and statistics to help you analyze how your social media accounts are doing, and make a move according to these reports.
Sendible offers affordable plans for using their services, but their mid-tier plan is the sweet spot for getting access to all these great features while paying an affordable fee for it, making it a perfect social media automation tool for small and medium businesses.
Sprout Social
Sprout Social supports the same major social media platforms as Sendible, but without the blogging platforms. Their dashboard is called Smart Inbox, which manages private messages, mentions, likes, and other interactions on your social media timelines. There, you can also filter messages and monitor keywords and hashtags.
They also have automation tools like the Bot Builder, which you can use on Facebook Messages and Twitter DMs, to help you with the bulk of messages that can be easily answered. Sprout Queue is their fancy name for the queue of the posts that you schedule ahead of time, while ViralPost lets Sprout Social decide what's the optimal time for your posts to go online, by analyzing your audience engagements.
Team collaboration tools are also available, from letting you see which items are finished and even letting multiple members work on a single item.
Tagging items helps with organization, which is incredibly useful for large teams. Most of all, Sprout Social is well-known for its top-notch reports and analytics, which are very easy to understand.
For all its glory, Sprout Social can fall off in its prices, being priced rather luxuriously. However, if you are indeed serious in your social media marketing, the plans will be definitely worth it.
There are still a lot of other social media automation tools like Buffer, SocialPilot, Hootsuite, and eClincher. Each of them offers varying degrees of support to the major social platforms and sometimes blogging platforms, and their core features are similar, if not the same. The main differences usually boil down to customer preference and user experience.
The goal of these tools is simple: to make social media marketing as easy as possible. Streamlining a process of posting similar content across multiple platforms, social media automation tools are too integral to an online marketer's toolkit, their benefits usually worth the price tag they don. And if you are well on your way to take social media marketing seriously, then you will definitely need to pick up one.
Florists, are you currently using an automatic social media tool? What are your recommendations to other florists? please share your comments below!
____________

Floranext makes great florist software. Florist websites, floral POS, florist wedding/event proposal software, and florist technology. Let us know if you want a free demo or try our software for free here.

Tags: