Mother's Day week! One of the floral industry's busiest weeks of the year and it's approaching at lightning speed! With all the preparations, it's good to have key items in place to make a smooth, successful Mother's Day week for any flower shop.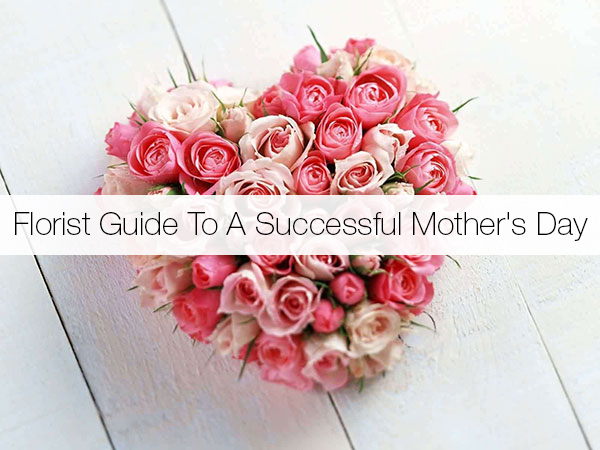 Step 1. Take care of yourself!
By the time Mother's Day weekend arrives I see florists that look exhausted and unenthusiastic. Yes, it has been a long week however make simple rules to follow and take good care of yourself. Here are a few things you can do to make yourself feel upbeat and vibrant:
Wear comfortable shoes and clothing.
Tip: Bring in extra shoes and store them in your cooler to remedy those aching feet. 
Step 2. Do you have enough flower shop staff?
Make sure you have hired the extra help you need!
Hire enough counter help, designers, and delivery drivers.
Assign staff their duties and what you expect out of them ahead of time.
Step 3. Have you ordered enough flowers and supplies?
Look at your previous year's sales and estimate from there on the flowers you will need.
If this is your first year in a Flower Shop a general  rule of thumb is to Not Over Order flowers. (You can always buy more flowers in a pinch if needed)
Stock up on supplies-this includes vases, baskets, ribbon, dish gardens, blooming plants, floral wire, ticket paper and much more.
Tip: Good to have on hand supplies you generally may not sell – candies -candles -soaps etc. and add them to your front counter top for customer impulse buys.
Step 4. Have you started promoting your Mother's Day holiday?
Start off promoting on your Floral Website and Social Media. (Good to point out Promoting does not have to include discounts – Post images and remind future customers you are selling beautiful flowers for Mother's Day)
To increase traffic to your store offering a deal or discount towards customer pick up's rather than delivering. This will create a balance in your Flower Shop and shoppers tend to add more to their purchase when visiting the store.
Have those add on's ready and on your counter – offering these to customers is a great way to bump up those sales!
Step 5. Work a couple of days ahead.
It's a good idea to start on filling the orders you already have 1 to 2 days before set pickup or delivery.
Place pre-made orders in a cooler well tagged with date of pick up or delivery.
Mark any time sensitive orders and bring those to the front of your cooler.
Have vases and baskets filled with greens ready to go.
Process and wire flowers ahead of time, that way they are ready during the busy rush.
Tip: It helps to have a system that works best for you. However, working on orders per day can feel overwhelming, so staying ahead of the game is always best.
I hope you found these steps useful, if you have any Mother's Day Floral tips, please share with our Florists.
____________
Floranext makes great florist software. Florist websites, floral POS, florist wedding/event proposal software, and florist technology. Let us know if you want a free demo or try our software for free here.

Tags: