With Prom season just around the corner it is important to use all techniques to increase traffic into your Flower Shop for Prom.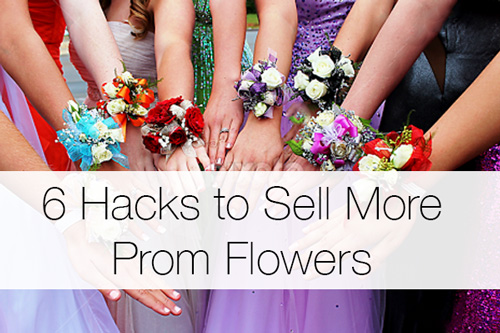 1. Promote Prom Services in your Local areas – discounts and flyers)
Here are some fantastic places to help bring in those dancing shoes to your shop.
High school office
Public Library
Fast Food
Local Hangouts

Dress/Tux Shops
Local hair, nail, and tanning salons
Tip: Offer a few enticing offers like free boutonniere with corsage purchase or free upgrade or add on.
2. Are You Invested?
A prom is a huge milestone for students and parents alike. So be invested in your customer.
Do you know their dress color, style, theme of prom, what they are doing before/after prom. Be excited as they are, teens love social media and do chat with each other. Creating a fun and pleasant experience will bring in more orders for your shop.
3. Offer More (Jewelry and Upgrades):
It surprises us that shops do not offer jewelry and upgrades when selling for prom.
Sell Jewelry, go for the bling, matching look and feel. What about the add on? Rhinestones, Feathers, Pearls, be creative!
Tip: These little extras will create a profit and makes a personalized corsage or boutonniere.
4. Are You Following the Trend?
This years trend is flowers to wear. Why not be creative and offer a flower headpiece or ring matching the corsage purchase.
5. Train Your Staff!
Your staff should be creative, think outside the box, there is an art to selling prom flowers. Do not be robotic. Have a training staff day for prom.
6. Is Your Website and Social Media Updated?
Keep your website and social media updated with beautiful and creative prom flowers. Pictures should be crisp, clear and trendy offer some specials. Don't forget your short bio on prom flowers this increases your SEO and brings foot traffic into your shop.
Post on social media! Remember there is Facebook, Twitter, LinkedIn, Instagram, Pinterest. A great way to promote and offer discounts.
Tip:  Offer a discount for any student who is willing to post on their social media account your shop's name and image of prom flowers provided. Discount on Google reviews for your shop as well.
____________
Floranext makes great florist software. Florist websites, floral POS, florist wedding/event proposal software, and florist technology. Let us know if you want a free demo or try our software for free here!

Tags: