"Help, someone left me a bad review online!"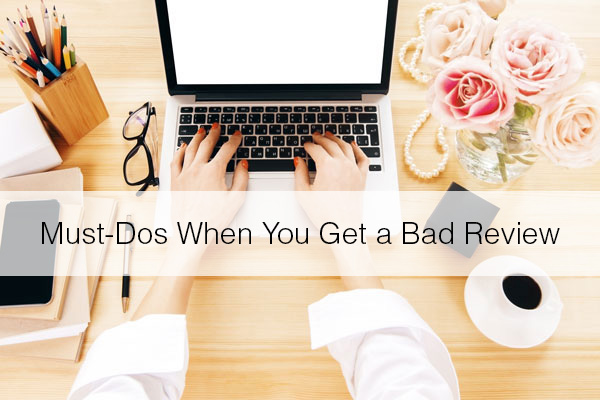 So what do you do? First, remember that any business on Yelp, Facebook, or Google may get an occasional bad review. It's unreasonable for a florist to expect a perfect 5-star review every time. And sometimes a less-than-perfect review can actually be helpful to your floral business!
But even so, there are a few important steps you should take whenever you receive a poor review online.
Bad Reviews Can Be Helpful!
Let's touch on this briefly—unless all your business reviews are bad, a couple bad reviews can actually make your good reviews stand out and look better. It also shows customers that your reviews are real and creates a sense of authenticity.
And of course, a few poor reviews next to many positive ones are not going to deter customers—many shoppers are perfectly comfortable viewing a couple negative reviews as outliers.
How Should You Respond if Your Flower Shop Gets a Bad Review?
No one is perfect or can be perfect all the time, especially in business when sometimes things happen that are beyond our control. There may have been miscommunication with the customer, late delivery, etc.
One course of action you should avoid is reaching out to the site itself (Google, Yelp, etc.) to ask that they remove a bad review. The ethics of this are questionable and it is almost always unsuccessful. Unless you know the review to be fraudulent or meant for another shop, we do not recommend this approach.
1. Respond to the Review
Regardless if the bad review is authentic you need to respond ASAP. Customers and readers (potential customers) want to see that a negative review did not go unaddressed.
2. Weigh Your Response
It is important to formulate your responses appropriately. You don't need to offer a full refund in the poor review response, but be sure to read the review and determine the reason for the bad review—is the customer incorrect? Was there miscommunication between you? Was it simply an error on your part?
When communicating with the reviewing customer, consider the points below:
Don't be defensive
Acknowledge the issue
Protect your brand
Highlight the positive aspects of your business in your response
If there was poor communication before, this could be an opportunity to make things right.
3. Offer a Resolution Offline
Always offer a resolution offline. There are many possible resolutions to a customer's issue that can win them back for the long term. In your response, be sure to list contact information to continue the discussion privately. Below is a quick example:
Hi-
I'm the manager/owner of XYZ Flower Shop. We pride ourselves on maintaining the highest quality standards for our customers. We hope you will give us an opportunity to discuss this further. You can reach us at (235)867-5309 or email us at info@xyzflowershop. We hope to resolve this to your benefit and earn you back as a customer.
4. Don't Beat Yourself Up
No business owner is invulnerable to bad reviews. The most important thing is to learn something from a bad review and move forward. Florists often take a bad review very personally and should not. Use a bad review to improve your business.
And remember that the online review game isn't just about waiting for good reviews and fending off bad ones: always encourage satisfied customers to review you. For better or for worse, reviews are often read by online shoppers, so they aren't going away.
Florists, how have bad reviews affected your floral business? How have you resolved a bad review? Please share your feedback and questions in the comment section below.
____________

Floranext offers great florist software, florist POS, florist websites and florist wedding proposal software. Our florist technology products are built by florists, for florists. Let us know if you want a free demo or try our software for free here.

Tags: