Bold floral blooms fill this 2017 spring season for florists!
Flowers are certainly trending in all aspects this spring. We are not just talking flower arrangements, think fashion, home decor, artwork and much more!  This week's blog, we will focus on the "Must Do" floral trends for spring 2017.

Floral trends have now reached an ultimate high with florals in every aspect of life. Wedding trends for this year's spring are so much more relaxed and less rigid, with an array of different techniques and some fun ways to showcase your floral designs and tricks.
Matching Floral Arrangements: 
Try matching your floral designs to the bridesmaid dresses. What? Yes, one of the most desired trends is matching flowers and patterns of the wedding dress wedding party attire to their actual floral bouquet.
This makes for a great social media post. With customers up with their social media and hashtags, they are making an impact with visually appealing images. This, of course, works in your favor for increasing your SEO, with great backlinks as well as a gallery of trending floral work for new customers.
Cascading Floral Wedding Bouquet:
Cascading wedding bouquets are trending this season due to its lush and romantic feel.  You may opt for a smaller cascade.
Fact: Brides are gravitating to the classic elegance of these cascading floral bouquets.
Once trending was an overly large hand picked bouquet look. Now a slightly more tailored look and not so large, with an organic feel is making its way to the head of the line. The updated cascading bouquet design complements the bride in every way without steering the attention from the bride.
 Dainty Wedding  Floral Garlands:
Not just used as centerpieces, these little dainty floral garlands are used to adorn place settings.
Blooming  Floral Plants:
Incorporating blooming plants is so hot right now! These are used mainly as centerpieces with added touches of nature, such as twigs and moss.
Note: Floral plants are an added touch with other florals throughout the wedding.
Click here to see spring 2017 wedding trends!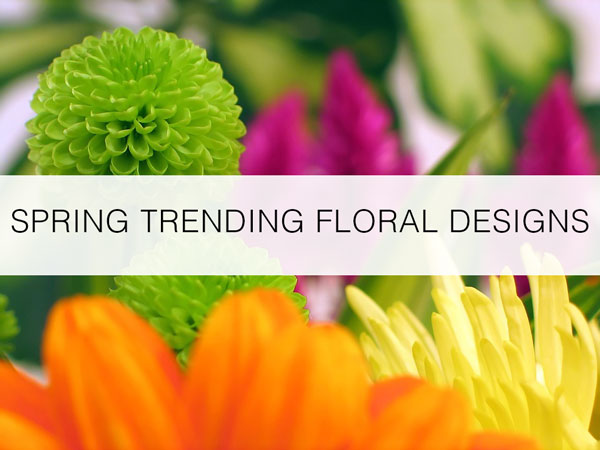 Modern floral arrangements are in the lead of the mainstream of floral design. Using beautiful textures and containers with a less is more approach.
Blues & Copper Florals:
Two of the biggest colors for this season are shades of blues and coppers. Purchasing containers in these color hues and adding simple floral arrangements is a big hit.
What's Old Is New:
Think baby breath, mums and carnations, we know, not usually a customer favorite. These reasonably priced classics are making a huge come back when incorporated with higher end flowers or beautiful greens.
Queens Annes Lace is also taking the floral market by storm, try Queen Annes Lace in brown hues.
Think of the super fashion floral trend, where they use mainly daisies, mums and roses to adorn prints. Stock these in your cooler in various colors.
Floral Colors:
We can almost say that color is trending this up and coming warm season, however, it's all about combinations. Trending now is bold and brights, muted color combinations, burgundies and reds and of course whites and grays.
Go Bold – Go for the gusto with bright bold hues (bright pinks, oranges, and lime greens)
Muted Colors –  Hues in a muted tones all in the same color family (rose, peach, soft browns )
Bright Burgundy and Reds – These hues offer super visual impact. Do not forget to incorporate with dainty flowers in the pink tones.
White & Gray – Always a classic is the white floral arrangement. This time try incorporating the ever so popular shade of gray with lush greens that come in this hue.
Click here to see spring 2017 floral trends!
Trends certainly come and go, however interesting enough, floral design allows for all trends to come together. The thing to remember with specific trends is that there are patrons that still like what they like, regardless of what is trending.
We are curious to see what, if any, trends leave your flower shop. What are your customers gravitating to a far as floral design? Please share in the comment section below your feedback and questions.
________________________
Floranext makes great florist software. Florist websites, floral POS, florist wedding/event proposal software, and florist technology. Let us know if you want a free demo or try our software for free here.

Tags: