If you're a florist, you may use a floral wire service a system has existed since 1910 when the Florist Telegraph Delivery Service was created. Is now the time to switch and start saving money?
Wire services promise they will send orders to your flower shop and magically earn you more. Buyer beware – nothing in this world comes for free. After signing binding contracts you will get hit by expensive fees.
Here are all the reasons why NOW is the time to switch from wire services and be independent with your own website and expand your business.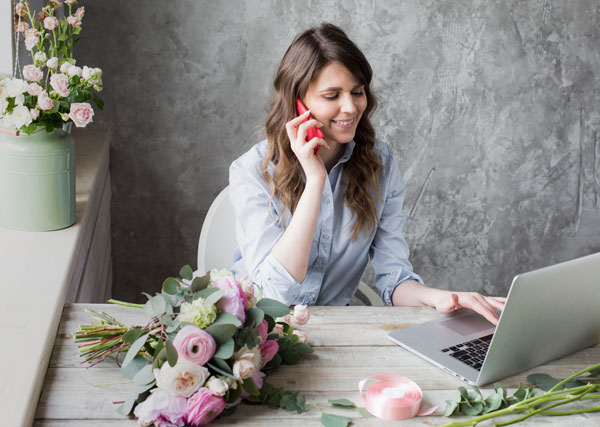 Floral wire services = cookie-cutter websites
When you're paying to have a wire service market for you, your customers will defer to their website or a cookie-cutter website attached to you.
Websites are now essential for all businesses (especially small businesses) to survive and thrive. Websites make you competitive and allow them to communicate effectively about your brand, products, and services. Having a personalized florist website gives your customers access to custom arrangements, products, and information about your floral business.
Are you earning 100% of every order?
When you work with wire services they get a percentage of your order, this fee depends on the wire service your working with but, with an independent florist website you're going to get 100% of the money for the order, this is a great way of increasing your profit because nobody is going to take the percentage away from you.
Are you tired of wire service hidden costs?
Wire services often have hidden costs like membership fees, advertising fees, and floral product fees. If you switch from a wire service to an independent florist website, you can save money, increase your revenue, and have more flexibility to brand yourself the way that you want to.
Some wire services want to control your customer reviews
While many wire services want your reviews on their website, you've worked hard to build that relationship with your customers. Your website should direct your reviews to Google so your website can gain a better ranking and visibility.
Wire services charge YOU to market THEIR brand
When you utilize a wire service, one of the fees that you pay is an advertising fee. You're paying these sites to gather orders for you when you could be spending that money to market for yourself (and do a better job of it!). When the wire services markets for you on your behalf, they're not telling anyone about your business specifically. They're vaguely selling flowers in a way that appeals to their entire network. When you take over marketing for your audience, you can capture your customers' attention, build a brand, and turn them into loyal customers.
Why switch to an independent floral solution?
Save money – and earn 100% of every order
No hidden fees
Unique website – stand out with a distinctive brand
Own your customers – no one else marketing flowers to them
Flexible solutions – run your business your way
As a small business, you deserve the ability to develop your own brand and customers. Many people in your community will support a local flower shop and love the idea of contributing to the livelihood of someone they know.

Wire services have restrictions and fees that can minimize your ability to run your business the way you want to. For instance, membership and other fees (advertising, floral product, etc.) will come out of the product filled payments owed to you. You'll receive either a check or a bill at the end of the month.

However, if your filling products did not cover all your fees, then you can expect a bill. Especially if you're just getting started, wire services can restrict a flower shop's ability to run the way they need to.

A local flower shop can survive and thrive without Wire Service's help. Don't let them impose restrictions or fees when you can develop your own brand and improve your Google ranking to appeal to customers.

Be Independent, run your flower shop your way!

Tags: