Owning and operating a floral retail business requires many different strategies.
There are some basic principles that do apply to all retail businesses, however, in the floral industry, there are some retail factors that will take precedence.
In this blog, we will discuss retail business basics that apply to the floral industry. Whether you are just selling floral arrangements or carry of variety of items in your flower shop these tips will help in establishing floral retail business rituals to maximize your sales.

Employee Training:
When it comes to hiring employees training, this is a Must Do! Employees are representing you, the face of your floral business brand.
Do not assume they know how to do everything, train them how to answer the phones, greet customers, and any other job-related requirements you have, even if it's as basic as cleaning a workstation.
Often we hear from flower shop owners "Well my employee won't or can't do that, it's too confusing for him/her." Unfortunately in order to represent your floral business and if it is a job requirement, then your employees must learn and be trained in all, regardless if it's comfortable to then or not.
Make sure your employees are always:
Courteous to customers
Look presentable
Punctual
Well educated and knowledgeable of their work duties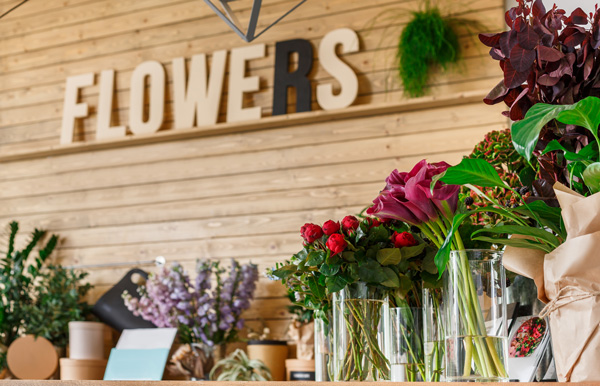 Know Your Competition:
Savvy floral business owners take the time to understand their competitors. Regardless if you are in a highly competitive location or small town, competition is still competition.
Know your competitors,
How are their floral designs?
What are they offering that your flower shop is not?
How is their flower shop look and feel?
What makes your flower shop different?
Knowing your competition is a way of maximizing your brand and standing out from the crowd. It also helps keep you up to date with industry trends.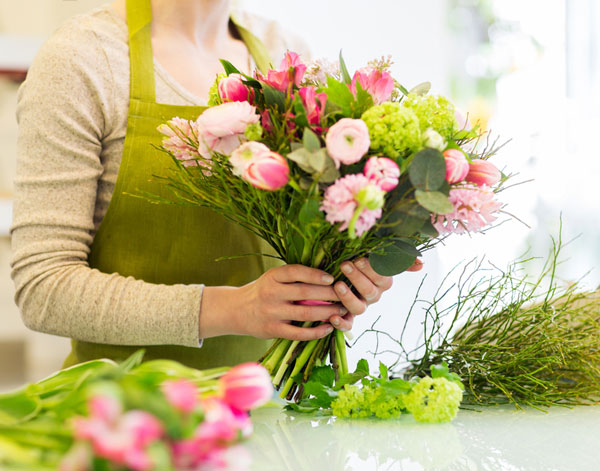 Know Your Retail Math:
When you own a brick and mortar flower shop, every inch of your floral business is potential for extra income. Knowing what to carry in a floral shop can seem pretty easy, however, there are floral business owners who are now providing other retail items such as candles, home decor, skin care, toys and much more.
Offering a variety of retail products is a way to entice visitors to your store. Understanding your retail math is the only way to maintain profits in your floral business.
Pay special attention to:
COGS (Cost of goods sold): which is – Beginning Inventory + Purchases =Ending Inventory.
Markup: a candle markup is easily done, however, a floral arrangement may be a slightly more difficult. Be sure to include in your mark up for any pins, pics, card message paper, and anything you use in designing the arrangement.
GMROI (Gross Margin Return On Investment): calculate what is worth having for sale in your flower shop versus what is not. How large is your investment in this product line? Is this product a "need" or a "want" in your community?
Note: I know how many times we mentioned this, however, florists please STOP GIVING YOUR MERCHANDISE AWAY FOR FREE. No-one is getting anything free in any other retail businesses. florists, we do love and appreciate that you are so kind hearted and giving. Adding extra floral stems here and there and not accounting for ribbon or other miscellaneous items are not good for your overall retail success. Giving a little here and there adds up fast.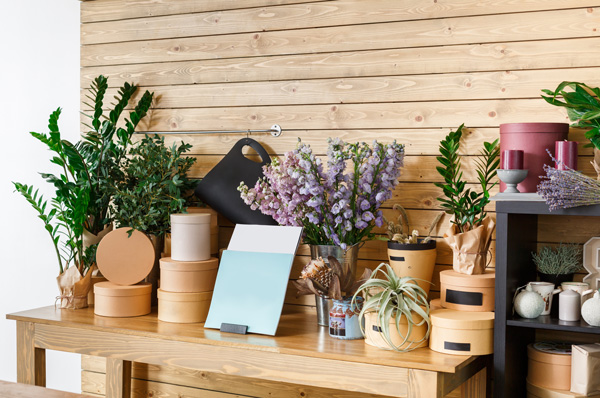 Know Your Merchandising:
Whether you carry a vast array of merchandise in your flower shop or just flowers and plants there is a technique to merchandising to the 5 senses. Floral business retails shops do have an upper hand when it comes to the 5 senses, with such beautiful flowers and plants. That being said there is still a bit of psychology to play on to have your products resonate with visitors.
When merchandising your floral business make sure you are appealing to these 5 senses:
1.Sight
Hard to believe however 85% of consumers say the color is what urges them to shop. A good tip is to limit your color scheme so it's not overwhelming to your shoppers.
The research concludes that shoppers prefer open floor space that allows for easy movement and good visibility of all products. If you have a smaller shop this can still be easily achieved by decluttering.
Beautiful displays really do work in gravitating customers. Think about every detail of the display not just the products for sale but also furniture that is displaying the products these are all considered to be visually impactful.
Did you know: That subconsciously both females and males respond very well to the colors blue and green.
2.Smell
Appealing to the sense of smell comes fairly easy for flower shop owners who is merchandising for the sense of smell.
Flower shops offer an array of appealing scents that are invigorating to shoppers.
Make sure to keep your flower shop clean, this will appeal to both sight and smell.
Did you know: Of all scents, women prefer the smell of flowers over any other scent when shopping while men enjoy a more spicy scent.
3.Sound
The sound in retail has been heavily researched and many retail chains have studied the impact of various music brands and how it impacts customers when shopping.
Different retail stores will offer different kinds of music to maximize their sales.
Book Stores for instances plays soft music to create a sense of slower time and alter one's perception of how long they are at their store. While trendy young clothing stores for pre-teens and teens opt for more louder, energetic music which works better for their customers in hyping then to purchase.
Florists sound is also important in your retail space and helps in creating atmosphere and eliminates sounds that may be negative to shoppers such as employee or other shoppers conversations.
Tip: There are tunes that are specific to your brand, flower shop owners consider offering songs that are specific to flowers, we know this sounds typical but works.
4.Touch
It is human nature to just want to touch things, create an environment that allows customers to engage with the products you have for sale.
When a customer touches or holds an item it gives them a more personal connection with the product for sale.
Keeping your products at eye level encourages touching and sales.
Touching is not only for products that you are selling, if you offer seating for customers, be sure that it is comfortable, this gives customers a sense of well-being.
5.Taste
Most floral businesses do not sell food, you may be thinking how do you engage the taste sense. Regardless if you sell treats at your floral shop, taste is a sense that can still be engaged by having small offerings to your visitors.
Consider offering a cup of coffee.
Allow for taste testing of your gourmet treats for sale.
Think of displaying free hard candy on your counter.
These are some easy ways to understand and get started with your floral retail merchandising. Florists, let's hear your feedback! Do you have any important retail advice/tips that have been or are successful? Please share all your feedback, tips or any floral business retail related questions you would like addressed below.
____________
Floranext makes great florist software. Florist websites, floral POS, florist wedding/event proposal software, and florist technology. Let us know if you want a free demo or try our software for free here.

Tags: