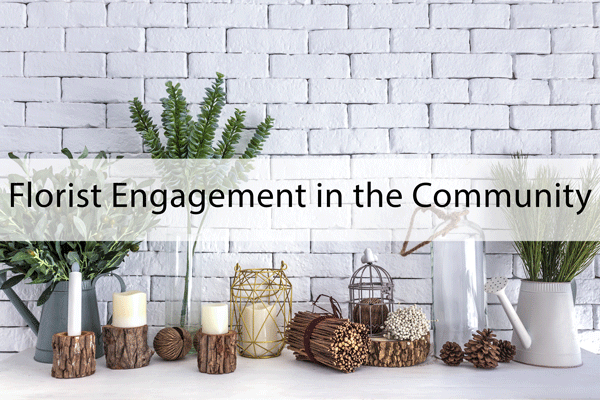 Social media marketing gets a lot of buzz, but don't neglect marketing in your local community!
The local community is your main source of revenue due to its closeness and your ease of access to this audience. Local customers are your first customers, and the immediate intimacy of personal contact gives you instant credibility, trust, and familiarity, making it easier to engage with them. With a low barrier for marketing, converting customers into brand advocates for you will be easy under the right circumstances.
Fortunately, there are very few hoops to jump through, and many ways to engage with your community.
Positive Floral Elements
There's great power in associating your brand with positive elements. These positive elements can be anywhere in your community, so always be on the lookout with current happenings and public opinions of several things in the locality. Association is the easiest method to generate interest for your shop, but you also have to be smart about it. There are some sure ways to associate your brand with good examples, like events and shared passions among the community members.
Local Floral Events
Liven up the community by organizing and hosting local events. Possible events that you can run are workshops for flower arrangements and an open house that features rare or seasonal flowers. You can also collaborate with other businesses for local events and try to invite as many people as possible. 
Your space size doesn't matter; being creative with the events can go big or small. You want the exposure from these events to showcase your business so capitalize on this high time. Aside from the close relationships you can foster, this also opens up opportunities to people who might have been new to your place and can become potential customers.
You don't always have to take the initiative to organize local events, but be on the lookout for them. If there's an event somewhere close, bring your brand there. Even a small stall can go a long way of promoting and engaging with the people. In the case of florists, you can even donate bouquets of flowers and help with the decoration of local events. A sash bearing your shop's name should do the trick, but going beyond won't be much harm.
Floral Teams
Aside from events, you can also sponsor teams in the community. A great example would be sponsoring local sports teams that the community itself supports. Let your brand show on their shirts, or donate some materials like water bottles branded with your shop. It's a win-win situation: you get to help out people who are passionate about something and let them take their chances to bigger and greater places, and you get advertising not just to your community, but also to the bigger and greater places that the teams will go.
Loyalty Program
In these days of subscriptions and memberships, people appreciate being an honored and special part of something. By implementing a loyalty program and offering memberships, you incentivize long-term customers and keep them to your shop, as well as entice new ones to stay with your shop. People under these programs can also become your strongest patrons and advocates once you do your campaigns right.
As a bonus, adding a referral system in your loyalty program can encourage new customers to try out your services and products by incentivizing their first purchases to be discounted, for example.
Under these programs, you can also have giveaways and special promos, helping to generate buzz and interest around your shop.
Floral Talk
Word of mouth can travel fast, so gather up positive comments among your customers. Ask them what they prefer with your services, highlighting what they liked most. As long as you remind them and thank them for it, the impression lasts.
If you maintain a blog (which we recommend you do), then collate these testimonials and post them there. Since these are all comments from real customers, they are more reliable reviews and posting media that supports their comments (e.g. posting pictures of their bouquets when they liked the arrangement) can generate interest toward your shop.
Know your Customers
The end goal of all these might be to primarily generate interest around your brand, but there is one more thing that you can do while engaging the community: getting to know them. Getting to understand the community and their needs and wants can be crucial to the planning of your products and services. You might want to know when they are most likely to buy flowers and capitalize on that. You can even keep track of best-selling bouquets and flowers. Ultimately, trying to actively know your audience as you engage with them can give very good insights about them.
Engagement with the local community is incredibly easy because they're just there. There is no need for heavy logistics and trying to make a great first impression. You only need to make the effort to approach the people, and once people get familiar with you, they'll start to gravitate toward your shop. Eventually, your efforts will be repaid, and sales will boost greatly, simply because you treat your very first customers well, and this can ripple toward the rest of your customer base.
Florists, what is something you do to stay engaged with your community? Please share your comments below!
____________

Floranext makes great florist software. Florist websites, floral POS, florist wedding/event proposal software, and florist technology. Let us know if you want a free demo or try our software for free here.

Tags: