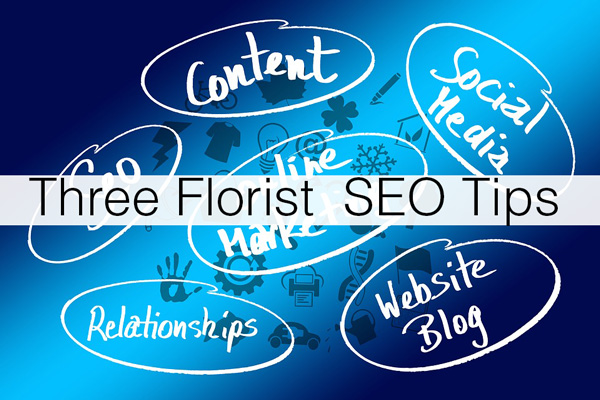 So you want to get your florist website on the front page of Google's search results.
You're considering paying a Search Engine Optimization (SEO) company. There are some things that are within your control and you can do for free! There are other things that internal to your website and there are things that are internal. Here are two things that are external to your site you can do to promote your site for zilch, zero, nada:
1. Backlinks – Make sure you have plenty of links to your website.
Google ranks your website by the number and quality of sites linking back to yours. One way to help your ranking is to create links to your site from well know sites like Mapquest and Superpages.
Here's a partial list of sites that you should be listed on. You can add your business for for the ridiculously affordable price of free! Your "Google Places" listing is the most important and it's worth doing through the steps to get listed.
– Google Places (this will get you listed on Google Maps also!)
– Yahoo Local
– Bing Local
– Yelp
– Insider Page
– Merchant Circle
– YellowBot
– Mapquest
– Superpages
– Citysearch
– Whitepages
– Local.com
– Telenav
– Getfav
– Topix
– Switchboard
– Brownbook
– Localsearch.com
2. Social Media – Build and maintain a Facebook business page and a Twitter account.
Search engines only index Facebook business pages, not personal Facebook pages – know the difference between a personal and a business account. Hint: A business account doesn't allow you to "Friend" people, it only allows you to receive "Likes".
Once you have more than 100 likes on your Facebook page you can select a vanity Facebook URL such as: Facebook.com/new-york-florist — choose a "search engine term that you want to own like New York Florist and use this in your facebook page name.
3. Website SEO Info – Make sure your website is organized and coded to be search engine friendly (this is one of the things Floranext is really good at!):
This is something that is internal to your website. In other words, it should be built into your website – make sure your website provider offers these!
– Unique page names – this is the name of the page on the top of your browser. Every page should be different.
– Unique, descriptive URLs – your website URLs should look like flowershop.com/dozen-roses not flowershop.com/123456
– Keywords – built into every page of your website should be a unique, descriptive search engine keywords
– Cross-link sites – if you have multiple websites, put links to all of them in the footer of your websites. Example if you own brooklyn-florist.com and manhattan-florist.com, put the link to the Brooklyn site on the manhattan site and vice versa. Make sure your website provider lets you edit your footer text.
– Sitemap – a listing of all the pages on your site in XML format
Backlinks and Social media are external to your site and you be working to promote these. Things that are internal to your website like keywords and sitemap are offered by your website provider – make sure you're getting these from your florist website provider!
____________
Floranext makes great florist software. Florist websites, floral POS, florist wedding/event proposal software, and florist technology. Let us know if you want a free demo or try our software for free here!

Tags: