In the ever-evolving world of online marketing, florists and small businesses are constantly seeking innovative ways to stand out in the digital maps landscape. In this blog post, we'll explore an additional player in the field of online business listings – Apple Maps/Apple Business Connect.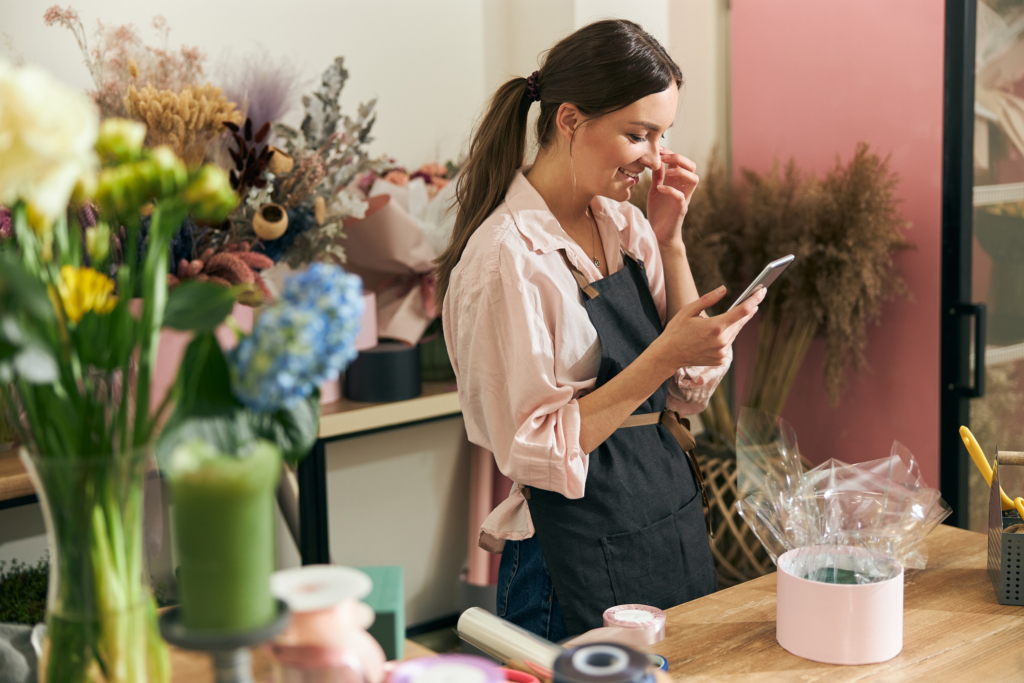 Apple Business Connect – A Must-have For Florists
Apple Business Connect is Apple's answer to local business listings. Similar to Google My Business, it is designed to help small businesses, including florists, manage their online presence. It allows you to provide essential information about your flower shop, such as your location, contact details, website, hours of operation and even offers and promotions.
But what sets Apple Business Connect apart is its integration with Apple Maps and Siri. This means that when potential customers search for "flower shops near me" on an Apple device, your business will have a prominent presence on the map and even respond to voice queries. This can be a game-changer for your florist shop, as it increases your visibility to the vast user base of Apple devices.

Apple vs. Google: The Battle for Local Florist Listings
The competition between Apple Business Connect and Google My Business is heating up, and this is excellent news for florists. Google My Business has long been the go-to platform for local business listings, but with Apple Business Connect entering the scene, the playing field is becoming more competitive.
With the increasing prevalence of Apple devices and the dedication of Apple users, Apple Business Connect offers a unique opportunity to reach a potentially untapped customer base. Apple's deep integration with it's products means that businesses that utilize Apple Business Connect may benefit from increased visibility and engagement from Apple users.
However, it's important to note that Google My Business remains a powerhouse, especially for users of Android devices and Google services. Florists looking to maximize their online presence should consider using both platforms to ensure they reach a diverse range of customers.

The Importance of Apple Business Connect for Florists
So, why is Apple Business Connect important for florists specifically? Here are a few key reasons:

Increased Visibility: Apple Business Connect helps your flower shop appear more prominently on Apple Maps and Siri searches, making it easier for potential customers to find you.
Access to a Unique Audience: Apple users are often considered a premium demographic, which means that reaching them can lead to higher-value sales and long-term customer relationships.
Improved Customer Engagement: By utilizing Apple Business Connect, you can create a more interactive and engaging profile, showcasing your flower arrangements with high-quality images and videos.

Voice Search Optimization: With Siri integration, you can tap into the growing trend of voice search, which is increasingly popular among mobile users.

Enhanced Brand Credibility: Having a presence on Apple Business Connect adds a level of trust and legitimacy to your florist shop, especially for users who rely on Apple products.

How To Set Up Apple Business Connect for Your Flower Shop
Now, let's discuss how to set up Apple Business Connect for your floral business:
Step 1: Create an Apple ID
If you don't already have an Apple ID, create one.
Step 2: Access Apple Business Connect
Visit Apple Business Connect and sign in with your Apple ID.
Step 3: Add Your Business
Click "Add Place" and provide the necessary details about your florist shop, including your business name, address, phone number, website, and hours of operation.
Step 4: Verify Your Business
Apple will need to verify your business by uploading a document. This may take some time, so be patient.
Step 5: Optimize Your Profile
Once verified, return to your Apple Business Connect profile to enhance it with high-quality images, videos, and any special promotions or offers.
Step 6: Monitor and Update
Regularly check and update your profile to ensure all information is accurate and up-to-date. Respond to customer reviews and inquiries to foster positive interactions.
—
Apple Business Connect is a promising addition to the digital marketing tools for florists. While it's not ready to replace Google My Business, it does offer a unique opportunity to tap into Apple's vast user base and increase your flower shop's online visibility.
So, don't miss out on this blooming opportunity – set up your Apple Business Connect profile and watch your floral business thrive in the digital age. Embrace the future, and let your flowers take center stage on Apple Maps and Siri, where new customers are just a voice command away!
____________

Thank you for reading the Floranext florist blog. We are committed to bringing flower shops the best information and tips to run their floral business. Click here to learn more about our florist software and how you can upgrade your florist website or floral point of sale