Flower crowns are the biggest trend right now and at this point, it's safe to say they are not going away!
Although flower crowns are hugely sought after for weddings and special events now, they are actually a floral trend of the past starting in Ancient Greece where they were worn to pay tribute to gods and then much later to represent peace, love and harmony.
We welcome the flower crown today which represents celebration, some say fertility, besides that there is no doubt about it, everyone just looks so attractive in a flower crown.
Most florists know how to make a flower crown, but for those who are new to the floral industry, this blog will show you the easiest way to make a basic flower crown.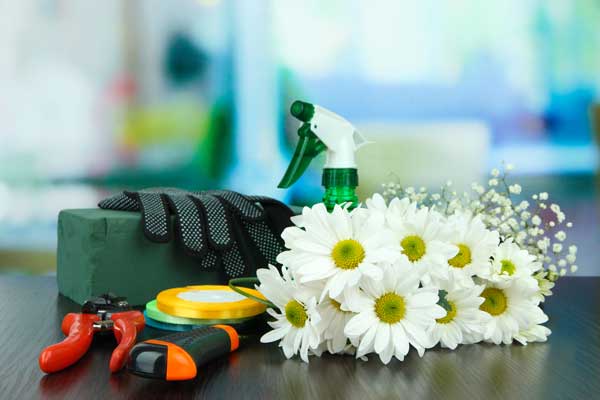 Supplies:
You will need Wire, Wire Cutters or Floral Scissors, Stem Wrap Tape and Crowning Glory.
Floral Wire – You will need 22-inch gauge and 26-inch gauge wire. If you only have 26-inch gauge wire just be sure to double up to make the wire stronger when making the crown form.
Floral Stem Wrap – This is the same tape used for corsages and boutonnieres self-sealing wrap which sticks to itself and flower stems.
Wire Cutters/Floral Scissors – What ever your preference is, you may feel it is easier and faster to work with both of these.
Crowning Glory – Slows the deterioration and browning of flowers, greens and plants.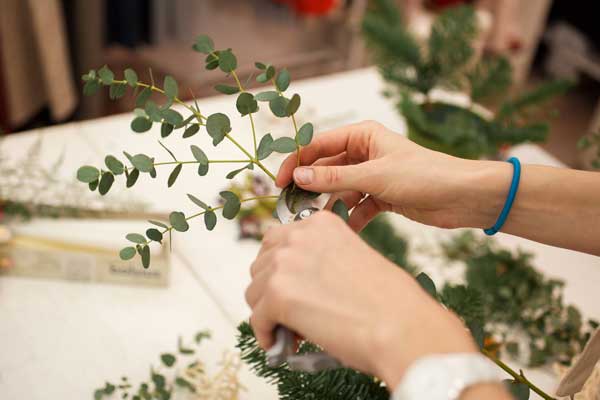 Floral Greens:
There are so many variations of greens you may use in a floral crown. If making a dainty floral crown you may opt for smaller leaf greens. We encourage you to try many variations of greens in your flower crowns.
Eucalyptus – is a great leaf choice, There are multiple variations of Eucalyptus that can be used to achieve that so sot after bohemian flower crown look.
Tip: Do not limit yourself, experiment with different floral green variations when making your floral crown and try mixing greens together it looks amazing.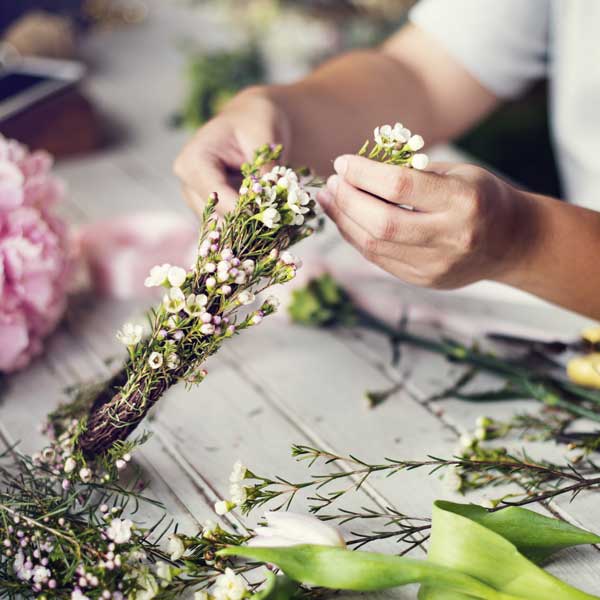 Flower/Filler Stems:
Pick your desired flower stems, think of what you want to accomplish with the flower crown. For a cluster on one side use, the main flower stem called the "statement flower" these can be big dahlias or garden roses, these look best with smaller surrounding flowers.
For the bohemian flower crown, that is ever so popular with smaller flowers, loads of greens, berries and filler flowers work to accomplish the look and feel.
Filler flowers should be selected as a compliment to the floral greens and flowers, use little touches here and there which provides lots of whimsy to the flower crown.
Be sure to select different variations of flowers if using spray roses, select buds and open roses, to create movement within the flower crown.
Ranunculus
Lisianthus
Juliet Garden Rose
Spray Roses
Wax Flower
Hypericum Berries
Baby's Breath, and so many more – click here to see the full list of flowers
Tip: When you have the basics down on making a flower crown, there really are no rules when selecting flowers, greens and filler. Use a little of this, or no greens, or more filler, it's up to your imagination and creation. Just be sure the flower crown still consists of the basic principles of flower design, Balance, Harmony, Proportion, Movement & Unity.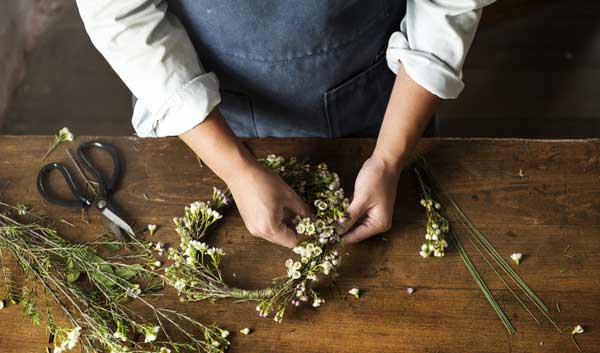 How To Make An Easy Flower Crown:
We promise its way easier then it looks.
Cut your foliage to about 4- 6 inches and set aside, no need to pre-wire your foliage ahead of time.
Cut your berries now if you like or you may cut as you go later.
Cut your statement flower and flowers picking the heads that you need, remember to mix it up and use various sizes of the same flower.
Trim flowers to about 1/2 inch to an 1″ underneath the head of the flower.
Cut your 26-inch gauge wire into a piece that is about 5 inches long.
In the largest part of the flower calyx (calyx is also known as sepals and it the part of the flower that holds the reproductive organs) go ahead and run the wire horizontally in the largest part of the calyx right below the flower head. Bring the wire ends together and use your stem wrap to cover the wire completely.
Go ahead and do this to all your floral stems.
If using filler flowers such as wax or other filler flowers there is no need to wire.
Making the flower crown form. Take two pieces of 22-inch gauge wire make sure to use the floral stem wrap to secure the wire one end to another end to complete one horizontal line.
Feel free to wrap the wire around your head at this time and figure out a starting point slightly in front of the ear, behind or even right in the front.
We find it easier to work with the crown open, so you can maneuver as needed later
Take your small pieces of greens starting one by one and lay on the wire using stem wrap to secure the greens on the wire at the end of the stem. As you go, be sure to overlap the greens to hide the floral stem wrap and pull on the floral stem wrap stretching around the wire.
Add about 2-3 green cut stems and then a little bit of your filler flower of choice, use your floral stem wrap to secure the filler flower.
Make sure that your stems are facing in the right direction outward of the crown.
Add your flowers and berries the same way you added your greens and filler, be sure to look at the crown to make sure that it looks balanced.
Keep in mind most crowns have flower clusters which do not go fully around the crown, decide the look you are going for.
Be sure to treat the flower crown with Crowning Glory, spray directly on flower crown which will slow down the wilting.
Flower crowns can be made two days ahead of time and stored in a cooler in a sealed container much like a courage or boutonniere.
Tip: Be sure to always use 100% Crowning Glory do not dilute with water, adding water does not allow Crowning Glory to work to its full benefit and has little affect in prolonging the life of your flowers.
Florist We Would Love To Share Your Flower Crown Masterpiece!
Submit your Flower Crown images and be featured in August blog with credit to you and your flower shop! For all Flower Crown image submissions email here info@Floranext.com be sure to add your name, shop name and designer of flower crown.
Florists do you have a Flower Crown tip? Please share your feedback in the comment section below. If you have any questions please post below as well!
____________


Floranext makes great florist software. Florist websites, floral POS, florist wedding/event proposal software, and florist technology. Let us know if you want a free demo or try our software for free here.

Tags: