A florist website needs to showcase the right mix of floral products to cover the different customer occasions and maximize your business' creativity and profitability.
Whether it's an everyday floral product catalog, an a la carte wedding product catalog, a sympathy and funeral product catalog, or a seasonal product catalog, each one plays a unique role in attracting customers, providing inspiration, and streamlining the decision-making process. Join us as we delve into the significance of these catalogs and discover how they contribute to the success of every florist's journey.
1. Designer's Choice Floral Product Catalog – Get Creative, Increase Profits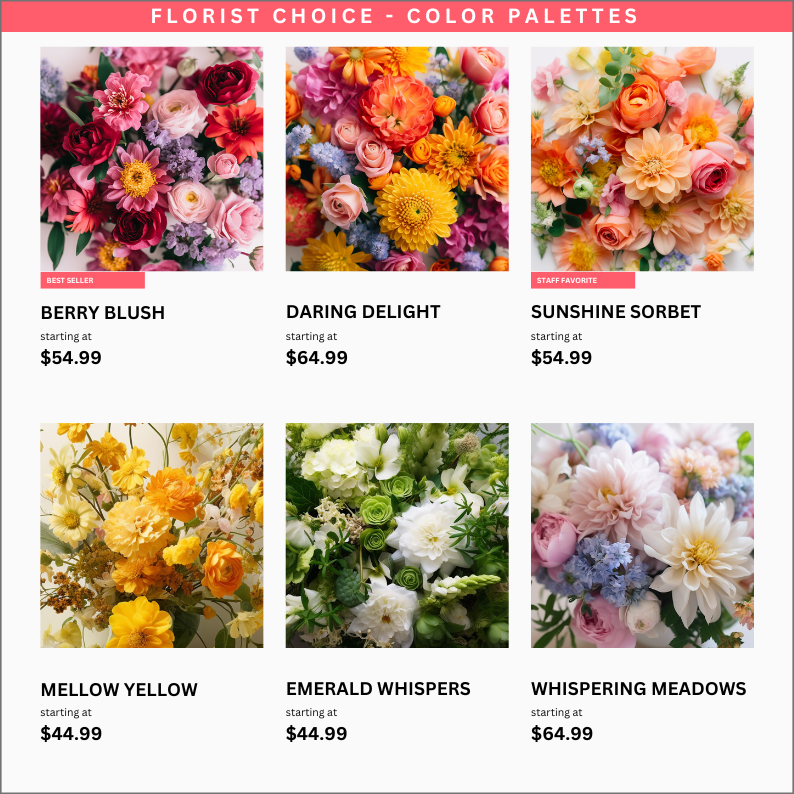 One of the most exciting and popular sections of a florist's website is the Designer's Choice Floral Catalog. This collection offers customers the opportunity to embrace the creativity and expertise of the florist by allowing them to choose a specific style, color palette, or theme for their floral arrangement.
The Designer's Choice option empowers florists to showcase their skills and create unique, one-of-a-kind arrangements tailored to their client's preferences. By offering this catalog, florists can increase their profits by using the best flowers and the ones you have on hand, without need to keep lesser-used flowers in stock. Florists can channel their creativity by creating custom designs while also delighting customers with personalized floral creations.
2. Everyday Floral Product Catalog – Cover the Basics for Every Occasion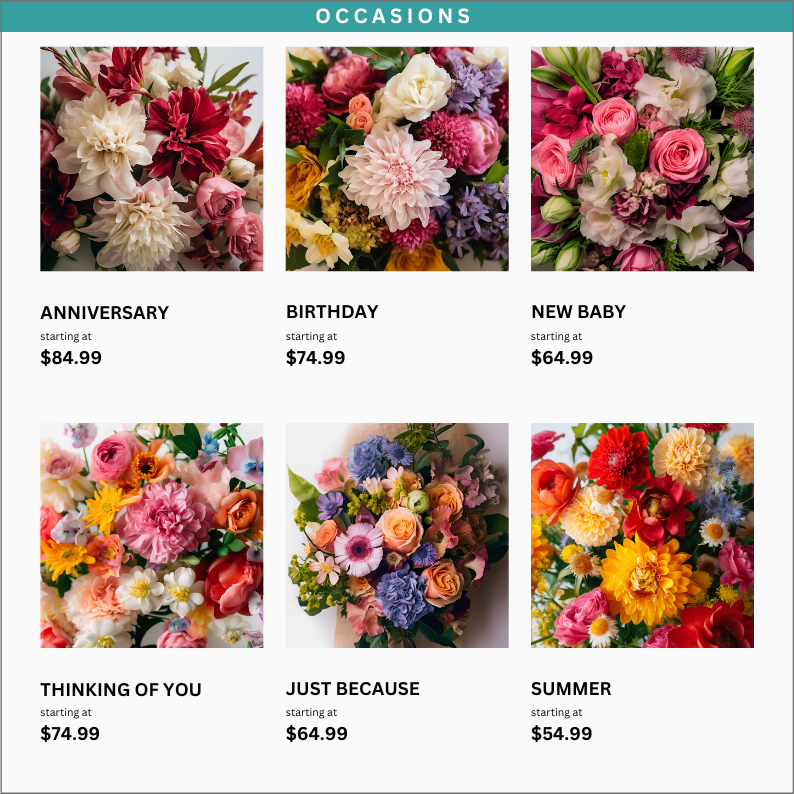 A comprehensive everyday floral product catalog including Occasions like birthdays, Anniversaries and Seasonal products like Spring and Summer is essential for florists to have on their website for several reasons.
Having an everyday floral product catalog makes it easier for customers to choose relevant products, browse and explore the wide range of floral arrangements, and products available. Potential customers can conveniently view different designs, styles, and color options, enabling them to make informed choices and select arrangements that best suit their preferences and occasions. This interactive experience enhances customer satisfaction and increases the likelihood of them making a purchase.
An everyday floral product catalog on a florist's website serves as a valuable marketing tool. By showcasing creations online, florists can attract new customers and reach a broader audience beyond their physical store location. The catalog can be optimized for search engines, enabling potential customers to find the florist's website when searching for specific floral products or arrangements. Additionally, the catalog can be easily shared on social media platforms, allowing customers to tag and recommend specific arrangements to their friends and followers, thus expanding the florist's reach and potential customer base. Ultimately, an everyday floral product catalog serves as a powerful visual representation of a florist's expertise, creativity, and offerings, helping them establish a strong online presence and boost their business.
3. Wedding Floral Product Catalog – Let Brides Order A La Carte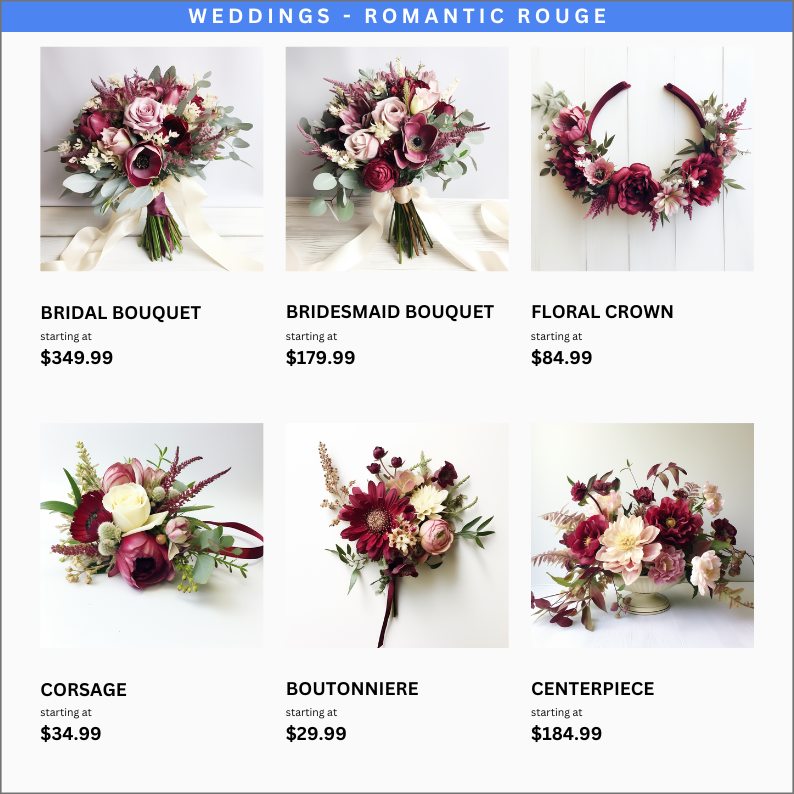 Increasingly brides and grooms want to skip the traditional floral consultation and buy wedding flowers directly from a website. An a la carte wedding product catalog is an indispensable tool for florists specializing in wedding arrangements to capture those customers that want a quick purchase option.
This catalog provides couples with a comprehensive selection of individual floral products and services that they can mix and match to create their dream wedding arrangements. From bridal bouquets to boutonnieres, centerpieces to ceremony decorations, the a la carte catalog allows couples to browse through various options and customize their floral choices to align perfectly with their wedding theme, color scheme, and personal style. This flexibility not only empowers couples to personalize their special day but also enables florists to showcase their expertise and creativity in curating unique and tailored wedding floral designs.
Furthermore, an a la carte wedding product catalog serves as a practical resource for both florists and couples during the wedding planning process. By presenting the available floral products, their descriptions, and pricing in an organized manner, the catalog streamlines communication and decision-making. Couples can easily compare options, visualize the final look, and make well-informed choices based on their budget and preferences. For florists, the catalog acts as a reference point for consultations and allows them to provide accurate quotes and estimates. This transparent approach enhances customer satisfaction, fosters trust, and ensures smooth and efficient collaboration between the florist and the couple, resulting in beautiful, cohesive, and memorable wedding florals.
4. Sympathy and Funeral Floral Products – Essential for Important Moments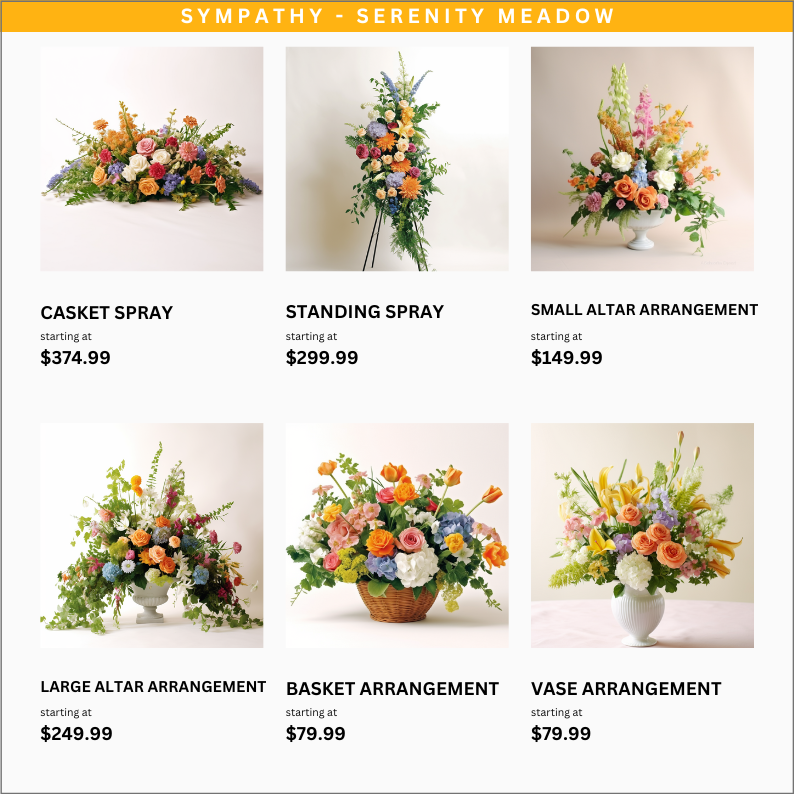 Having a sympathy and funeral product catalog on their website is crucial for florists as it provides a sensitive and convenient way for individuals to select appropriate floral arrangements during times of loss and grief. The catalog allows customers to explore a variety of options specifically designed for sympathy and funeral occasions, including wreaths, casket sprays, sympathy bouquets, and standing arrangements. By offering a comprehensive range of products, florists can cater to different preferences, cultural traditions, and budget considerations, ensuring that customers can find the perfect expression of condolence and support.
Additionally, a sympathy and funeral product catalog on the florist's website serves as a valuable resource for individuals who may be unable to visit the physical store or prefer the convenience of online browsing and ordering. During difficult times, when emotions may be overwhelming, having a user-friendly catalog that displays the available options, provides detailed descriptions, and includes pricing information can alleviate some of the stress associated with making floral decisions. This online presence enables florists to extend their services beyond their local area, reaching customers from various locations who seek comfort in sending thoughtful and meaningful floral tributes to honor their loved ones.
In sum, florist product catalogs are powerful tools for showcasing floral arrangements and attracting customers. By incorporating the four essential collections discussed in this blog post – the Designer's Choice Floral Catalog, Everyday Floral Product Catalog, Wedding Floral Catalog, and Sympathy and Funeral Floral Products – florists can effectively cater to a wide range of customer needs and preferences. Remember to avoid "By Price Floral Products" catalogs to maintain the integrity of your brand and emphasize the quality and value of your floral creations.
____________

Thank you for reading the Floranextflorist blog. Floranext Love Florists and we are committed to bringing flower shops the best information and tips to run their floral business. Click here to learn more about our florist software and how you can upgrade your florist website or floral point of sale.