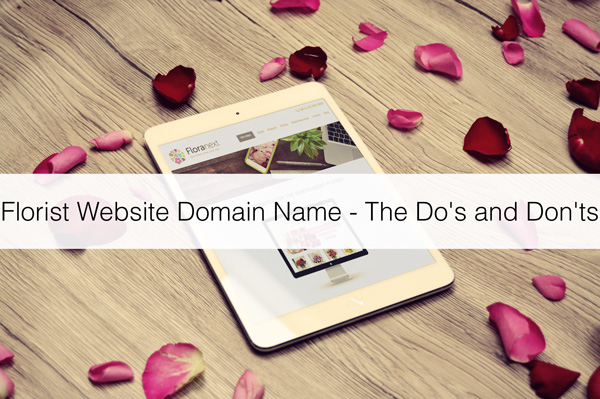 Florists let's get into the nitty gritty on Florist Website Domain Names!
Before we do lets first explain what a domain name really is, a domain name is used to identify one or more IP addresses. Domains are also used in URLs to identify a particular web page.
For example in the URL https://www.Floranext.com the domain name is Floranext.com.
Creating A Florist Website Domain Name
Having a domain name that resonates and stands the test of time is key in maximizing your floral business.
Do's
1.Domain names are for life, it is important to invest some time in picking the right domain name.
2. If your florist website caters to customers world-wide or mostly United States, using the .com is most recommend. However we are super excited on the new industry specific extension (TLD) such as .Florist, slightly pricey however worth every penny.
If your floral website targets business by country, for example a Canada website that only does business in Canada, then your best bet is a (.ca ),same rule applies for all other countries .
3. Use proper keywords in your domain, if you are a flower business then without a doubt you must use a keyword specific to your business, for example flowers – floral – florist.
Tip: If you are targeting a specific area adding your keyword and area is a great for SEO .
Don'ts
Don't use Hyphens (-) or underscores (_).
Don't be too clever, clever domain names without the proper keywords are harder for search engines and customers to understand. Be simple and to the point with your domain name.
Don't use numbers to replace words, for example – florist4you, even though catchy, this is a major don't with domain name's.
Tip: Make sure your domain is spelled properly and avoid misspelling trends
Registering  Your Florist Website Domain Name 
With an abundance of domain managing providers it can be a daunting task when registering your florist website domain name. Following the simple do's and don'ts below will make it a seamless process.
Do's
 You should be the owner of your floral business domain name, so register it!
Remember to renew your domain name based on your agreement.
Try the new industry specific TLD's such as .Florist.
Don'ts 
Do not allow a web hosting provider to offer to purchase your domain or set up you with a domain name.
Purchase unnecessary TLD's (.net, .org, etc).
Do not purchase anything beside your domain name, such as advertising or marketing.
What to do if a Wire Service/Website Provider owns your domain
Obtaining your domain name from a website provider is crucial to the branding of your business. Regardless if you are staying with this website provider or leaving you MUST control your own domain name. There is valuable SEO with each domain name, the longer the business has been established the better the SEO.
Do's
Request in writing to control your domain name.
Be persistent,with calls and emails, remember this is your business and this domain name must be released into your control.
Beware of cybersquatting –  cybersquatting is using your domain name with bad intentions by selling it back to you or using if for an order gather website. Unfortunately, once this happens there is nothing you can do, your customers will be ordering from an entirely different website thinking it is yours.
Don't
Give up! Continue to pester your website provider for control of your domain.
Tip: please download our sample Domain Name request letters –
  FTDDomainTransferRequest.pdf TelefloraDomainTransferRequest.pdf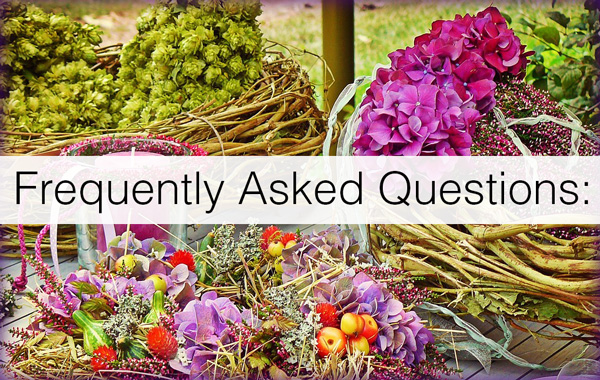 1."I have had a Florist Website domain name for 20 years, however it's not cool or trendy, should I change it?"
The answer to this is simply, NO – Regardless if your domain name is cool or trendy this not important. The most important thing is that your business is found on search engines and ranking high or on the first page. Changing your domain name will not make you visible on the first page of search engines, which means you will need to start over – it's like opening a whole new business.
2."Can I point other Florist Website domain names to my website?"
You absolutely can! – There are no positive or negative affects pointing multiple domain names. However, if  you have a shorter domain name, this could be easier to communicate to your customers. We would discourage pointing a .com to a .ca or country specific TLD however.
3."What is a TLD?"
TLD stands for Top Level Domain name. TLD are part of the domain name to the right of the url – .com, .net or .org.
A ccTLD is a country code Top Level Domain name.
Florists, if you have any questions or tips regarding florist website domain names, please post below.
________________________
Floranext makes great florist software. Florist websites, floral POS, florist wedding/event proposal software, and florist technology. Let us know if you want a free demo or try our software for free here.

Tags: