Have you dreamed of starting your own floral business, but can't quit your day job?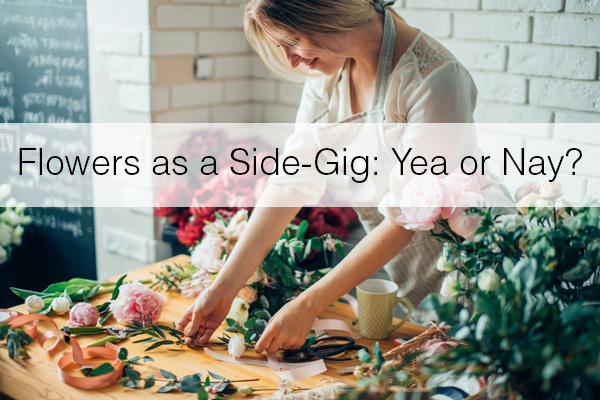 To casual flower enthusiast, the notion to go into business with flowers can be quite compelling. But how do you manage a floral start-up when you have bills to pay? How do you turn your dream of running a floral business into a successful part-time gig?
The objective is to be a successful part-time floral designer so that one you day you can quit your day job and focus on florals full-time. With work and dedication anything can be accomplished, but what can you do to make sure that your passion for flowers stabilizes you and allows for a creative outlet regardless if you still need to work your part-time job to make ends meet?
 How Is Your Flower Designing?
The most important job criteria for establishing a successful flower business is floral designing. Do you know how to design flowers? Of course, every florist has their own technique or signature style, but there is an art to designing flowers. It always looks easier than it actually is. If you are not knowledgeable in the 5 main principles below, see our Flower Design 101 article.
Balance
Harmony
Proportion
Movement
Unity
Remember that designing flowers is more than just arranging them, you must also understand proper prepping for longevity.
If you feel you may not be a professional-level floral designer, please take classes or find a mentor at a local flower shop. This is the first, most basic key to your success as a floral designer.
 What Are Your Floral Business Goals?
Since we've established you would like to have a floral business part-time, what type of floral services do you plan to offer? There is a difference between running a successful flower event business than one for everyday flowers.
Establishing a part-time floral event company is a lot easier than doing a full-service everyday flower business on a part-time schedule.
Sketch out your goals on paper for your floral business and decide which model you'd like to pursue.
 Have You Marketed For Flowers?
Ah, marketing! It may seem like a subject you need a degree in. Marketing means promoting and selling your products and services which includes market research, public relations, and customer support. So essentially think of it as beefed-up advertising.
Prior to launching your business, make sure that you have the basis for full-fledged marketing of your floral brand by signing up with social media sites.
Another thing to consider is running a Google Ad.
Website 
Facebook 
Twitter 
Google Bussines
Yelp 
Instagram 
Pinterest 
Snapchat 
This is the beginning of your marketing journey—remember, marketing your business does not end and needs to be done consistently.
 Florals as a Past-time?
In order for your floral business to work, you should not think of it as a hobby. We all enjoy our own special hobbies like crafting, gardening, hiking and so on, but in order to turn your floral business into a profitable successful business, it needs to be more than just a hobby.
You need to invest your time and energy in promoting during your time, not at your day job.
 Are You Ready to Be a Floral Professional? 
Running a part-time floral business is doable and if you have a talented creative floral designing skill, proper planning, marketing, tools, and space is needed. There have been many famous successful florists who started in their kitchen part-time and now have successful flower storefronts.
Floranext understands that this can be a sensitive topic for florists who pour a lot of their personal time, energy, and money into their flower business brick and mortar. Our goal was simply to give amateur designers who may be interested in the florist industry a sense of the work and dedication it takes to become a successful full-time florist.
We know as well as you that floristry is not a trade one should enter into lightly, and we also understand that florists can be competitive. However, we do not like to discourage people with a dream who may not be in a financial position to achieve it yet, and we welcome all with a passion for floristry to help grow our industry.
Florists, do you have any important advice or feedback for florists who love flowers but can't quit their day job just yet? Please share your feedback any related questions in the comment section below.
____________

Floranext offers great florist software, florist POS, florist websites and florist wedding proposal software. Our florist technology products are built by florists, for florists. Let us know if you want a free demo or try our software for free here.

Tags: