As all florists know being ahead of the seasons is part of the industry. August is a great month to prepare for the fall and double-check your flower shop's needs.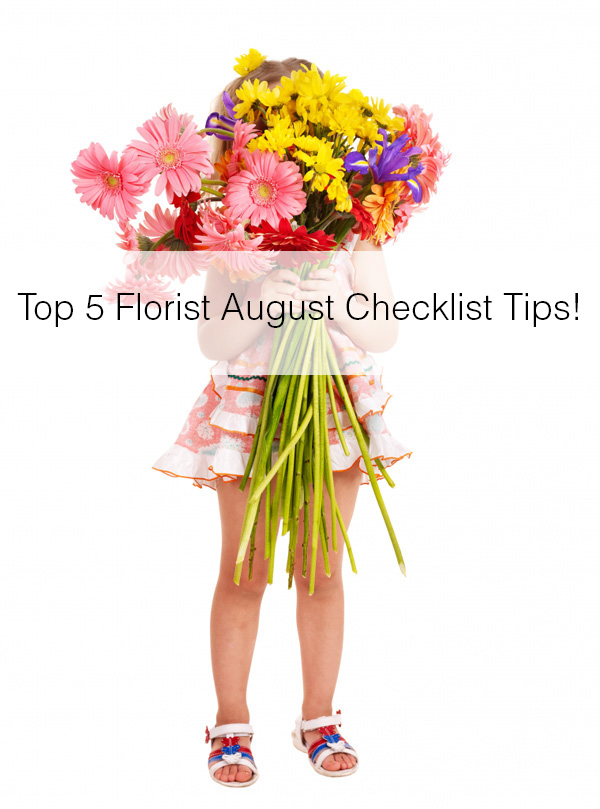 With June being taken over by graduations and weddings and vacations in July, August is a great month for you to dot your Is and cross your Ts for the months ahead.
September tends to sneak up on florists. The rush comes in, or perhaps you had a great idea for marketing that you just couldn't get to. August is a great month to get to some organizing, marketing, and peace of mind.
1. Sell a New Floral Product!
Nothing motivates new customers more than new offerings. The same goes for the flower shop staff: excitement, intrigue, and passion will help you sell. Place your orders now so you are all ready for the new product sales to come September.
Think about offering something new. We love the idea of floral boxes, for one—these are really popular with consumers and also allows for adding your logo which is double marketing.
Here is a list of possible items to offer:
Hat boxes/boxes
Floral totes
Succulents
Plants
Luxury sweets (meringue cookies, truffles, etc.)
Gift cards
2. Reanalyze Your Floral Website!
Take a good look at your floral website. Is it captivating to you? Is it easy to browse and checkout with? Do you have enough content? How are you showing up on search engines?
These can be difficult questions to answer, but your website is your online store open 24/7, and a direct expression of your brand. Check your ranking on search engines, check your reviews, and be vigilant in making sure your floral website represents you.
Things important on your floral website:
Fully-secure website (https instead of http)
Responsive website, mobile-friendly
Correct pricing
Professional-looking images
About Us write-up of at least 300 words
Areas of delivery
Venues, funeral homes and hospitals you deliver to
Wedding gallery/event write-up
A blog
We can not encourage you enough to have a blog on your floral website, blogs are awesome because you can discuss any topic. Blogs help your website list better on search engines and ultimately gain your brand great notoriety.
3. Create a Showcase Entry/Window Display!
If you can get your creative juices flowing with floral specific window display, your imagination should run free here. If you do not have a window display option, create a shop center display.
Let's ring in the coming season with visual hypnosis, take beautiful pictures and post on all your social media sites and watch as you gain new likes and followers.
4. Get Your Floral Newsletter On!
Flower shop promotions are the best way to create a buzz—send out a newsletter to all your email customers with offerings. The best part about newsletters is that you are creating a memory for the email recipients with your brand name, and best of all, email marketing works to get foot traffic.
5. Spruce Up the Place!
I'm sure everyone's shop is as neat as can be, but let's just take a step back and using all the senses, walk around your flower shop. This is not only for the customers but for all who work at the flower shop as well. Make sure inventory is organized—ribbon, wire, tape and so on.
Manage your floral displays, make sure your surfaces are free of dust and get your floral refrigerator clean.
Florists, what are important things you do in August to prepare for the season ahead? Please share your feedback any related questions in the comment section below!
____________

Floranext offers great florist software, florist POS, florist websites and florist wedding proposal software. Our florist technology products are built by florists, for florists. Let us know if you want a free demo or try our software for free here.

Tags: