We all know how significant reviews are for our floral businesses—over 85% of customers base their purchases on reviews they see online.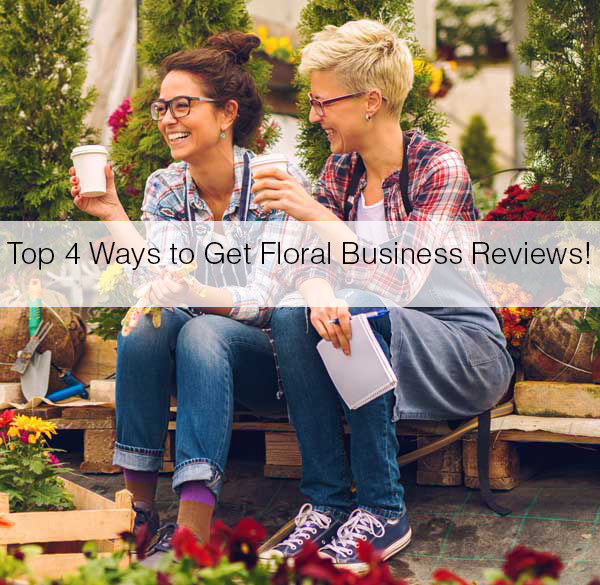 Unfortunately, many satisfied customers will not leave a review, but you'll always hear from the naysayers. This is why florists pull their hair out over negative reviews. Our goal is to encourage you to proactively seek customer reviews, not wait for them.
Online reviews are here to stay, and good or bad reviews are overwhelmingly important for the success of your flower business, the only way to grow your flower business is with reviews, and the best way to combat negative online reviews is with positive reviews.
With some florists now entering their slower months of the year, now is a great time to start building a strategy for garnering more online customers reviews.
1. Offer Discounts for Floral Reviews
The power of a discount, don't believe me, try it for your self. The task can be as simple as adding a notice on your counter or florist website. The sign can say something along the lines of, "Google & Yelp On-the-Spot Reviews get $5 off." If you really need the reviews, offer a $10 discount. Remember, this is all part of marketing and can be written off.
Good to Know: While at a big box home store, at the end of the sale I was invited to leave my cashier an online review for a chance to win $500 gift card. Although the chances I would win this gift card were slim, it did encourage me to leave a review and the store only foots the bill for a single gift card.
2. Be Direct—Request a Review!
While we're thankful for the customers that give us positive online reviews without asking, let's face it—most of the time customers are not privy to online reviews or aware of the impact they have, therefore we must be direct and simply ask.
Ask customers after a sale, either by phone or in person
Be sure to ask customers on your floral website
Email customers with a link to review your flower shop with website order confirmation
Be blunt and post links on social media to your review pages asking for reviews
3. Make Leaving a Floral Review Easy and Accessible
We all think customers know how to leave reviews online, the fact is that some do and most don't or rather not take so much effort. Make the process for reviewing your floral business easy and we mean as easy as ultimately possible.
Have a direct link on your website to your review page; the home page is great, however using this link on multiple pages improves visibility
Have an iPad or another device at your counter with your review page open and ready for action
Send monthly or quarterly emails to your customers to review you with a direct link to your review page
Add your social media address to your business cards—make sure your social media has all the appropriate links to your review pages
4. Be Responsive When You Get a Floral Review
When getting reviews—good or bad—you must respond either with a grateful "thank you," or with your version of the story. Nothing entices customers to leave a review more than when they see the business is acknowledging your interactions. Feeling they got the owner's attention and feedback can be very gratifying to customers.
Some Ways Reviews Help Your Floral Business Thrive
High SEO impact, making your brand stand out from competitors on search engines
Reviews can show on online search engines lists raising your placement
Influences consumers into making a purchase
Offers business credibility
Getting a Bad Review
This all said, we don't want you to dwell on the occasional negative review. Yes, they can be annoying and even flat-out untrue, however having a good balance actually ranks your brand best. The key is a few poor reviews, with appropriate non-defensive response with good reviews, makes your business look legitimate, and also shows you care enough to respond and ultimately that is what customers want to see. Click here to learn more about the ways bad reviews can be helpful.
For florists who would never think of asking for reviews, it good to start building reviews into your everyday business tactics, just like asking a customer if they would like an add-on or upgrade. We cannot emphasize enough how important these are in building your online reputation and brand.
Florists, do you have any advice or questions regarding online customer reviews? Please share your feedback, tips, or questions in the comment section below.


Floranext offers great florist software, florist POS, florist websites and florist wedding proposal software. Our florist technology products are built by florists, for florists. Let us know if you want a free demo or try our software for free here.

Tags: