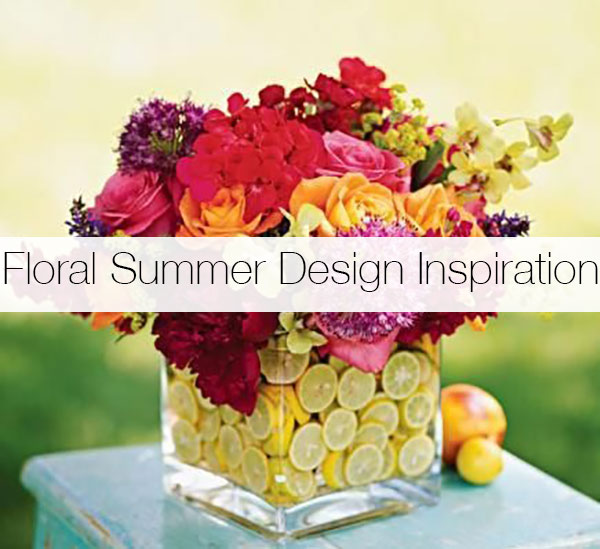 With summer quickly approaching it is great to have a good grasp on fresh summer floral arrangements.
Get top dollar for your innovated creativity and unique designs. 
Great Tip:  During slower summer days, make sample arrangements of these ideas and post on your Florist Website.
Summer Flowers and Food
Flower and food arrangements  have been around for a long time – however, this is the hottest latest trend for summer. Incorporate beautiful fruits and vegetables in your floral arrangements for all occasions. Good to point out this is not limited to events or corporate , make  summer flower  fruit, or vegetable arrangements  for all your  customers  this season,  we guarantee you  will be the talk of the town.
Try a New Summer Floral Vessel
Vases and baskets are a must in a flower shop – however good to play on adding these arrangements to new vessels. Customers love to see something different and perhaps something they can keep and use after- it's the arrangement that keeps on giving.
Great Tip:  Go to your local home decor store,  dollar store or flea market – look for unique interesting  vessels. Remember anything you can add flowers too is fair game so get your search on.
Create Summer Flower Themes 
Flower themes are the latest and greatest! Customers love a one stop shopping and  love unique ideas- what better way to do this than to give them flowers and theme all in one.  You will have to provide customers all they need with each theme and a beautiful hand written note, that expresses the theme they were sent. All items are displayed beautifully in a basket or container according to flower theme.
Perfect for anniversary's, birthdays, engagements , love and romance , and much more. Create a few themes post them on your Florist Website and watch the orders roll in.
Summer Must-Have Themes
These are a few ideas, however, be creative, put your themes together and sell for a huge profit.
Floral Picnic Theme
Floral Tea Party  Theme
Floral  Glamping (A fusion of glamour and camping)
Sell Summer-y Floral Window Boxes
We know you are a florist – windows boxes require soil you have no soil think of these as your standard dish garden. Go buy some soil start making window boxes for  delivery or pickup -this is quickly becoming the most sot after item for gift giving and personal use this summer.
Have standard size for window boxes and two simple designs to choose from –  Modern Design and Garden Design – add samples to your website and watch then go.
Try a Summ-azing Floral Curtain
Draping fabric has run its course – now the hottest thing is floral curtains. This a great step  forward  for florists so please sell these for your events, they are a huge money maker and have a huge impact very easy to execute .
We hope you enjoyed these fun summer flower arrangements – if you have a great summer arrangement idea, please share it with us below in the comments.
Tags: