Do you know your Florist SEO?
Search engine optimization (SEO) for flower shops is a way of increasing traffic to your online store by placing your website on the first-page of search engines (Google, Yahoo, etc).
Having an organic search result of 3, 2 or 1 will guarantee you more clicks and orders, considering your floral website is user-friendly and appealing. Here are some common myths and facts about florist website SEO!
Myth or Fact #1 – Companies can guarantee my floral shop placement on Google
Myth! No company has an in with Google or any other search engine, and no company can place you first – SEO takes time and work. Companies will often tell you that for a small fee and my floral shop can list number 1 in my organic search results on the first page. There is absolutely no way to guarantee your placement.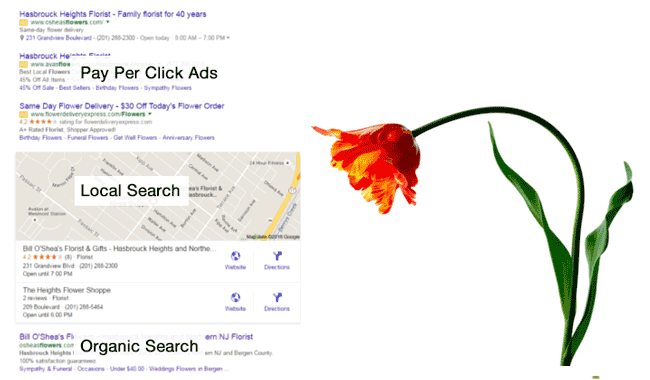 Myth or Fact #2 – Florist search results are composed of Organic, Local, and PPC 
FACT! What does this mean? 
Pay Per Click (PPC) – Are ads that you pay for. Once someone clicks on your ad, you will be charged the agree amount. 
Local Results – derived from your Google My Business profile
Organic Results  – Is the natural placement listed on a search engine results – methods such as keywords, back linking and writing high-quality content can all improve a site's ranking.
Myth or Fact #3 – Local Results are another type of search

 
Fact!  Local search results are super important – you have seen the map on Google . Local search narrows down searches to a particular geographic area. These results are above the page and take a lot of space and are super appealing to the consumers as it shows them what they need in their area. Get on this map if you are not currently on it https://www.google.com/business/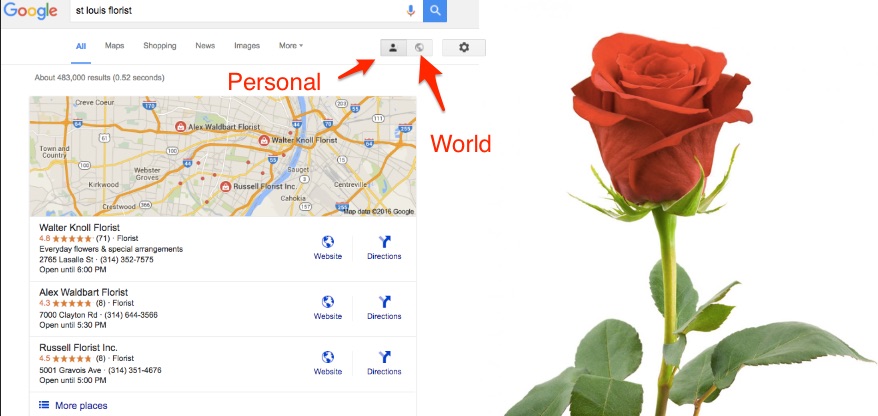 Myth or Fact #4 – My flower shop ranks first on Google
Myth and may be Fact! OK this may be a trick answer but more often customers think they are first when in reality they are not. What, you may ask?
Well, it's an easy secret revealed that many do not want you to know. On Google look over to your top right right:
Personal Results – the person icon is selected by default – this will show you personalized results
World/Global Results – the globe icon will give you the results that most of the rest of the world sees
Myth or Fact #5 – Content on my florist website is not important
Myth! Content which means text is super important, search engines indexes words and you want them to pick up on your keywords. Be a writer and add text! Search engines love to see wordy About Us pages and full descriptions of all your wedding and sympathy work, pages for the towns you deliver to, florist tips, and more.
Myth or Fact #6 – My florist website is cute and popular, so it lists higher
Myth! A cute website does not make sales, some customers list number 1 and still have poor ordering traffic on their website, consumers like simple and easy. 
Myth or Fact#7 – My floral mobile site is not really that important
Myth! Consumers use their mobile device more than any other device for online shopping. Websites that are suitable for mobile versions have priority on Google. Please make sure your floral website provider is equipped for all mobile and tablets devices.
There are many facets of SEO, however knowing these general basics will give you a upperhand on understanding how it works. It is good to have your website provider help answer any other questions you may have. Remembering that SEO takes time and requires patience however you will get there.
____________
Floranext makes great florist software. Florist websites, floral POS, florist wedding/event proposal software, and florist technology. Let us know if you want a free demo or try our software for free here.

Tags: