What can your flower shop learn from Starbucks?  It's simple: Every single customer interaction must be a positive one! Is it possible?  Absolutely!  You need to make it a point to handle all customers even your dissatisfied customers with excellent customer service!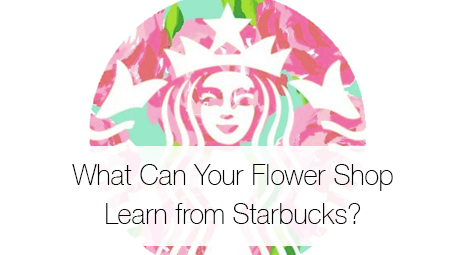 To achieve stellar customer service, your flower shop needs to begin with a set of company policies and procedures that are used by each and every staff member.  These policies should handle everyday customer interaction as well as how to handle dissatisfied customers.
Training Flower Shop Employees with Starbucks' LATTE
Looking for a method on how to make dissatisfied customers, life-long customers?  Look to Starbucks Latte method. Starbucks trains it's employees with one easy-to-remember word "Latte." Every flower shop or retail business can benefit from these principles to solve customer problems:
L = Listen – Listen to the customer
A = Acknowledge – their complaint. This underlines that you understand their issue and helps the customer to clarify
T = Take action – by solving the problem
T = Thank them – "Every complaint helps us do better"
E = Explain – why the problem occurred
8 Tips – Building Your Flower Shop Customer Service Policies
You don't have to start from scratch building your customer service policies. Here are eight proven strategies to use in your flower shop:
1. Smile, smile, smile…
Every customer interaction should start with a smile and employees always polite and professional be it in person, over the phone, in an email or on social media.
2. Greet in-person flower shop customers pleasantly and quickly.
Make sure everyone that enters is greeted with a smile and a hello.  That means everyone, have you ever been in a store and the customers before you and after you are greeted by the staff and you are just ignored? It doesn't make a good impression about the store, does it? Only positive experiences at your flower shop!
3. Anticipate florist customer needs constantly.
Go the extra mile with foreseeing what customers need before they even know they need it!
Examples include:
If they've ordered a large balloon bouquet, offer to bag it for transport and recommend a larger vehicle.
If they are carrying out vased flowers, offer a box to help keep vase upright in the car.
Set expectations of how frequently they'll need to add water to their vase or plant.  Make sure all of your employees use the same information.
Supply flower food packets for free when needed.
Do they need assistance to their car?
4. Build a rapport with each customer.
Use a florist point of sale that will allow you to take internal notes on your customers to help you remember them and anticipate their needs. Did they just have a new baby, grandbaby or retire the last time they were in? Write it down in your POS and then ask about it the next time you talk. You just made a life-long customer!  Make it a shop commitment to remember each customer by name and build a connection.
5. Say Thank you!
Nothing is more like music to a customer's ear than a heartfelt thank you.  When customers feel appreciated by your store staff, they will appreciate your store.
6. Employees should address complaints politely and to the best of their ability.
Remember the Starbucks LATTE method above! What tools do each staff member have authorization to use at their discretion to make it right for the customer? This will vary widely on the scenario. It might possibly be offering a free replacement, offering an upgrade on their next order, etc.
7. Encourage employees to call you in to help with a customer anytime they feel overwhelmed.
Dissatisfied customers can be very challenging and frazzled employees can make the situation worse.  The worst scenario would be for things to escalate out of control and it costs you a customer and possibly an employee.  Try to always be there for support and know when to step in to alleviate the problem.  Maybe have a code word that employees can say when calling for you that will help you know that they have a difficult situation.
8. Be available to your flower shop customers.
Of course, you might not always be available to remedy every customer complaint or listen to their feedback at the moment it happens.  Give your staff permission to give customers your direct line or email.  Respond to any complaint or situation within 24 hours.  Take the information and feedback as a way to improve your business.  A customer who takes the time to contact you is a customer who is worth keeping and will sing your praises if the situation is handled correctly.
Customers have a lot of different places to purchase flowers, make your customer service one of the reasons they come back to you!
____________
Floranext makes great florist software. Florist websites, floral POS, florist wedding/event proposal software, and florist technology. Let us know if you want a free demo or try our software for free here!

Tags: