In order to grow your business and flourish as a wedding florist, you need leads that can be converted into sales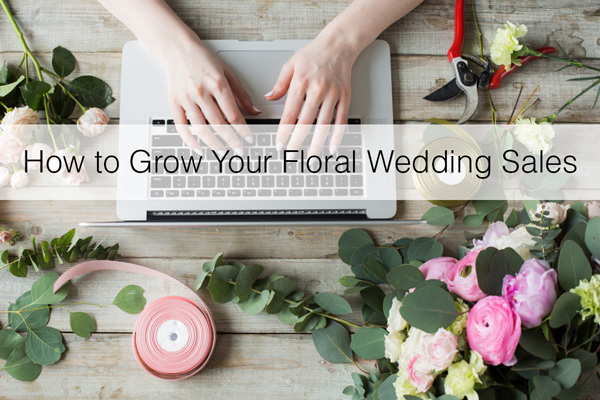 While floral design is certainly an art, it's also a business. This is particularly true for those in the wedding floristry industry. One of the most low-cost and effective ways to do that is to bring your wedding bouquets online.
According to The Wedding Report, 50% of brides use the internet to research bridal bouquets. Considering the fact that nearly everyone is connected these days, that should be no surprise. The problem is, your competitors are connected too. So how do you get your wedding bouquets noticed when the web is bloated with competing businesses? Here are a few tips…
Have a Website With Fully-Optimized SEO
Business cards and flyers can only get you so far. If you want your wedding business to take off, you'll need an online storefront. A majority of potential clients will be looking for you, so you need to make sure your business is visible online where they can see it.
Once you've secured a domain name, make sure your website design is smooth and visually pleasing. Have all your information listed there, and provide your audience with high-quality photos of products or real weddings you've designed for. If possible, provide an e-commerce platform so clients can submit their orders online as well as a content plan, like an active blog, that promotes your business.
Your website should also have some sort of menu or guide specifically for weddings, so you can let potential clients know what kind of services they can expect from your business, as well as wedding consultation forms so you can coordinate discuss your terms one-on-one.
A whopping 78 percent of local mobile searches result in offline purchases—that's right, offline purchases.
That means people who search for your store online will physically go to your store to make a purchase. While that's not exactly a wedding lead, it's certainly a testament to the amount of exposure and influence an effective website can have for your business.
Invest in online marketing
Are people finding your business through Google? Or are they finding you through online ads, like those on social media? Determine which of these gives you the most high-quality leads, or leads that end in conversion, and pad your efforts there. It's a good idea to make use of google analytics too, which is a free service, to learn more about your customers and potential customers.
A cost-effective way to expand your business' reach is to make yourself visible on social media, particularly Facebook, Instagram, and Pinterest.
The floral business is a very visual, and you can really capture the attention of grooms and brides-to-be with stunning photographs of your handiwork. It's good to post content on your accounts regularly, like photos, albums, and videos of wedding's you've covered to gain a following and advertise your work. With free tools like Facebook ads, which lets you target specific demographics, you can get quality leads.
You'd be surprised how many leads you can stack up with great content and a bit of social media savvy.
Put yourself in your potential client's radar
The first 2 tips have been about establishing your online presence. This last tip is a more targeted approach that puts you in the way of the right audience. If you want to get acquainted with those to-be-wed, consider listing your business in websites like The Knot or Wedding Wire.
Websites like these were made for those planning their weddings. They collate different businesses or vendors who provide wedding services, like florists. If you sign up as a vendor, you can list your business online and make yourself known to these potential brides and grooms. You can create a profile, upload photos of your products, post your social media links, and create your own bio and personal message.
These websites usually have a free version and a paid version. Whether or not you want the paid version depends on you. Review your competition in your region as well as the potential Return on Investment (ROI), and consider if it's worth it.
At the end of the day, bringing your business online is an affordable and effective way to get your florals on the map and on the radar of potential clients. All you need to do is establish your online presence through your website and social media accounts, fill them with concise info and great content and put them in places where your target audience can find them.
Do this and your business should be blooming online in no time.
Florists, do you have any tips on growing wedding leads? Please share your feedback any related questions in the comment section below!
____________

Floranext offers great florist software, florist POS, florist websites and florist wedding proposal software. Our florist technology products are built by florists, for florists. Let us know if you want a free demo or try our software for free here.

Tags: