Top 8 Social Media Sites For Florists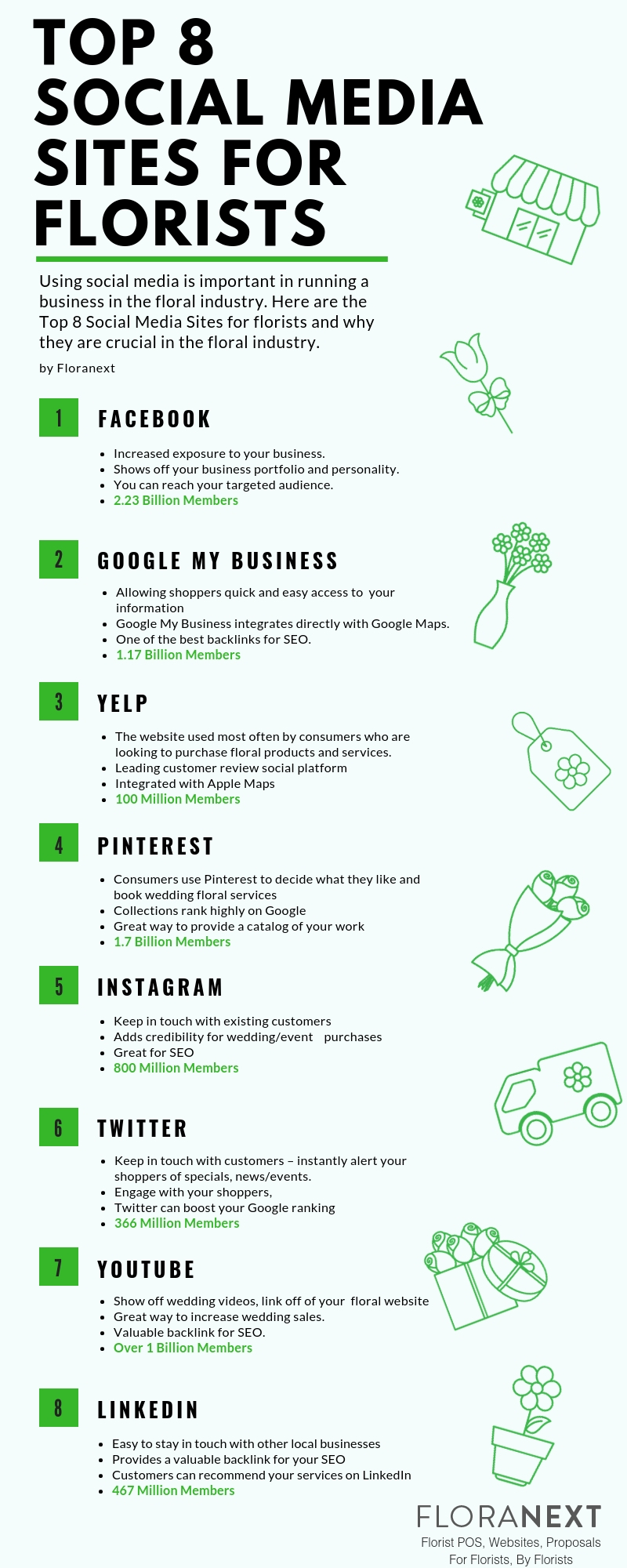 In this blog, we want to narrow it down to the top 8 social media sites for florists and explain the Ins and Outs of their operations and why they are crucial and matter in the floral industry.
Check out our infographic for quick and easy reference to the Top 8 Social Media Sites For Florists!
#8 – LinkedIn
It's the leading social networking site for professionals, with about 467 million members, it's a solid venue for connecting with other local businesses.
Why LinkedIn Matters to Florists
Easy to stay in touch with other local businesses
Provides a valuable backlink for your SEO
Customers can recommend your services on Linkedin
How to get started
Connect with local businesses in your area
Use the Facebook-like feed to post articles, remind local partners of your brand
Write a compelling summary of your flower shop business. (be conceded about your beautiful work and experience)
Have a gravitating cover image.
Add your products and services.
Ask for reviews.
#7 – YouTube
Creating polished YouTube videos is harder than on many other networks.  Upload videos of your floral wedding work or even how-to videos.  Most folks won't discover you via YouTube, but you can host your video there and embed in your florist website.
Why YouTube Matters to Florists
Show off wedding videos, link off of your website
Great way to increase wedding sales, providing ways to promote on other social platforms by posting your video.
Valuable backlink for SEO.
How to get started
Make sure to have a Google account when signing up for Youtube.
Use your business name as your username on YouTube.
A clear description on what your video is about – "industry-specific".
Make video headline compelling.
Make sure your video is public.
#6 – Twitter
Twitter is less a way to get new customers and more a way to build your brand value overall and catch the attention of search engines. Tweet about newsworthy floral related items during holiday times and you may find yourself re-tweeted by media.
Why Twitter Matters to Florists
Participating with this social media real-time giant and show your customers you're "With The Times".
Keep in touch with customers – instantly alert your shoppers of specials, news, and events.
Engage with your shoppers, Twitter allows you to find out their likes and dislikes and have them give you feedback on your business.
Twitter can boost your Google ranking back to good old SEO.
How to get started
Use your business username.
Profile image is a must.
Descriptive industry-specific About Us.
Keep an important Tweet at the top of your timeline by pinning it there. Use this feature to make sure visitors to your profile can't miss your latest news, products, offerings, or events.
Don't forget your hashtags, like florist, flowers, flower design, etc (a word or phrase preceded by a hash or pound sign (#) and used to identify messages on a specific topic)
#5 – Instagram
More than any other social platform, Instagram is a great way to keep in touch with your existing customers through beautiful, artful photographs. Buyers of wedding/event work will often check out Instagram to see examples of your work.
Why Instagram  Matters to Florists
Keep in touch with existing customers
Easy to maintain
Adds credibility for wedding/event purchases
Great for SEO
How to get started

Determine your goals for signing up for Instagram, increasing customer traffic, selling more products, creating awareness of your flower business
Link your eCommerce website to your bio in order to direct shoppers to your page
#4 – Pinterest
Pinterest is a great way to showcase image galleries of your wedding/event work – collections of images at local event halls, churches, and other venues will rank highly on Google – and new brides and event managers can find you that way.
Why Pinterest Matters to Florists
Pinterest readers use Pinterest to decide to buy and most of all book wedding floral services
Collections rank highly on Google – local content can help floral event/wedding buyers find your business
Pins last a lifetime – creating high quality, relevant pins that don't disappear overnight
Great way to provide a catalog of your work – you can even embed Pinterest boards on your florist website
Great backlink for images and organic searches on search engines
How to get started
Complete your business profile (not personal account) and take your time with adding beautiful images of your work
Add content to your bio and include keywords for the floral industry
Add your location and your business website to your Pinterest profile
#3 – Yelp
Yelp's business ratings are some of the most used by consumers to evaluate your business. Bing and Google use Yelp ratings in their search results, so it can drive lots of business if you have great ratings and reviews.
Why Yelp Matters to Florists
The website used most often by consumers who are looking to purchase floral products and services.
Provides spectacular SEO for your floral business! (We cannot express enough, this is vital for your ranking on search engines)
Leading customer review social platform which is proven to drive traffic to your business resulting in increased sales.
Integrated with Apple Maps so users could locate businesses. Making it most valuable in bringing customers to you.
Bing local pages showcase Yelp reviews, they have formed a relationship, these reviews are super important for your SEO.
Google shows Yelp reviews as organic search results.
How to get started
Fill out your business profile completely
Confirm your business through a phone call to get listed immediately (may not be necessary for all shops)
Respond to reviews
Offer (nominal) discount to customers to post reviews while they are in your store
#2 – Google My Business
Formally known as Google Places, Google My Business will increase traffic to both your eCommerce online store and your physical location. This is a close #1 for Top Social media platforms – Google My Business is a must for any business owner.
Why Google My Business Matters to Florists
Google My Business offers a variety of benefits to a business, especially if people are searching in your specific location for your flower shop.
Allowing shoppers quick and easy access to your phone number, address or hours of operation.
Google My Business integrates directly with Google Maps.
Google My Business showcases your customer reviews in Search Engine Results Page (SERP) and Google map. High star reviews help you stand apart from your competitors.
One of the best backlinks for maximizing your SEO.
How to get started
First thing is to claim your page, if you have no page,  sign up with your google account at google.com/business . Your account must be verified before it will start to show on google local pages.
#1 – Facebook
With 2.23 billion users worldwide, no surprise why Facebook wins the number one spot in our blog. Facebook is vital in helping business owners manage their communications and retain their customers.
Why Facebook Matters to Florists
Increased exposure to your business.
Shows off your business portfolio and personality.
You can reach your targeted audience.
Search Engines love, love, love – did we say, love? Facebook Business pages URL's are public, making these instantly rank on search engines.
Get likes to increase your ranking on search engines. The more likes you receive, the higher you can rank. It's all about popularity Florists!
Allows for customer reviews.
Increases website traffic with link posts.
How to get started
Haven't you signed up with Facebook? What are you waiting for? We suggest you read this while you are signing up for Facebook!
You must have a personal Facebook page in order to start a Facebook business page.
Your Facebook personal page and the business page will share the same login. (Top right corner of your personal page  select to Create Page)
There you have it our fellow florists, Top 8 Social Media Sites that matter to florists. Whether you agree or not, we highly recommend signing up with these social media sites today! Please use our infographic for quick and easy reference. Please feel free to post any questions or comments on these Top 8 Social Media Sites below.
____________

Thank you for reading the Floranext florist blog. Floranext Love Florists and we are committed to bringing flower shops the best information and tips to run their floral business. Click here to learn more about our florist software and how you can upgrade your florist website or floral point of sale. 

Want a better florist website?

Try Floranext For Free!   One-stop florist software – built by florists, for florists

Tags: