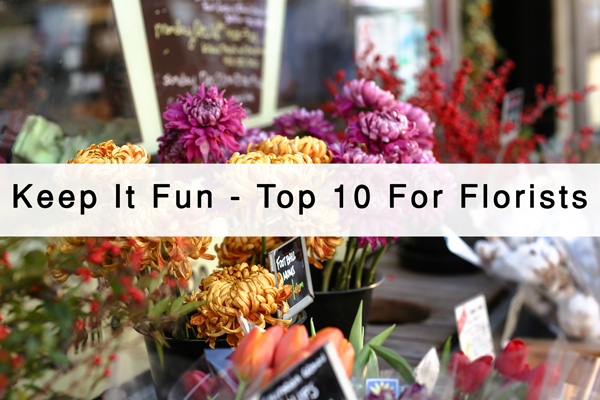 Increasing and boosting fun/ humor in your floral business has many key benefits.
As the holiday's approach and flower shops get busier it is also a good time to focus on your flower shop business morale. Humor in the workplace has shown to lead to increased productivity and longevity.
Humor helps Increase your floral business by:
Connection
Production
Boosts brain power
Engagement
Reduces stress
Relaxes muscles
Burns calories (we like this one!)
Top 10 Ways To Increase Your  Flower Shop Fun
1.Wall Of Fame Game
Have a designated wall of fame, decorate it with thank you notes or reviews from customers. Every time you get a thank you note or review from a customer, donate money to the employee outing fund for fun activities or trips.
2. National Dress Up Day 
Partake in a flower shop dress up day, many shops now have an ugly Christmas sweater day and there are many versions of workplace dress up, from Hawaiian shirts, funny t-shirt day, and more. Pick your own national dress up day. Create a little competition between employees and make your customers smile.
3. Flower Music Playlist
Implement a flower music playlist, have employees participate in selecting their favorite songs. All should have something to do with  flowers (Kiss from a rose, Every rose has a thorn, Build me up buttercup, Lilac wine, etc), play these at the shop for your staff and customers. Print out the songs or write a flower song blog and post on your florist website or social media.
4. Bring Your Pet To Work Day 
This allows your employees to experience the joy of having their pet or pets at the workplace. Some shops have even adopted a pet as their flower shop mascot.
5. Tell A Joke 
Have an intercom? Try telling a joke or have a tell a joke day. Announce these over the intercom and get all employees involved.
6. Exchange Gag Gifts 
There are many gifts that lighten up the mood and bring out the fun in the floral workplace. Pick a time of the year to exchange gag gifts with all coworkers and watch the laughter roll in.
7. Flower Trivia 
How about some flower trivia, print  these on some card stock and get the customers involved while shopping at your shop. Offer customers a 5% off for all correct answers.  This is a great way to get fans on your social media involved as well, don't forget to post on Facebook.
8. Lip Sync Contest
Divide your flower shop up into teams, have employees select songs a day in advance and let the show begin . This is super fun and silly and sure to make for a memorable day.
9. Surprise Award
Reward your employees with random surprise awards for their hard work, make them funny.  This can be any kind of award from candy to lunch. Take pictures and announce on your social media.
10. Birthday Party
Acknowledge all employees birthdays with a birthday bash, have cake and gifts. You may even try a surprise party for them. This is a great way to bring all together in your flower shop.
These are just a few fun tips to implement in your floral workplace. We all know florists by nature are fun, witty and have a great sense of humor, I'm sure some of these fun tips are already practiced in your flower shop. If you have a fun tip we missed please share it below.
________________________
Floranext makes great florist software. Florist websites, floral POS, florist wedding/event proposal software, and florist technology. Let us know if you want a free demo or try our software for free here.

Tags: