Marketing, as we all know, is essential for the survival of your floral business.
There are still many floral business owners who do not have a direct marketing strategy or feel bewildered by the word itself.  Marketing can be so many things and most business owners who thought not to be marketing their floral business, in fact, were. Bussines marketing is no longer just huge billboards, TV commercials or coupon direct mailers. It can be something as simple as posting an image of your flower arrangements or services on social media.
If you remember one thing from business marketing, marketing is getting customers to buy your products/services.  Marketing for your flower shop and online store does not have to be expensive or overwhelming.  We promise you that following the tips below will give you a clear understanding of how simple floral business marketing can be without breaking the bank.

1. Floral Business Marketing Goals
In order to achieve master status in marketing, you must first understand why you are marketing for your floral business in the first place. The answer to this is simple-
Attract/Engage customers.
Create brand visibility (brand being your flower shop business – visibility is the flower shop everyone knows, remembers and recommends) 
Educate on products and services you offer.
Promote your products and services.
Tip: Although floral marketing can be inexpensive there are aspects that require free time on your part- good to set aside one day a month to go over your marketing strategy and what you will be promoting the following month. 

2. Offer Free Marketing Gift With Purchase
Ever wonder why back in the day Chinese restaurants gave you a free calendar with purchase? This was a genius marketing tactic for its time. Customers would hang the calendar on their fridge and never look for another Chinese restaurant again. This is back when looking up a business was picking up a heavy phone book and searching for a business. The subliminal message here was brand recognition and visibility.
Recently a bakery on a busy Sunday morning offered a free T- shirt if you spent over $30.00. When looking around, many customers had a T-Shirt in hand.  I actually never thought I would wear it, but I do it's cozy and soft. I find myself grabbing it all the time to run errands around town with a direct advertisement for the bakery.  This is marketing, and I love the idea of it.
Think of things you can offer to customers to make your flower shop brand visible and make sure it's something that will be used often. Your business name, phone number, and website address- and your address too if it fits. We want everything to be very clear and visible on the product you offer free with purchase.
Pens
Calendars
Bags
Mousepads
Hats
T-Shirts
Jackets
Sweatshirts
Water Bottles
Tip: We recommend all employees at your floral business to wear clothes that state your flower shop name, phone number, and websites address as well. Marketing/Advirtesting should start in-house.

3. Work With Local Bussiness
Partner up with local businesses in which you can work together to cross promote each other, once you find local businesses to work with you, you may backlink them on your website.  (adding local business website address to your website and vice versa)
Besides backlinking, work together on –  social media postings.
Businesses you can and should work with-
Bridal Salons
Entertainment/DJ Companys
Hair/ Make Up Salons
Nail Salons
Limo/Party Bus Companys
Venues
Dance Schools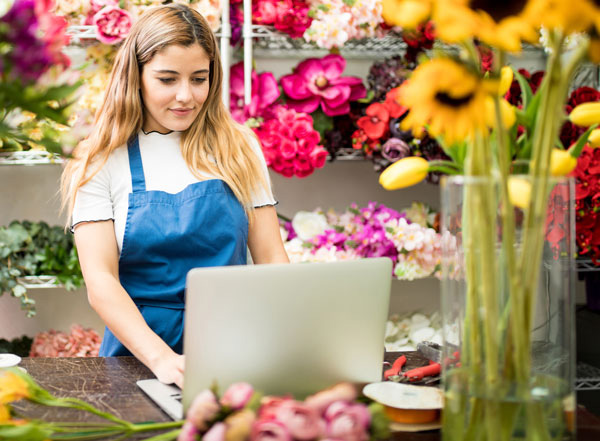 4. Floral Marketing On Social Media
The easiest way to market on social media communities is for you to pick one social media community you prefer and then duplicate the content on to the others. There are loads of platforms out there that make posting on social media a breeze by connecting all social media communities on to one platform. Check out  HootSuite
Think of your preferred #Hashtag. This hashtag will now be used for all your posting on your social media communities.
Set a schedule for posting. Choose a specific day each week, biweekly or monthly. (of course, we prefer weekly, however, that is not always possible so post within your time allowance) 
If you are only posting monthly, you still need to check your social media community daily. Be responsive, address comments that need to be addressed and thank new fans for liking/following your page. Nothing beats gratitude for brand visibility.
Create enticing eye-catching posts. Pay attention to the images selected, have a clear bold title and if possible link to your website.
Engage fans. On a weekly basis try to engage your fans with questions, thoughts or tips.
Allow for fans to post their images on your social media.
Offer promotions and contests. Fans love to participate in contests/questionnaires,  be it something as simple as one quiz question or asking their advice.
Allow fans to review you on Facebook.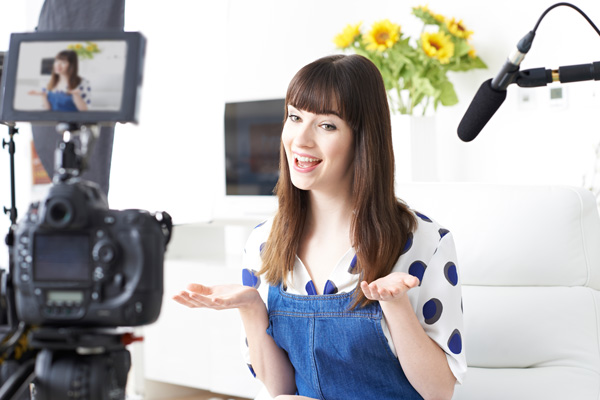 5. Make A Floral Video/Commercial
We are huge advocates of making a short floral video of your business. These can be posted across your social media communities and linked back to your website. Sites like slide.ly/promo make this very simple to do. Researchers confirm that videos help create longer lasting brand visibility with more conversions to sales.
Use relevant keywords when posting your video.
Link your floral video to your website
Post on Youtube and all your social media communities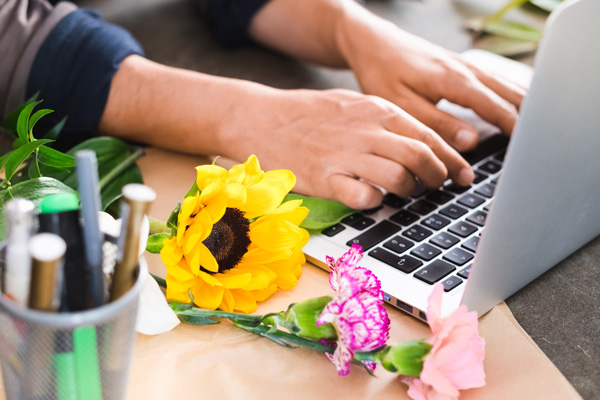 6. Google Business And Yelp Is A Must
A whopping 91% of customers read reviews, it's crucial to sign up for Google business and claim your business on Yelp. We hear it time and time again how customers are attracted to businesses with reviews and search engines make these business reviews very prominent. Every review counts in creating more trust with the readers.
Google Bussiness and Yelp allow for customer interactions by reading/ leaving a review and posting photos.
Customer love to read testimonials and reviews, the more the better. An average small business should have  40 customer reviews at a minimum.
Offer $5.00 off any order for a customer that gives you an on the spot review on Google business or Yelp. The advantages far out weigh the discount.
Post these reviews on your website.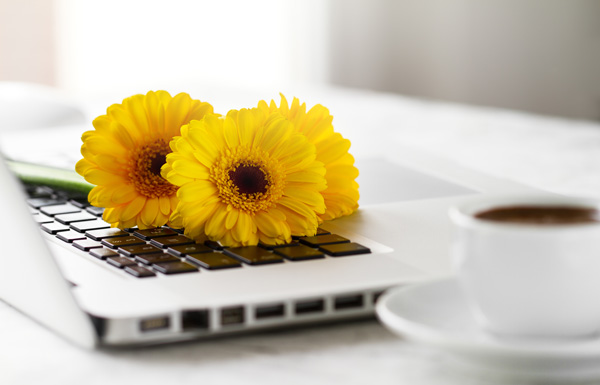 7. Write A Blog 
Blogging takes commitment and a good strategic plan. Writing a blog twice a year will not offer you that much recognition, commit to blogging at least once a month.  The benefits of blogging, are priceless, does wonders for your SEO and allows valuable content to share and link back to your website on social media communities.
Blog about what you do. Be specific to the floral business and use keywords.
If blogging is not for you – hire someone to write your floral blogs. Hiring a monthly blogger does not cost much compared to the impact it has on your SEO. For around $100-$150.00 a month you can start engaging customers with your blogs.
Write about things people genuinely want to read about. How To's, Secrets Revealed, Tips & Tricks and anything Floral Wedding – these are all very popular just do not deviate from your profession, which in this case is the floral business.
Post your blog link with images and a title anywhere and every where you can. All you social media communities, send to friends via a text message and see if your local business partners will post on their social media communities and website.
Florists do you have any important marketing advice/tips that have been or are successful? Please share all your feedback, tips or any floral marketing related questions you would like addressed in the comment section below.
____________


Floranext makes great florist software. Florist websites, floral POS, florist wedding/event proposal software, and florist technology. Let us know if you want a free demo or try our software for free here.

Tags: