Floral entrepreneurs are increasing their profits with a fresh new spin on the classic flower shop!
Financial experts agree that incorporating other services into your business is a win-win combination. You can diversify your business assets and minimize your vulnerability to twists and turns in the market.
On the other hand, combining a flower shop with another kind of business can raise sales as both work to give exposure to the other. More and more flower business owners are tackling more than just flowers.
Florist & Coffee Shop
Talk about the ultimate place for relaxation, sipping a coffee surrounded by beautiful flowers. Savvy floral entrepreneurs are creating a buzz with flower/coffee shop locations with customers waiting for seats and lines out the door.
Create a beautiful atmosphere surrounded by flowers and filled with wonderful scents.
Outdoor seating and ample comfortable seating inside the store.
Offer delivery of all coffee shop goods with your floral arrangements.
Offer delicate tasty treats and quick sandwiches and snacks.
Offer free Wifi
This is ultimately an easy combination to accomplish if you  already own a brick and mortar flower shop with enough space to accommodate seated customers. You may even consider partnering up with another business that specializes in coffee.
Florist & Hair/Beauty Salons
The secret to this combination business is markup. Florists know that flower shop product markup is low in comparison to other businesses, but hair salons have high markup, meaning a hair salon's services are almost all profit (minus commission and the usual expenses like rent/mortgage and utilities). What you pay for in a hair salon is mostly labor. In the floral business, labor is not as prominent nor is it reflected as much in sales.
Establish a hair salon that offers great service and incorporates your flower shop.
It's helpful to understand how beauty salons work, there are state licenses needed for both shop owner and barbers/hairstylists.
Offer options for event/wedding patrons with package pricing for flowers and beauty needs.
Prom packages never looked so good.
Offer delivery options for flowers and beauty products, flowers and gift certificates, flowers and gift baskets, etc.
Although it takes more sweat equity to obtain licenses and to incorporate a flower shop beauty salon, the payback could be well worth the effort. There currently aren't many of these in the world, however, the few there are have had continued success.
Florist & Bakery
Unlike coffee shops, bakeries offer in-house baked goods, bread, pastries, and cakes. Flowers and baked goods go hand in hand, and what a great gift. Birthday flowers + birthday cake = tremendous brownie points and a crowd pleaser. Sales can't come easier than that.
Flower shops have been teaming up with bakeries for a while now, the combination flower shop/bakery may be easier to pull off in families or with close partnerships between florists and bakers. Regardless of who bears which responsibility, the combination is sure to impress.
Offer wedding packages for flowers and wedding cake.
Team up with a reception hall to offer floral and baked good services for all their events.
Offer delivery options for all bakery goods with flowers.
Be sure to check local state and town laws for handling food with flowers.
Florist & Home Decor
Florists, we know many of you already incorporate home decor items in your flower shop, and you're wise to do so. Flower shop owners now are taking it a step further: instead of incorporating some gift and home decor items, they are essentially opening two businesses in one location with a larger inventory of all things home decor: furniture, textiles, candles and more.
The trick is to offer more for customers to browse.
Think location and space, and consider parking.
Search for home decor vendors that allow you to maximize profit.
Offer delivery for home decor items, and bundle decor packages with flowers.
Sell both flowers and home decor items on your eCommerce website.
Consider location and square footage—this flower shop combo may require capital investment to get off the ground, however once established, you will be the talk of the town.
---
Florists, do you run a flower business combination shop? Let us know how running two businesses brought you success in the comment section below. If you have any questions please post below as well!
We wanted to share one of our reader's feedback with the beautiful images he sent us!
From Joe Sexton, barber at Barber Stop/Flowers by Guenthers:
"My wife and I have a barber shop in our flower shop. The barber brings 4,000 more people every year through the front door of the flower shop. Many have never been inside. Also, the flower shop helps increase the barber shop sales. Women are the first to know when their guy are unhappy with their haircuts. They pick up the barbers' flier and contact info which drives their guys into the shop for a haircut. Many buy flowers after their cuts to take home. Seems to work well.
"I am the barber in our flower shop. I have a shop that fits inside an 8′ circle anywhere in the store (within a 10′ for a regular 110-volt power outlet). It's hard to visualize if you've never seen one.
"I think this would be a great idea for many florists. It's really done well for my wife and I at Flowers by Guenthers."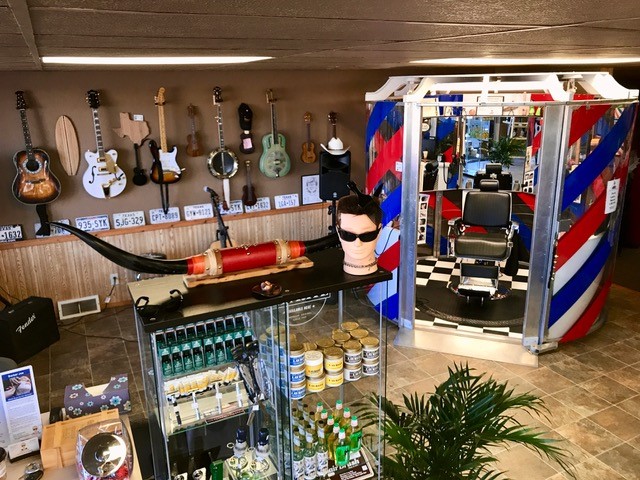 Floranext makes great florist software. Florist websites, floral POS, florist wedding/event proposal software, and florist technology. Let us know if you want a free demo or try our software for free here.

Tags: