A solid social media strategy is crucial to your flower shop business plan. You know you need to post frequently but it just takes sooooooo long to post and to find out what your floral competitors are posting that often it just doesn't get done.
Here are two different platforms that we think will help you increase productivity as well as decrease your time spent on social media.
Let the Owl help you streamline your flower shop social media… 

If you're looking to streamline your plan, HootSuite is a free tool that you will want to check out. HootSuite lets you easily manage and post your shop's news to multiple social network accounts from one unified dashboard. It will also provide comprehensive reporting options so that you can track the value and effectiveness of your social efforts. For example, in the analysis, you can find out how many followers clicked your recent tweet, helping you decide which tweets are the most popular with your twitter followers. HootSuite also gives you the option of scheduling tweets and post ahead of time so that your shop can stay active online. Try creating posts at the start of your day and scheduling them to go live throughout. This will help you stay consistent online without pulling you away from running your flower business. HootSuite does have a pro edition which gives you more features but the free edition should work great for your shop needs.
Perch yourself on your floral competitor's window…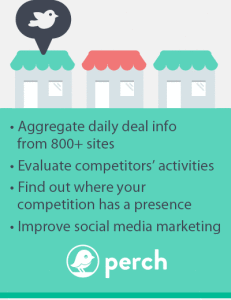 Won't it be great to know what your floral competitors are saying on social media?  But trolling all the sites can be such a time drain! To check on what your florist competitors are saying, let Perch do it! Perch is an award-winning free mobile app that tracks Facebook, Twitter, Instagram, Google+, Foursquare, Groupon and Living Social and gives you what your competitors have posted plus reviews from sites like Yelp and Google.
Perch easily spots companies like yours with location-aware technology, and lets you decide which floral shops you would like to see more of their postings and reviews.
You can receive an email report daily or weekly or just go to your Perch app and see what your floral rivals are up to. It's a very handy tool.
Give these two social media platforms a try, they can help make it easier in your day-to-day flower shop business management.
____________

Floranext makes great florist software. Florist websites, floral POS, florist wedding/event proposal software, and florist technology. Let us know if you want a free demo or try our software for free here!

Tags: