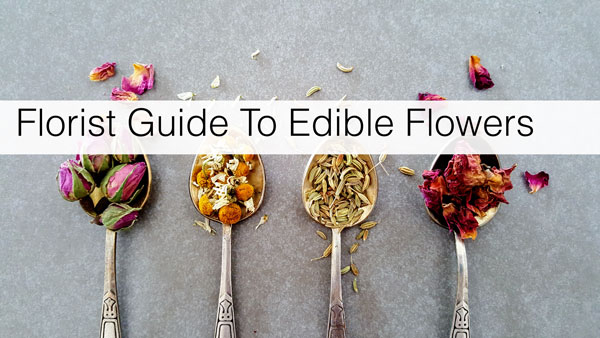 Flowers can be tasteful to the palate, not just the eyes!
Anyone in the food industry recognizes that the human palate is an ever-changing thing, and we are always more than ready to take a bite out of anything remotely edible. Delicious food is more than just delicious on the tongue, it can be tasty to the eye.
Restaurant-quality food is more than the taste, the way it's presented is part of the experience. Now, the flower industry has something food fanatics might consider to enhance that experience: edible flowers.

Edible Flower Trend
Ripped from the pages of the Great British Bake Off recipe books—which once featured a botanicals week—and Michelin five-star chefs, edible flowers have gained a lot of traction because they still do what they do best even when paired with food: looking pretty and dainty.
Social media platforms, especially Instagram and Pinterest, have also bolstered the trend, spreading awareness to all food fanatics all over the world. Who can resist such beauty and delicacy served right in front of you?


Edible Flowers Not Just For Looks
Edible flowers are about more than just the looks, they actually add a subtle taste to the food, much like herbs. Each flower has its own taste too, and the variety of flavors rivals that of herbs. This characteristic also complements the current trend of people preferring subtler flavors. What makes this deal even better is that edible flowers go well with food and drink both.
These floral edibles are also healthy, organic, and sophisticated. Plus, just like any other plant or flower, you can also grow them right in your backyard or purchased as stems from a florist.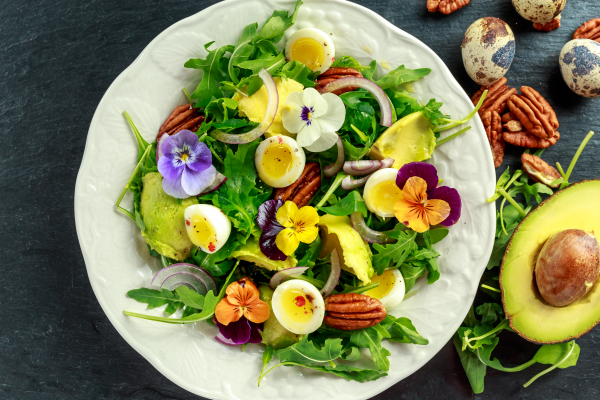 Types of Edible Flowers
For a quick start on the world of edible flowers, we'll be listing five notable ones and their flavors, as well as other characteristics you might find interesting. Remember, it's important to check whether chemical preservatives or pesticides have been used on your flowers before using them in cooking.
Chamomile: A common tea flavor, you can eat this flower raw, or dry it to brew tea

Japanese honeysuckle: The only edible part is the flower, not its toxic berries, and it has a sweet nectar-like flavor

Marigold (calendula): Its peppery flavor goes well with almost anything, and it looks beautiful when garnished on salads

Nasturtium: One of the more popular edible flowers, nasturtium have a sweet, floral flavor with a peppery finish, and its bright blooms would stand out well as garnishes

Violets: Another garnish favorite, their sweet taste goes well with salads, desserts, and even drinks

For more of a complete listing of edible flowers, Click here!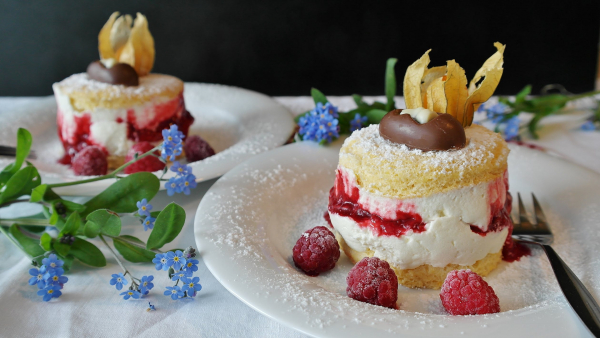 Explore Your Floral Palate
At the end of the day, we need food for energy and to get the nutrients we need. However, that doesn't mean we should just settle for the bare minimum—try out combinations of all things edible. Edible flowers add more variety to your choices and more. Beauty and delicacy come together to satisfy more than just your stomach and eyes, but the entirety of the experience.
Explore your palate and see where it takes you. You never know, the better-tasting ones might be lying right there at your garden or at your local florist, waiting to be garnished on your next meal!
Florists, have you tried edible flowers or seen the trend pick up around your area? Share your comments below!
____________

Floranext makes great florist software. Florist websites, floral POS, florist wedding/event proposal software, and florist technology. Let us know if you want a free demo or try our software for free here.

Tags: