Create Beautiful and Profesional Proposals with BloomsBy Wedding Floral Management Software
BloomsBy supports floral designers every step of their floral event planning. You can create professional wedding/event proposals, increase profits, create floral contracts, stem counts, and collect payments all with BloomsBy's floral wedding management software available on PC/Mac and iPad app.
Features of BloomsBy Wedding Floral Management Software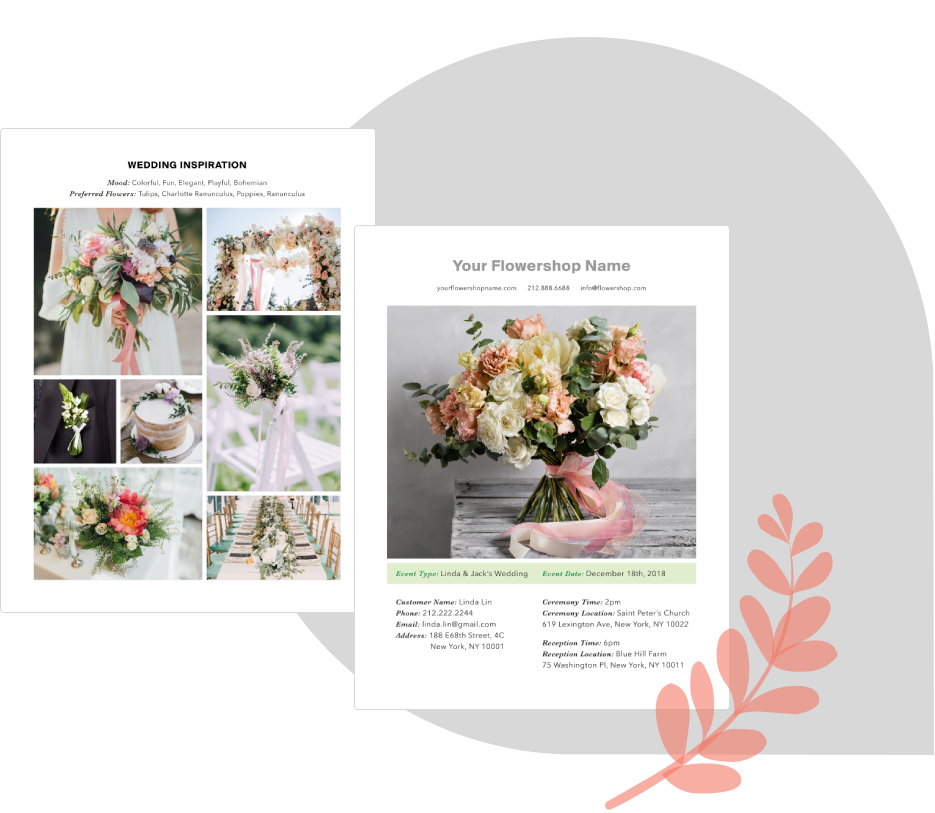 Make Your Job Easier
With BloomsBy Proposals, floral designers can create beautiful and professional proposals in a matter of seconds. No more lost and cluttered information, keep track of your clients requests in one location.
Easy to Use
With the new BloomsBy Proposal user interface, BloomsBy proposals are easy to create, organize and manage. Floral designers are able to build a floral arrangement from the bottom up with flowers and supplies.
Customize Each Proposal Email
Add your business' personal touch by adding a personalized message to each proposal with a customizable email template. Each client is different and adding that personal touch matters.
Inspiration Page
Add your customer's inspirational photos to the proposal as a guide for creating the flowers for their special event.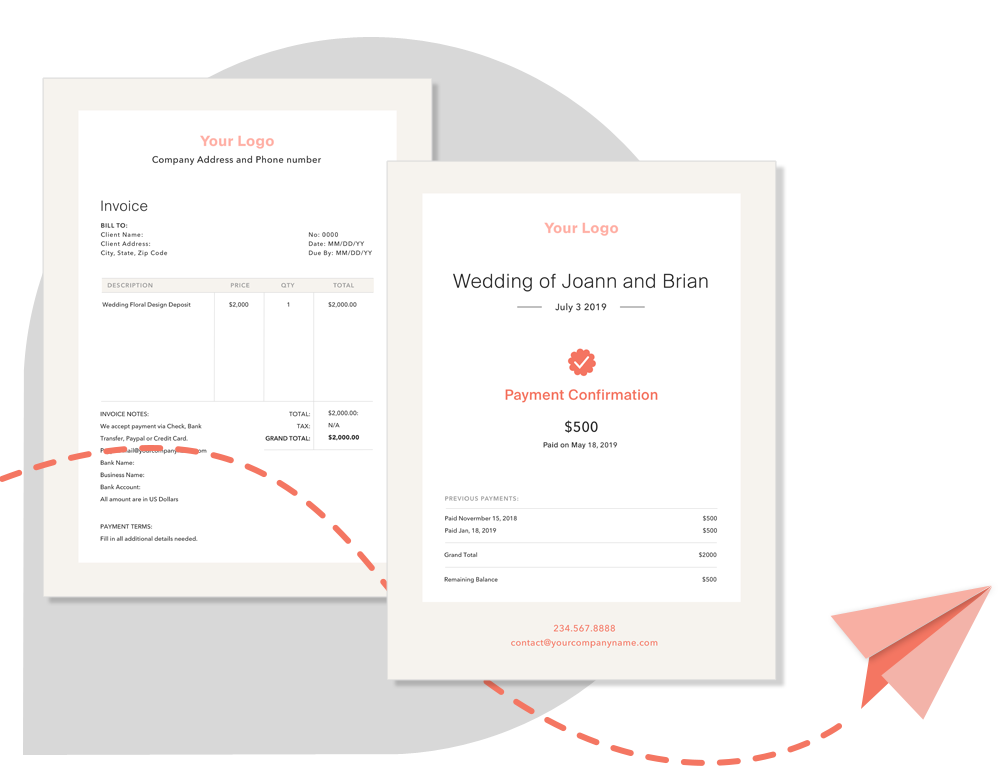 Take Payments
Track, schedule, and take customer credit cards for deposits and payments.
Increase Your Profits
Add markup, labor and then easily check to make sure you are pricing your flowers correctly. Making sure your weddings and events are fairly priced yet profitable.
Flower Catalog
With the BloomsBy Proposals flower catalog, it gives you the opportunity to record your pricing for your flowers and use these to help build your beautiful and professional proposals.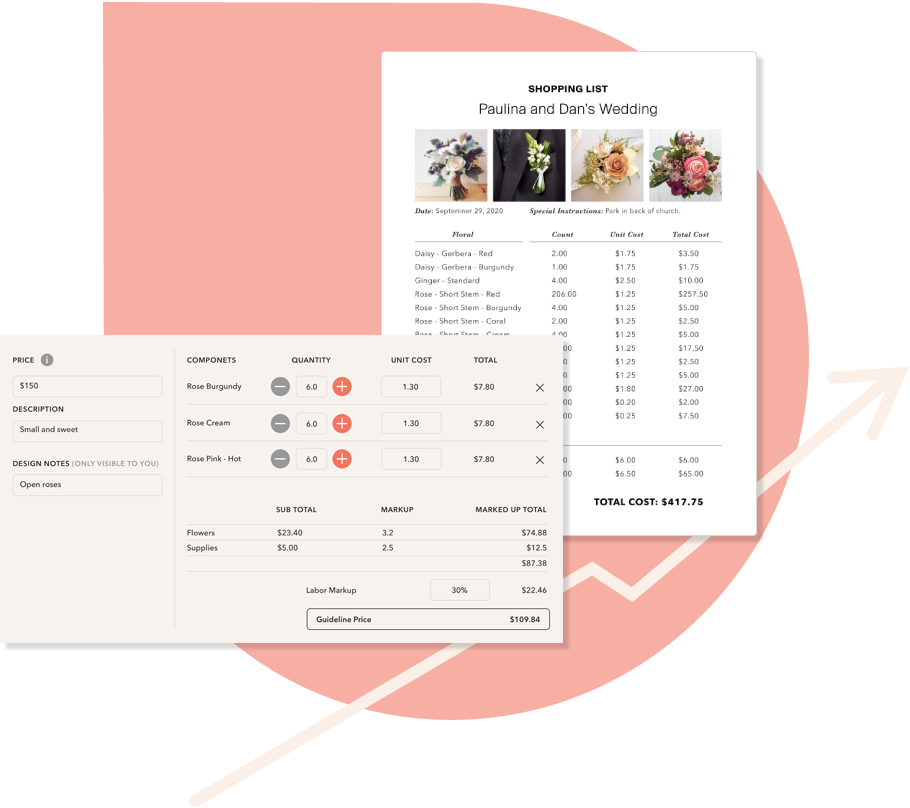 Building Components
Build components like bridal bouquets, boutonnieres and more by adding the specified number of flowers for every arrangement.
Shopping Lists
Flowers and supplies composed to build your proposals can help generate a shopping list to order flowers and supplies.
Cloud-Based Software
Use BloomsBy proposals on your own computers, choose the best platform for you. Available on PC/MAC and iPad App.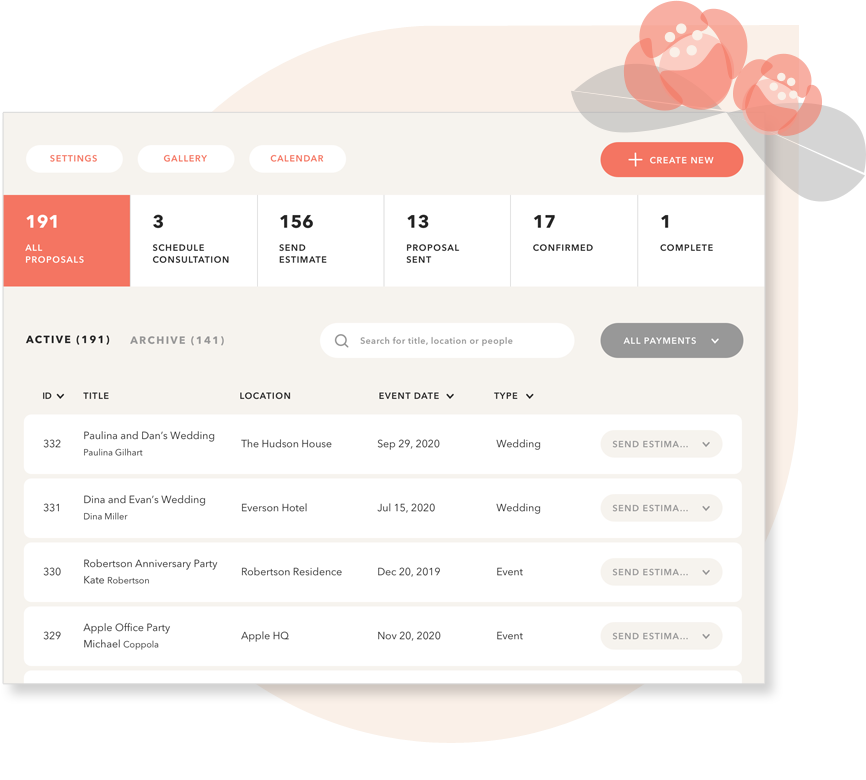 Why try BloomsBy Wedding Floral Management Software?
BloomsBy understands that florist wedding and events are a core part of a floral business and creating beautiful proposals can be challenging.
We've all been there before: notes, images, spreadsheets, word documents and countless emails sent back and forth between your clients can be a nightmare. So why not use one program to make professional proposals and keep everything organized?
Get rid of the multiple programs and keep everything organized with BlooomsBy Wedding Floral Management Software.
Start giving your wedding and event proposals more impact with BlooomsBy Wedding Floral Management Software today and focus on what's really important, your floral business!
____________

Floranext makes great florist software. Florist websites, floral POS, florist wedding/event proposal software, and florist technology. Let us know if you want a free demo or try our software for free here.

Tags: