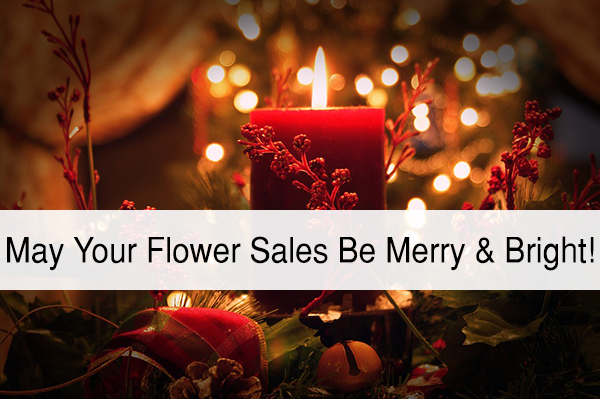 Raise Your Holiday Spirits by Increasing your Flower Sales!
"Christmas flower sales is not what it used to be!"  and this is proving to be true for many florists whether you been in the florist industry for years or just opening a flower shop. With an array of gift giving options for consumers it's no wonder that flowers may not be forefront on their mind, however, florists times are a changing.
We would like to focus on ways of improving floral sales during the Christmas holiday for all flower shop owners to boost those sales and increase profit in your flower shop this Christmas.
Be Jolly, By Golly – Customer Service
Staff should be in the holiday spirit and overly helpful with all shoppers, of course, this goes without saying for all seasons in the floral retail business. However often during this time it is important to focus on being more courteous. Consumers tend to be more on edge and are spending more money than usual, even if they spent little at your flower shop or eCommerce, good to make them feel at ease and well attended.
Festive Store Front & eCommerce
Look around your flower shop, does it look festive, appealing, would you shop here? The same goes for your eCommerce store is ready for Christmas? Do you have Christmas products, gift baskets, and other items to offer?
Besides not being offered great customer service, customers biggest pet peeves and reasons why they do not shop somewhere is appearance. Be sure add something enticing to your storefront or window display and also update your eCommerce Website to reflect the season.
Get Consumers In The Christmas Spirt
Get you shoppers to interact with each floral purchase.  Think "ELF on a Shelf " include an elf in your  flower arrangements or hide the elf at your shop and have customers find the elf for a discount. There are a vast of options to entice customers to shop at your flower shop.
Tip: Make sure to market on your social media and eCommerce website.
The Perfect Presentation
Consider purchasing extra gift bags and beautiful packaging this holiday season. The way your flower arrangements or gift items presentation by either taken or delivered makes a huge lasting  impression. Offer to gift wrap, if you can, any gift item and please be sure to add a pretty bow. Add some holiday flare and do not forget your special tag with your shop's name.
The Season Of Giving
Give free flower holiday arrangements to your local eatery, hair salons, jewelry stores, banks, etc.  Any place where there is a vast amount of shoppers, this works unbelievably well for gaining new customers at your flower shop, especially for shoppers who often do not consider flowers as a gift giving option.
Florists, Do you have some Christmas sales tips for our readers?  Please share them below.
________________________
Floranext makes great florist software. Florist websites, floral POS, florist wedding/event proposal software, and florist technology. Let us know if you want a free demo or try our software for free here.

Tags: