Opening a flower shop, like any new business, requires lots of hard work, love, and dedication. And some good information.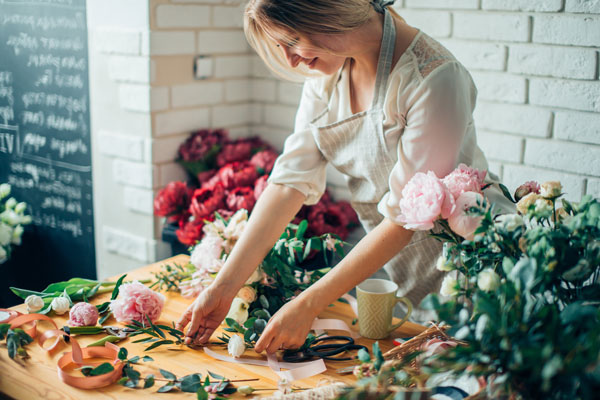 What do you wish you knew when you where opening a flower shop? Here are some things we have learned. Let us know your tips also!
Florist Marketing
Online reputation is critical – Stay on top of Yelp, Google Places, and other review websites. Customers are turning to online outlets to express their praise/frustration – stay in control.

Low cost/No cost marketing – is often the best – community activity gets free marketing.  
Email marketing – send out coupons and discounts at least every month. Make sure your florist website supports this.
Florist Wire Services
Avoid Wire Service Lock-In – Don't get stuck with long-term commitments for florist POS and florist websites. Flexibility is key for any small business.
Wire Services Ads – your money is going to fund ads running against your business in your local area.
Statements – Review your statements with an accountant or bookkeeper to see if you're actually making money.
Codified Products / Containers – Know your options.  Sometimes the minimum purchase of these expensive containers far outweighs the earning potential.  Many florists team up to split a box or you can choose to not buy the codified container and instead purchase something similar from your trusted vendor.  In that case, you can still fill wire-in orders that allow for a keepsake substitution without breaking the bank.
Florist Credit Card Processing
Big Costs – Credit card processing is an unexciting but critical part of your business. You can save hundreds of dollars a year by choosing the right merchant account. Compare processors.
Statements – Compare your statements to be sure you're getting a good deal.
Contracts – Contracts can be okay, but avoid early termination fees and similar lock-ins.
Feel free to contact Floranext for input on florist credit card processing.
Florist Software
Floral POS pays for itself – Good floral software increases productivity and has built-in marketing – you will save on time, labor and get more orders.
Independent solutions – think independent for your floral software, 

florist POS

, and florist proposal software – you will get lower prices and more flexibility.
Florist websites – Make sure your florist website looks unique – it's a critical part of your brand.
Starting a Florist? Get our FREE florist eBook
Flower Shop Operations
Delivery Confirmations – are practically expected by customers these days as a part of basic customer service.
Check your work – Have a checker on all designs that leave the store.
Handling complaints – create an action plan for your staff so everyone feels empowered to help that occasional sour customer with a smile and grace.
Holidays (Valentine's Day, Mother's Day)
Record keeping – it's essential to predict future years – keep notes on sales, prices, weather.
Planning – Make a game plan weeks before any holiday for staffing, buying, and marketing.
Be aware of your competition – See what the wire services and other florists in your area are offering and offer up something unique and/or comparable.
Flower Care
Keep buckets clean – change water and recut any flowers that haven't sold within 3 days of arriving.
Florist Staffing
Do not overstaff – use part-timers for flexibility.
Staff smart – Experienced designers will require a higher wage than a General Shop worker.  Schedule designers enough hours to fill orders and create some designs for the display case then let the general help take it from there.  
Working with Vendors
Share information – don't be afraid to ask other florists who they get their supplies from.
Check invoices – to be sure you are paying a reasonable price for your supplies and check each delivery to be sure you have received everything you paid for.  Mistakes happen!
Know what you are paying – and what you need to charge with your markup.  Be sure your staff knows this too!
Communication – with vendors is key. Let them know when you receive an unsatisfactory product or when they deliver in a timely manner.  These relationships will help you stand out against other shops.
Florist Community
Florist Advice – Lean on other florists for advice with free Facebook florist communities. Some are invite-only, so be in touch with other florists to find the most popular communities.
Want more info on getting started in the flower business?
Check out our articles on increasing florist profits and our florist survey on opening a flower shop.
____________

Floranext makes great florist software. Florist websites, floral POS, florist wedding/event proposal software, and florist technology. Let us know if you want a free demo or try our software for free here!

Want a better florist website?

Try Floranext For Free!   One-stop florist software – built by florists, for florists

Tags: