Floral wire services have been around for decades, providing a way for customers to order and send flowers to different parts of the world. 
However, while these services may seem like a good idea on the surface, they come with a host of issues that make them a bad deal for florists. In this blog, we will explore what a floral wire service is, the issues it creates, and why it is not a good option for florists.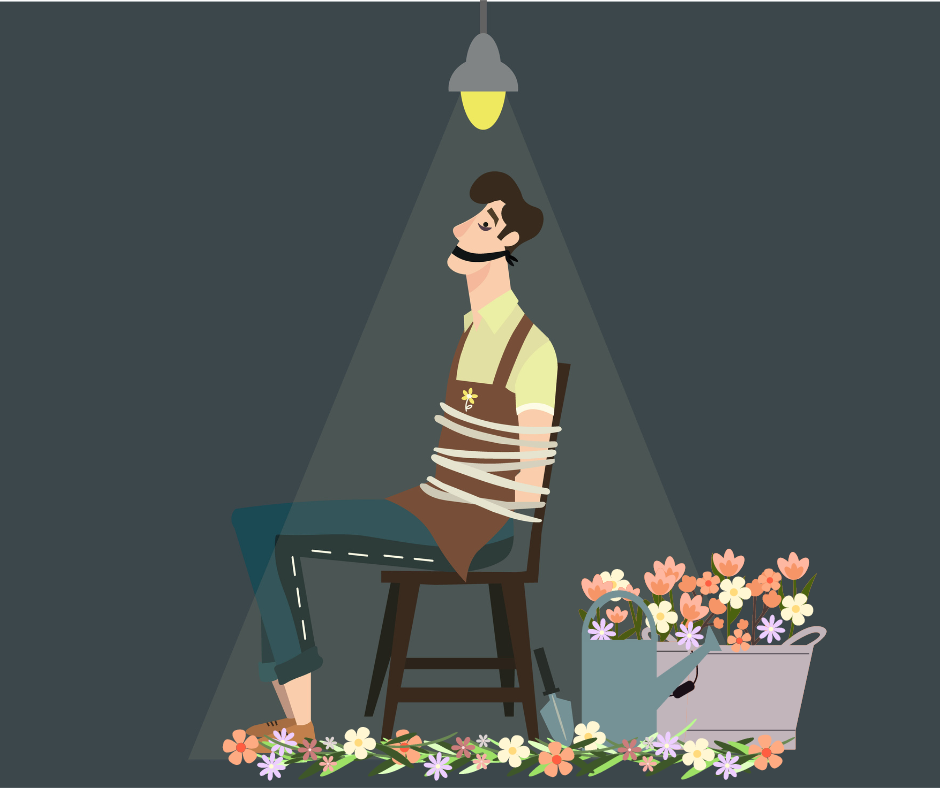 Flower Wire Service, How It  Works
A floral wire service is a company that acts as an intermediary between customers and florists.  Customers can place orders with the wire service, and the wire service then relays the order to a local florist who fulfills the order and delivers the flowers. The wire service takes a commission (a BIG one!) on the sale, and the local florist is left with a reduced profit margin. While this model may seem convenient for customers, it creates several issues for florists.
Flower Wire In
The Broker (Flower Wire Service Provider) will keep the customers (Shipping/Service Fees & Taxes) and send the filling florist a total amount in which to fill the order.
Flower Wire Outs
If you are the sending florist and are sending to a flower shop, you will receive 20% and keep the customer's delivery fee and tax (Some florists extend half of the delivery fee to the filling florist), this is ultimately your choice.

Floral Wire Service Math
Floral wire service payments can be a nightmare for florists, as the hidden fees and deductions can often cause them to lose money on orders they fulfill. Here is a general breakdown of how flower wire payments work.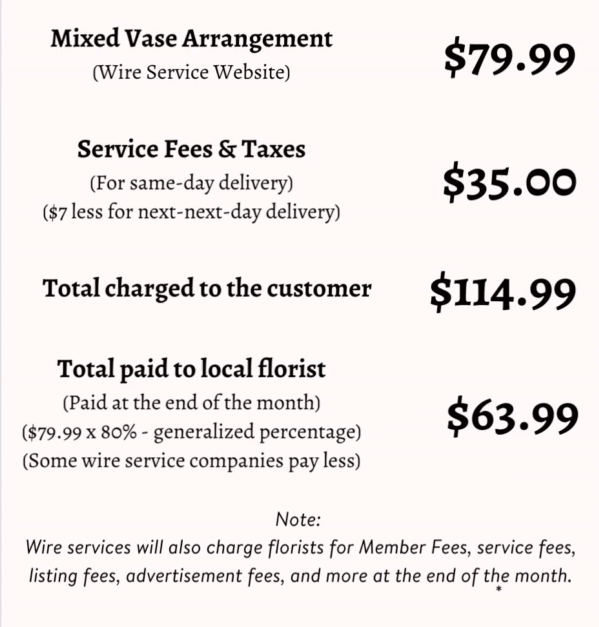 Additional Floral Wire Service Fees and Charges
Non-confirmed delivery orders before the allotted time.
Delayed Orders – make sure to cancel orders you cannot fill.
Hardware (computer, printer, cash drawer, receipt printer) provided by wire service.
Membership Fees
Advertising Fees
Floral Product Fees
Expect a bill if your filing products did not cover all your fees.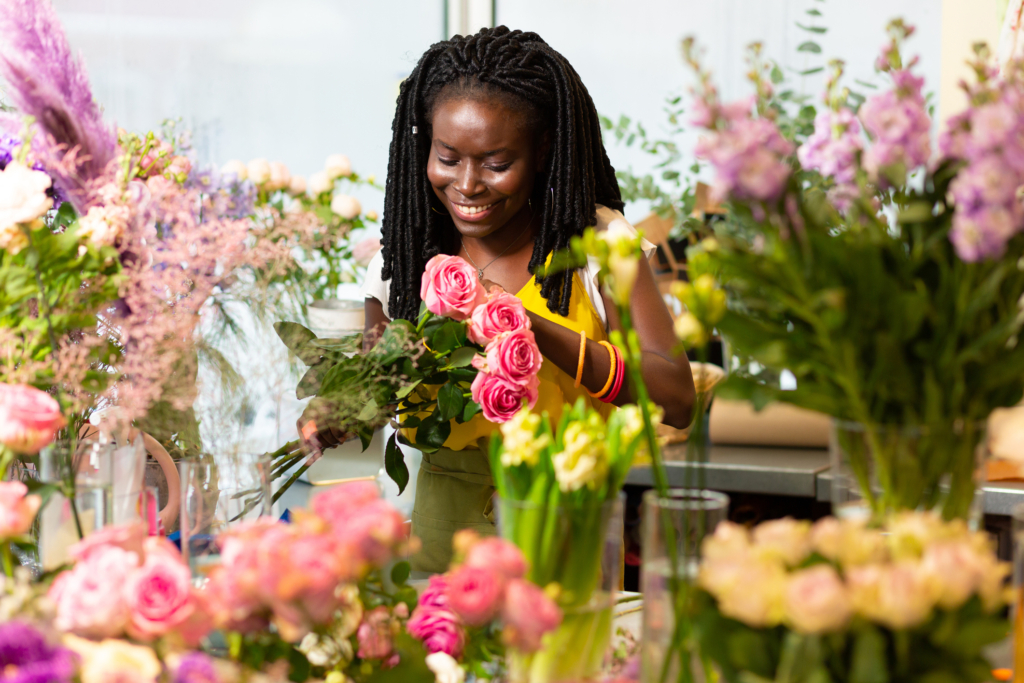 Issues with Wire Floral Services
Lack of Control Over Quality
Another significant issue with floral wire services is that they often do not give florists control over the quality of the flowers they are delivering. When a wire service relays an order to a florist, they may not specify the exact flowers that the customer wants or may make substitutions based on what is available at the local florist's shop.
This lack of control over the quality of the flowers can lead to dissatisfied customers, who may blame the local florist for any issues with the flowers rather than the wire service. This can harm the reputation of the florist and make it harder for them to attract new customers.
Limited Personalization For Customers
Wire floral services do not allow for much personalization of floral arrangements. Customers can choose from a range of pre-designed arrangements – "cookie-cutter", but they cannot customize them much beyond that. This lack of personalization can make the floral arrangements feel generic and impersonal.
Surprised Hidden Fees
Wire floral services often have hidden fees that are not disclosed upfront. These fees can include delivery fees, service fees, and processing fees. Customers may not be aware of these fees until they receive their bill, which can cause frustration.
Delayed Delivery For Customers
Another issue with wire floral services is delayed delivery. Since the wire floral service acts as a middleman between the customer and the local florist, there is a higher chance of delayed delivery. This can be frustrating, especially if the floral arrangement is for a special occasion.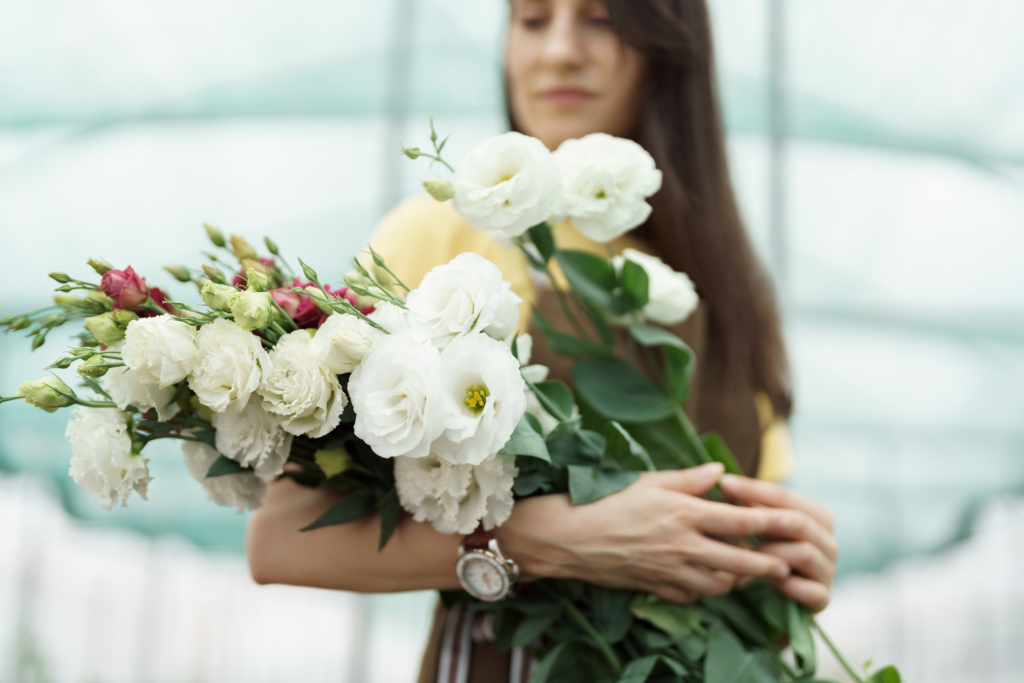 Why Wire Floral Services are Bad for Florists
Low-Profit Margins For Florists
One of the most significant issues with floral wire services is that they reduce the profit margins for florists. Wire services typically take a commission of between 20-30% on the sale, leaving florists with a much smaller profit margin than if they had sold the flowers directly to the customer.
This reduction in profit margins can make it difficult for florists to stay in business, especially when they are competing with other florists who are also using wire services. Many florists end up having to cut corners to make ends meet, such as using lower-quality flowers or reducing staff hours.
Price Competition Against Lower Prices
Floral wire services often promote themselves based on price, which can create a race to the bottom among local florists. When customers are comparing prices between different wire services, they may choose the one with the lowest price, even if it means that the local florist is left with a tiny profit margin.
This price competition can be damaging to florists, who may find themselves undercut by other florists who are willing to sell flowers at a lower price to attract customers. This can lead to a vicious cycle of lower prices and reduced profit margins.
Limited Creativity For Florists
Wire floral services often limit the creativity of local florists. Florists are often given a specific set of guidelines to follow when creating floral arrangements. This can limit their creativity and make it difficult for them to showcase their skills and unique style.
Wire Services Create Bad Reviews
When customers order flowers through a wire service, they often do not know which local florist will be fulfilling the order. This means that the local florist misses out on the opportunity to build their brand and create a relationship with the customer.
Building a brand is essential for florists, who rely on word-of-mouth recommendations and repeat business to stay afloat.
Should you join a Flower Wire Service?
Wire floral services are causing a lot of issues in the florist industry. They can result in arrangements with lower-quality flowers, lack of personalization, hidden fees, delayed delivery, decrease in profit margins, limited creativity, and increased competition. 
Florists are encouraged to be independent and focus on building relationships with their customers and providing high-quality personalized service to stand out from wire floral services.

Customers are encouraged to support local florists and take the time to find a florist who can provide personalized service and high-quality floral arrangements.
You have the choice – No longer in the flower industry is joining a flower wire service mandatory.
The telegraph has come and gone and we now have the Internet which allows customers to find florists all over the world.
That being said – joining a flower wire service is a personal decision for your flower business. Reviewing your monthly statement is key.
Other Popular Florist-Related Articles
Swoon-Worthy Flower Shop Interior Designs
Opening a Flower Shop – What I Wish I Knew!
Easiest Way to Increase Flower Shop Profits | Upselling 101
5 Ways to Get People Into Your Flower Shop
Top 10 Essential Books For Florists
Top 10 Of The World's Weirdest Flowers
10 Floral Tools Every Florist Should Have
Top 10 Ways to Make a Profit Owning a Flower Shop
____________

Thank you for reading the Floranext florist blog. Floranext Love Florists and we are committed to bringing flower shops the best information and tips to run their floral business. Click here to learn more about our florist software and how you can upgrade your florist website or floral point of sale. 

 

Tags: