Getting people into your Flower Shop can take time and creativity, especially with the many options available for your customer's attention online and with other store front businesses.  Here's 5 ways to help you increase foot traffic to your flower shop.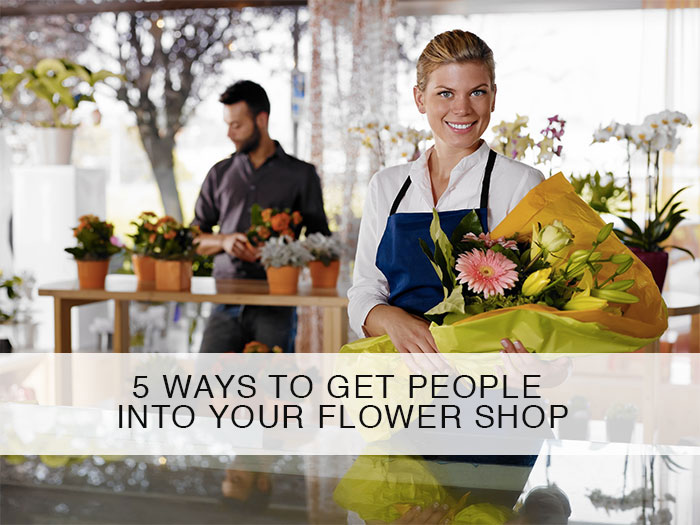 1. Leverage Existing Flower Shop Customers
If you don't have existing customers that love you, you're going to have trouble getting new people into your flower shop. Cultivating walk-in traffic means going above and beyond— truly surprising and delighting the customers you've got.
Ideas include:
Establishing a personal connection with each customer. Be honest and sincere.
Send a handwritten note or personal phone call thanking the customer for their order.
Have an "early-bird" sale just for existing customers before it's announced to the general public.
Use your POS system on your computer to find out your customers' birthdays, and then send out Happy Birthday emails or cards with a birthday surprise or percentage off when they come into the shop during their Birthday month.
2. Start from the outside and look into your Flower Shop
If you are in a pedestrianized area, get to know who passes by your store. Literally, sit outside or close by your window and assess the demographic of who comes and goes. Do they window shop? Have they come from another store close by first? Do they stop and look at your windows?
Next, take an objective look at your signage and window display–does it appeal to your target demographic or buyer? Note when the busiest time of the week in front of your shop is?  Then think of ways to optimize your merchandise and window display to attract more customers at that time.   This could be as simple as standing outside and handing out coupons or promoting your latest offers or workshops using sidewalk signage, maybe put out some flower buckets if it's a nice day.
Ideas include:
Put a large Calendar Date on your outside window like June 6 – and say if your birthday is that day, come in for a Free Gift! Put a different date up often to generate interest and surprise.
Decorate your outside with flowers. Pots overflowing with beautiful flowers and decorations should be outside your doors in all seasons.  Make customers excited to stop in to see what's in the inside of the shop as well.  You are a flower shop, let everyone who walks by know it by your outside.
3. Give them a reason to stop into your flower shop.
Sometimes you just need to work on different approaches to get people into your store.  Brainstorm ideas with your staff and ask what draws them into different shops.
Ideas include:
Free gift like teddy bear or chocolates with the purchase of a bud vase or arrangement when you come in and get it
Promote new items that just arrived that customers just have to come in and see to appreciate.
Have a raffle where customers must stop in to enter. This could be a raffle for an arrangement a month for six months or something similar that is large enough for people to want to stop in to add their name.  Free giveaways are a way to help engage your customers and create a sense of connection to your shop.  It also instills a feeling of indebtedness from the consumer.
Tie in with a non-holiday day. For example, February 17th is "Random Act of Kindness" Day, or March 3rd is "I want you to be happy" day.  Pick a day, decide a way to work with it to get more customers involved and then promote it!  Think of 7 Eleven who gives away Free Slurpee's on National Slurpee Day – 7/11.  On that day in 2013, their in-house sales increased by 38%.
4. Use Social Media to bring more Flower business 
Do you have any in-store promotions going on? Got an event coming up? Keep your customers posted via email and social media.
Ideas include:
Have exclusive offers that can only redeem on-site.
Always ask for your customers' emails from orders, raffles and a sign-up sheet. And then stay in touch sending out regular updates about new product lines, company news and events.
Connect on social media. Make sure your customers know where to find you on social media and then give them a reason to follow and like you.  Engage with them on a more personal level.  Show your staff working, show the beautiful flowers this week, design a "pick-up only" design and call it "Friday Flowers" and then post photos of customers picking up their Friday Flowers designs.  You can say there is a limited amount of these designs available so hurry in.
5. Hold Events at your Florist Shop
Hosting events is one of the best ways to get people to head over to your store because events are experiences attendees can't find online or in other shops.  And of course, publicize your event—in-store, online, via press releases and advertising.
Ideas include:
Invite local scout groups to come in to the shop to take a tour, talk about the impact of flowers in people's lives and make a small flower arrangement or give a goodie bag.
Have workshops in the evenings or during the day on spring designs, summer container gardening or fall and Christmas wreaths to get shoppers into the store. These elated new flower "designers" will be excited to share what they made and where on social media and word of mouth.
Partner with like-minded stores, experts, artists and organizations to host events in your store. It could be a designer showcase, a talk by a local artisan, or a fundraiser. This allows you the opportunity to draw in more traffic by offering your customers something unique, bring in an audience of like-minded people to grow your own fan-base and grow your relationships with individuals and organizations in your community.
With all these different ways to bring in more walk in traffic,  remember that the main reason many consumers frequent small businesses over larger chains is for the personal relationships. A smile, great service, product knowledge and enthusiasm will help bring customers through your door and keep them coming back.
[table]
Other Florist Profit-Related Articles
[/table]
____________
Floranext makes great florist software. Florist websites, floral POS, florist wedding/event proposal software, and florist technology. Let us know if you want a free demo or try our software for free here!

Tags: