In Lieu of Flowers is perhaps the most detrimental 4 words in floral business
Conveying compassion and respect for one's passing is traditionally defined by sending flowers. The utmost disappointment is that customers take "In Lieu Of Flowers" literally. We understand it does say "In Lieu Of Flowers," however,  that in no way means the family does not want flowers at the viewing/funeral service.
As floral professionals you understand how somber a viewing/ funeral service would be without flowers. The added beauty of sympathy flower arrangements is there to offer comfort to the visitors and also pay tribute to the deceased.  The terminology of "In Lieu Of Flowers" has caused an uproar in the floral community as it should, this is awfully mistaken too many times by customers.

The Future of In Lieu Of Flowers
What is a floral business owner to do with the phrase "In Lieu Of Flowers?" We do not pretend to have all the answers, however, maybe it's time once and for all the floral industry with working with funeral businesses to boycott this phrase altogether.
Although many florists have expressed their frustrations with local funeral homes, the "In Lieu Of Flowers" phrase offers a direct message not to send flowers and undermines the floral business. This is absolutely unacceptable, besides that, the true meaning of giving flowers is lost here. Regardless if someone wants to convey sympathy with flowers or not, there is no reason for the subliminal message!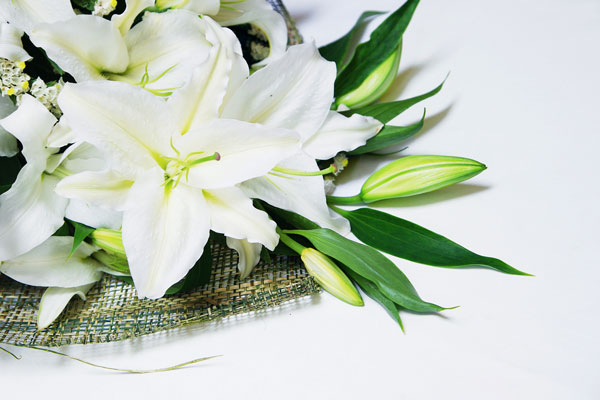 Educate Customers
So how can you educate customers? First is take the steps to post a blog on your floral website explaining to customers what "In Lieu Of Flowers" really means.  Have a small write up on the sympathy section on your website as well. Don't be afraid to also post on social media as well!

Write A Letter To Your Local Funeral Homes
This may or may not work, however, all it takes is one funeral home director to understand the importance of re-wording "In Lieu Of Flowers" and make a difference. Changing wording to "Send flowers and donations here,"  "Memorial contributions can be sent here, " completely changes the playing field.
There are so many different phrases that can be used to convey a less discriminatory message. What the floral community is asking for is not to make people send flowers for funeral services, but to leave tradition alone and allow people to make their own heartfelt decision.
Why Flowers Are Important At Funeral Services
There truly is no other sentiment you can send for a memorial service be it, charity donations or even money itself that can express as many emotions as flowers do.
Since the beginning of time flowers have been displayed for the deceased as a symbol of condolences, sympathy, and love. Thousands of years ago, they were used for their wonderful fragrances and soft beauty. In this time of mourning when words are forgotten the flowers offer comfort to its surroundings. Flowers also represent one's life's cycle, from one's birth to one's passing.
Taking the flowers out of memorial service will make the ambiance look dim and murky. The flowers are there to create an environment which is more comforting for people when mourning.
We could go on and on why flowers are so important at memorial services, the simple reason is flowers are natures miracles, and florists are natures miracle workers. Nothing in this world expresses the same sentiment as flowers do when given as an expression of sympathy. Let's encourage people to respect tradition an appreciate flowers.

What is wrong with doing both?
Back in the day, some may remember, it was acceptable to give a monetary donation and flowers, a mass card, food and flowers for someone's funeral service. No matter how you looked at it flowers works hand in hand with any other expression of sympathy.
Why are things different now? Do people have less money? Why not donate to desired charity and send flowers together?
In certain circumstances, if you cannot beat them, then intrigue them! Perhaps the future of the floral business is to partner up with charities.  Sympathy flowers can be sent to the memorial service and florists can also donate to the respected charity on the customer's behalf.
Although this may sound far-fetched, there are ways to accomplish this by directly participating with well-known cause affected charities
---
Florists, Has "In Lieu Flowers" hurt or has had a very little effect on your floral business?  Please share your feedback in the comment section below. If you have any questions please post below as well!
____________


Floranext makes great florist software. Florist websites, floral POS, florist wedding/event proposal software, and florist technology. Let us know if you want a free demo or try our software for free here.

Tags: