Opening a flower shop is a great career opportunity. You get to be creative and work with flowers all day, right?
Well, yes. However, there are so many other facets when it comes to opening a flower shop business. The floral industry does require much more than just designing flowers. Remember, you are selling, designing, delivering, marketing and much more!
We asked florist's all around the world to share their most crucial advice/tips on opening a flower business. If you are thinking or just starting a floral business this will help you get answers to some of your questions.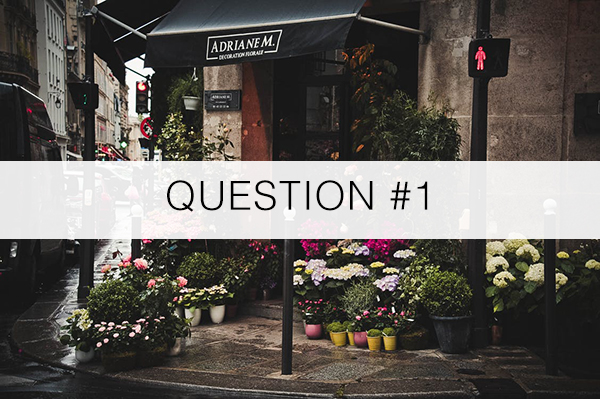 Which is most important when opening a flower shop?
Location (111%)
Creativity (55%)
Revenue (52%)
I just like flowers (7%)
All of the above (63%)
Other (30%)
 With an overwhelming 111%, Florists have stated that location is key when opening a flower shop. So remember Location, Location, Location.
Additional Florist Expert Advice: 
"Is there a need in your community for "Your" idea of a flower shop?" – Wild By Nature
"Knowledge of business in general. KNOWING how to design already!" – Victorias Floral Design 
"Driven work ethic." – Tilted Tulip Florist
"Social media, marketing and internet presence" – anonymous
"A working knowledge of flower care and preparation methods and reliable suppliers." –  The Enchanted Florist
 
What would you say surprised you when you opened your flower shop?
Long hours was the #1 answer by most florist's for this question, however, there were many great responses that we believe are important to keep in mind when opening a floral business.
Additional Florist Expert Advice: 
"How much yelp reviews really grew my business. After the first year, people calling the shop always mentioned: "I found you on Yelp". I had more business from that then the local community that soon followed." – Ace of Vase
"All the prep work" – anonymous
"The overwhelming bookkeeping if you are no prepared or don't have enough financial experience." – Flower Bomb
"That many of the people who buy flowers know a lot of things about them." – anonymous
"How much you worry about it all and never get a true break from it. Even when on holiday, you don't ever stop! " – Beco Flowers
"It's hard work." –  anonymous
"How quickly the local people embraced us." – Maureen's Designs
"How much of a percent wire service take for orders." –  anonymous
"How complicated the process was from start to finish- all the different ways something could go wrong from the weather to the shipping issues, flower care, and handling, order taking, design and delivery." – The Flower Bar
"How much fun it is!" – anonymous
"The physical aspect – from collecting and packing flowers at the market to the lifting, cleaning and moving of heavy buckets."  – Petals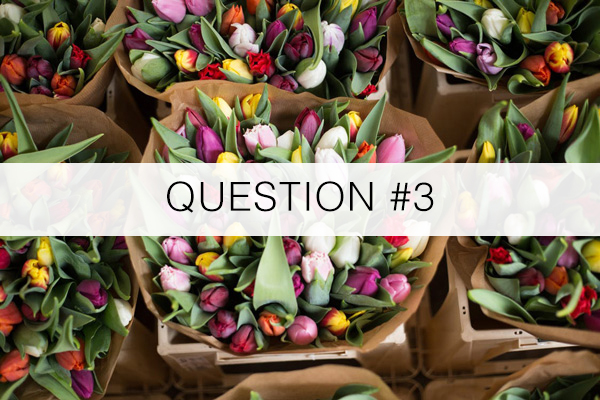 How much money do you say is needed to start your own brick and mortar flower business?
$1,000 to $5,000 (10%)
$5,001 – $10,000 (22%)
$10,001 – $15,000 (60%)
Other (102%)
Other was the #1 answer for this question with the winning budget amount $25,000.
Additional Florist Expert Advice: 
"Depends on style location. Could be as little as $300. or as much as $250,000." – Kelly Mayo
"Up to $50,000. You need refrigeration, insurance, vehicles. You also need to buy flowers and supplies c o d for at least 6 months before people trust you. Salaries and advertising are big unexpected hits in the first 6 months." – Gloria's Florist
"I began with 15k. I would have been wiser to double that."  – anonymous
"The worst thing is to be undercapitalized" – anonymous
"Purchase a shop already in operation if possible, would be what I recommend. "-  anonymous
 
 If you could open your flower shop today, what is the one thing you would do differently?
Do not join a wire service was the #1 answer if florists could do one thing differently. Trailing behind and almost taking over the number one sport was "Choose a better location," with having an eCommerce website in third.
Additional Florist Expert Advice: 
"The decor and the location to be more accessible."-  anonymous
"Design myself and eliminate payroll" – anonymous
"Not take wire orders, EVER." – anonymous
"Web strategy and online marketing"  – Menifee Florist
"I would go to flower school first and then open my flower shop." – anonymous
"I would have done more advertising to let people know I was there. Put decals on my van sooner. " –  Mugfords Flower Shoppe
"Coolers flush to the floor and better processing area." – The University Florist
"MORE WEB EXPOSURE." – anonymous
"Change business name" – anonymous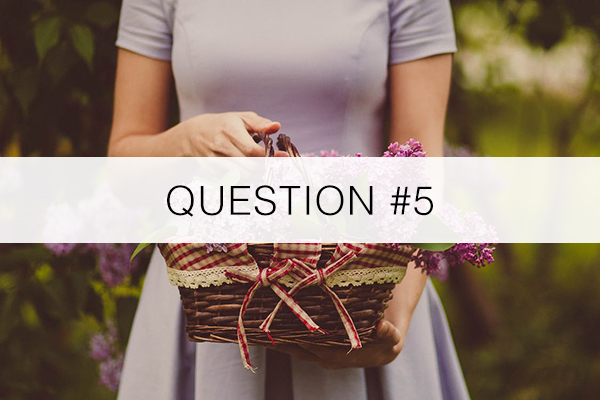 What is the best part of opening a flower shop?
Customer Interaction (50%)
Money, Money, Money (3%)
Being Creative (45%)
Being Your Own Boss (62%)
Flowers Galore (9%)
Other (22%)
Florists have chosen Being Your Own Boss as the best part of opening a flower shop. Though percentages were very close, coming in at 2nd place is Customer Interaction.
Additional Florist Expert Advice: 
"Creating something bigger than myself." – Studio Vincca
"Being my own boss and being able to bring my children to work with me." – anonymous
"Satisfying a deep desire to own my own business, and put my big business and academic knowledge to work." – anonymous
"Bringing smiles to people's faces thru my creativity." – anonymous
"Being able to go to a job you love every single day of your life! " – anonymous
"Rewarding to know you could do it, pleasing customers with your products." – anonymous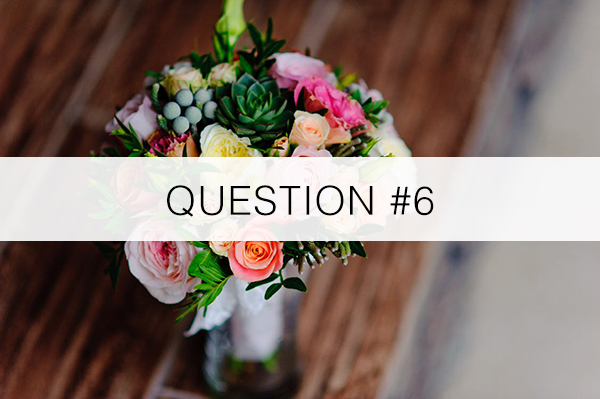 What would be your most valuable tip to someone who wants to open a flower shop?
Working in a flower shop was the most valuable tip given to someone who wants to open a flower shop. This gives new prospects the understanding and functionality of how a flower shop is operated.
Additional Florist Expert Advice: 
"Go for it! You must always try! Do not cut yourself short with the funds when borrowing $$." – anonymous
"You have to be passionate about flowers and ready for hard working for many hours to open a flower shop!!!"-  anonymous
"Service from the heart." – Yousef
"Control labor and cost of goods sold."-  anonymous
"Keep your focus on quality and customer service." – anonymous
"Forget the idea there is no money to be made anymore and stay way from wire services."-  anonymous
"Be creative, make a difference." – Floral Factory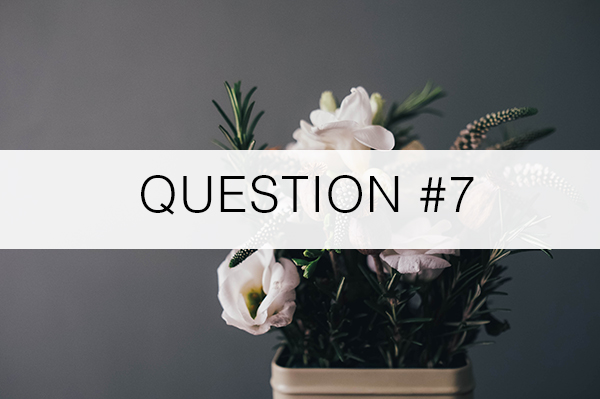 What is the worst part of owning a flower shop?
Customer Interaction (4%)
Long Hours (64%)
Demanding Work Load (49%)
Having To Be Creative All The Time (2%)
Nothing (13%)
Other (54%)
Long hours took the top with florists on the worst part of owning a flower shop. The long hours and the demanding workload is something each florist will experience when opening and running a flower shop.
Additional Florist Expert Advice: 
"All of it. Long hours, Staff, Customers, Physical Demand." – Musgrove Florist
"Having to make all the decisions and be the boss." – anonymous
"You pretty much need to eat, drink & sleep it unless you have a well paid very skilled staff." – Flower Bomb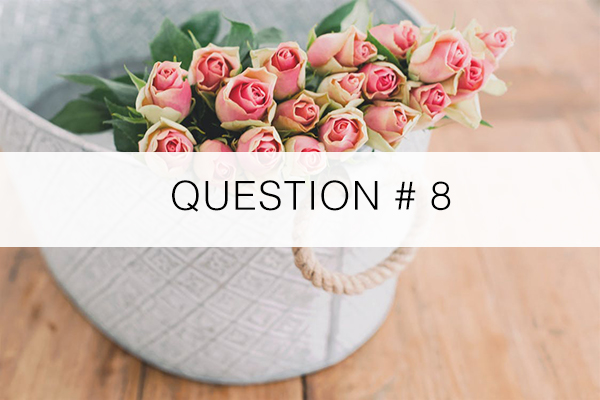 Would you recommend someone join a floral wire service when opening a flower shop? Tell us yes or no and why.
Overwhelmingly the #1 answer to this question was no, there was a tremendous response to this question with many great florist advice.
"No! They undersell the florist and steal their business." – anonymous
"You don't have to belong to a wire service at first. Many shops are moving to a direct call system where they call other shops and offer reciprocating discounts for the shop to shop orders. A wire service is helpful when you have the high volume out of town orders or if you have inexperienced employees." – Beco Flowers
"No. But I'm trying to get away from them. You have to buy their software/equipment and it is over priced. In the end you really only get around 70% of the order amount. Once you take out your costs & labor there's not much profit there." – Tilted Tulip Florist
"Depends on the area- But I say no in this day and age." – anonymous
"Nope, No longer can make money with them." – anonymous
"Maybe for the first year to get your name out, but negotiate the terms. Otherwise no" – anonymous
"Yes and No. They steal your hard earn income but it is more difficult to get orders and new clients without them. They have completely cornered the floral market." – Amazing Occasion
"Maybe but be selective and shop around." – anonymous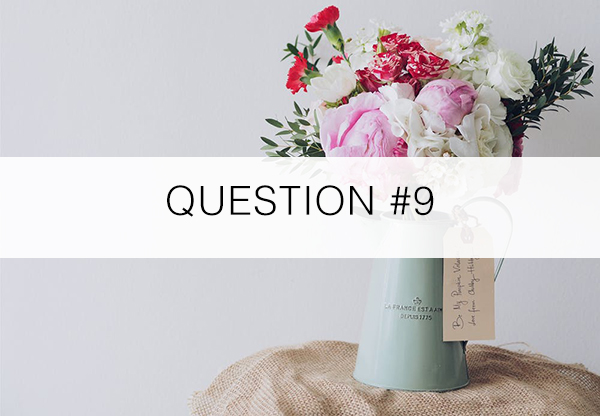 According to design, what makes the most revenue?
Everyday Arrangements (40%)
Parties & Events (17%)
Sympathy (84%)
Weddings (35%)
Other (16%)
Sympathy is the biggest revenue generator for florists with everyday arrangements coming in second.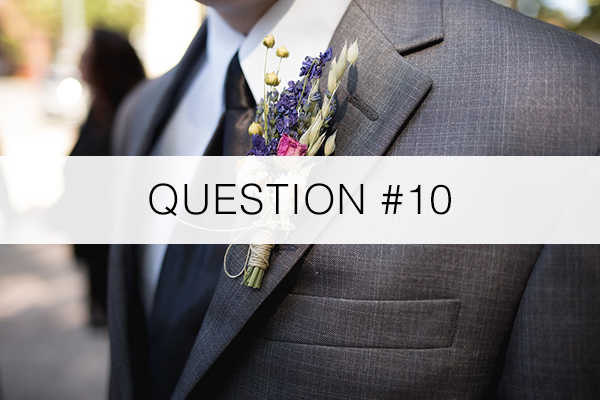 What are the standard flowers, filler, and greens you order on a weekly basis for your flower shop?
"Baby breath, wax flowers and leather leaf." – anonymous
"Roses! Carnations, Mums, Alstromeria Lilies & Pomps/Daisies because they last… I like when people tell me and others how long their flowers lasted. Filler flowers – Baby's Breath for sure and one or two others. Then some feature flowers for interest…Stock, Iris, Tulips etc. depending on the season." – anonymous
"Salal, Leather Leaf, Ruscus, Pitt, Tree Fern, Bear Grass, Aspidistra. – 1/4 box poms, 100 carns, 10 mini green hydrangeas, 10 select hydrangea, 20 alstroemeria, seasonal filler box, 200 red roses, 250 mixed color roses, and a dutch seasonal novelty box"  – Musgrove Florist
"White, blue and green hydrangea, green anastia mums, green trick, gerbera daisies, roses lilies, lisianthus, pincushion protea, stock, and snaps. Alstroemeria every other week. Greens are variegated Aspidistra, salal tips, and variegated Pitt." –  Wild by Nature
" 

We stay away from the typical standards (carnations/mums) and buy the more unique blooms. Weekly purchases include mini cymbidium sprays (so many ways to use them!), hydrangeas and seasonal flowers such as tulips in spring, sunflowers in late summer, etc." – anonymous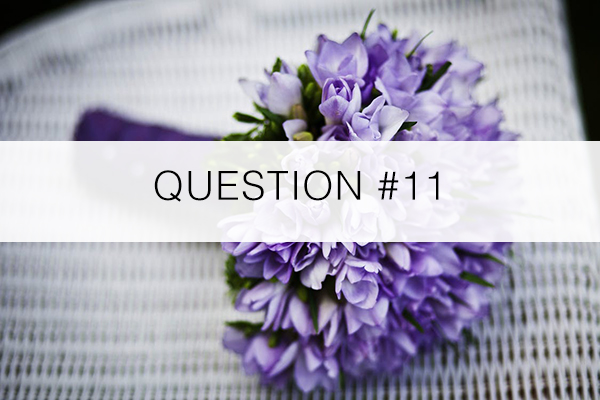 What popular florist holiday makes your business the most revenue?
Valentine's Day (66%)
Easter (0%)
Mother's Day (86%)
Memorial Day (1%)
Halloween (0%)
Thanksgiving (1%)
Christmas (20%)
None (4%)
Other (14%)
Step back Valentine's Day, With a whopping 86% Mother's Day won the top spot with the most revenue made for a flower shop.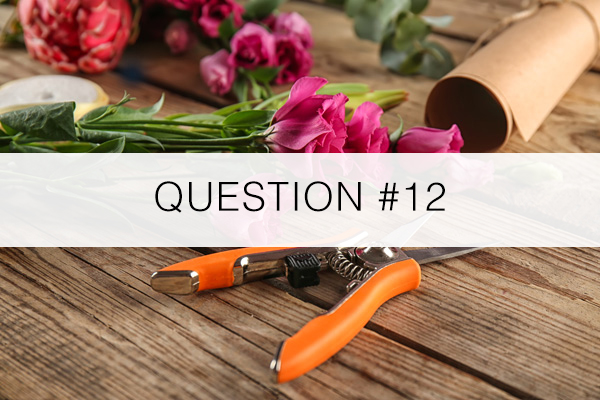 What are the must have florist tools when opening a flower shop?
A knife was #1 tool recommended as a must have when opening a flower shop, with Secateurs taking 2nd place. For those of you who are not familiar with Secateurs, they are pruning clippers. Good scissors were also very close to 2nd place.
"Floral tape, wet foam, containers, knives, wrap paper, cellophane, deferent wires gauge, scissors, ribbon, bows, moist and shine spray"  – anonymous
"FloraNext! A cooler is also an important investment." – Petals Flower Company
"Knife, wire nips, pruning shears…great accounting system, telephone, the internet….and the list goes on!!!" – anonymous
"A cooler, buckets, cutting tools, containers." – anonymous
"Computer, phones, functional front of store, good size fridge" – Carls Flower Company
"A good POS system and Website." – anonymous
"Knives, Scissors. Clippers" – anonymous
---
Florist's we are very appreciative of your participation in our surveys. We had an overwhelming response to "tips on opening a flower shop survey". We plan to continue surveys as your expert tips and advice is so helpful to our readers and for new and upcoming florists who are considering or opening a flower shop.
Please share any feedback you may have on Opening A Flower Shop in our comment section below.
________________________
Floranext makes great florist software. Florist websites, floral POS, florist wedding/event proposal software, and florist technology. Let us know if you want a free demo or try our software for free here.